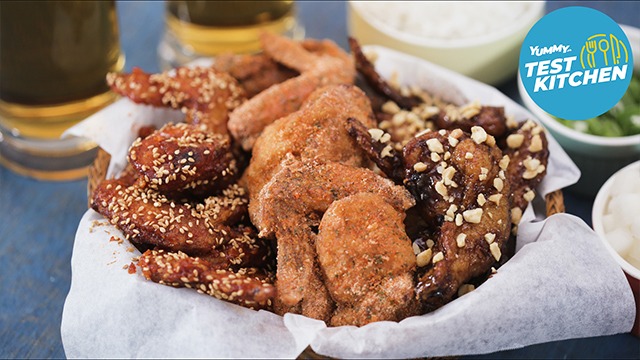 Korean fried chicken is one of the best fried dishes, ever. They're crunchy, juicy, and explodes with so much flavor. Pair it with something ice-cold like beer, and you've got the perfect meal to share with your family or barkada. You can eat it with rice or you can eat as is, but one thing's for sure when you make it at home: you won't get the feeling that it's bitin!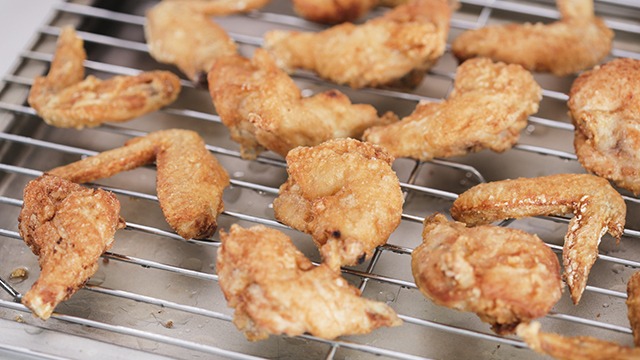 Basic Korean Fried Chicken Recipe
Makes 1/2 kilo chicken wings
Takes 3 hours to 3 days
For the brine:
2 cups water
2 teaspoons garlic, minced
2 teaspoons ginger, minced
1 1/2 teaspoons salt
2 teaspoons sugar
1/2 kilo chicken wings
For the coating:
1/2 teaspoon baking powder
1/4 cup cornstarch
1/2 teaspoons salt
For the batter:
6 tablespoons cornstarch
2 tablespoons all-purpose flour
1/4 teaspoon salt
1/4 teaspoon baking powder
1/4 cup soju, cold
1/4 cup water, cold
1 liter canola oil, for deep frying
1 Make the brine: Add brine ingredients into a pot: water, garlic, ginger, salt, and sugar. Bring to a boil. Once boiling, turn down the heat to a simmer and simmer for 10 minutes. Set aside to cool.
2 Once cool, pour into a large resealable bag containing the chicken wings. Remove as much air from the bag as possible. Place in a bowl and refrigerate for an hour up to 48 hours (2 days). Once brining is done, remove chicken wings from liquid and dry with paper towels.
3 Make the coating: In a bowl, whisk together coating ingredients: baking powder, cornstarch, and salt. Use this mixture to coat each piece of chicken. Set aside on a rack in the refrigerator, uncovered, for 1 hour up to overnight.
4 Preheat oil in a deep wok or pot to 325 to 350 degrees F (165 to 177 degrees C) using a candy or deep-fry thermometer.
5 While your oil is preheating, make your batter: whisk cornstarch, flour, salt, and baking powder together and then pour soju and water into the dry ingredients. Whisk well.
6 Add your chicken to the batter, and mix well. One by one, using tongs, tap off the excess batter before putting each chicken wing into the preheated oil. Move the chicken to make sure it doesn't stick to the bottom. Wait a few seconds before putting the next piece of chicken into the hot oil so they don't stick together.
7 Let it cook for 10 to 12 minutes, or until the batter has hardened to a crisp. Place on a wire rack to rest for 15 to 20 minutes.
8 After your chicken has rested, preheat your oil again until the oil reaches 350 degrees F (176 degrees C). Return your chicken to the hot oil, and cook until golden brown and the coating has hardened.
Now that you have prepared your chicken wings, time to make the sauces.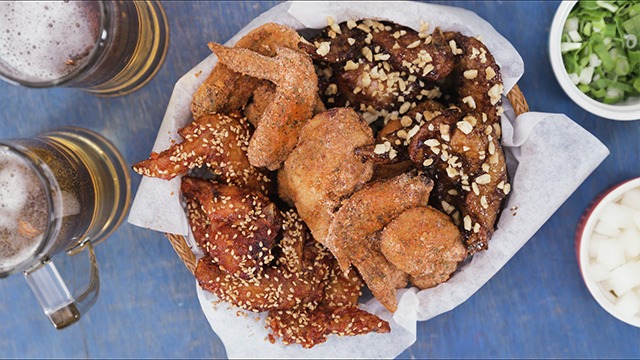 Let's start with the classic sauce: the Gochujang Glaze. It's the spicy, sweet, and umami-packed glaze used for most Korean fried chicken. If you want to make it spicier, add 1/2 teaspoon up to 2 teaspoons red pepper flakes to the glaze.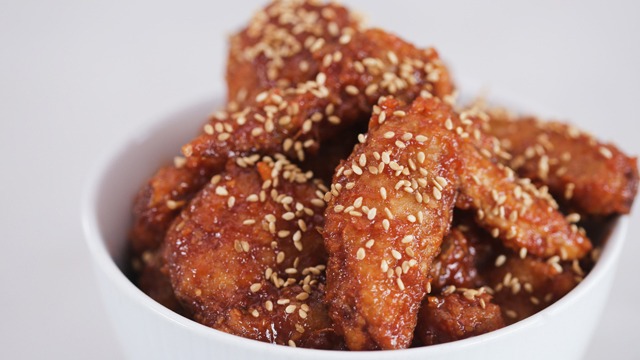 Gochujang Glaze Recipe
Takes 8 minutes
Makes sauce for 1/2 kilo chicken
1/8 cup gochujang (hot pepper paste)
1/8 cup soju (Korean spirit)
1/8 cup honey
1/8 cup ketchup, sweet blend
1/2 teaspoon rice wine vinegar
1 tablespoon garlic, minced
1 tablespoon ginger, grated
1 tablespoon toasted sesame seeds
1 In a pan, mix gochujang, soju, honey, ketchup, rice wine vinegar, garlic, and ginger on low heat. Raise the heat to medium-high heat until it starts to simmer. Simmer for 5 minutes while occasionally stirring. 
2 Place in a resealable bag and add your chicken. Toss to coat well. Sprinkle with toasted sesame seeds. Serve hot. (You can also top it with julienned onion leeks.)
A new kind of Korean fried chicken is guaranteed to stay crisper for longer while still packing lots of flavor. You'll particularly love this next one if you love nuggets that are doused in cheese powder! What takes this up a notch, though, is the addition of sour cream powder for some slight tanginess and milk powder, which subdues the saltiness and adds a creaminess that is definitely deliciously unexpected.
ADVERTISEMENT - CONTINUE READING BELOW
Recommended Videos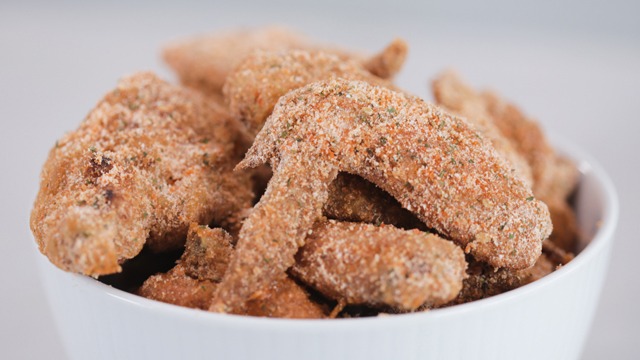 Sour Cream Cheese Snow Recipe
Takes 3 minutes
Makes sauce for 1/2 kilo chicken
1 1/2 teaspoons cheese powder
2 teaspoons sour cream powder
3 teaspoons milk powder
1 Mix cheese powder, sour cream powder, and milk powder in a resealable bag. Add chicken to the bag, seal, and shake until all pieces are coated.
2 Take the chicken out one by one, tap off any excess powder before serving. If desired, make another batch of cheese powder to sprinkle or "snow" on top of the chicken before serving.
Want something more basic? This super basic soy-garlic glaze recipe is easy and delicious. You can make it even easier by replacing the rice vinegar with white vinegar, or apple cider vinegar, depending on what's in your pantry. This recipe is based on this fried chicken recipe but we made a few substitutes and added crushed peanuts for an even bigger crunch.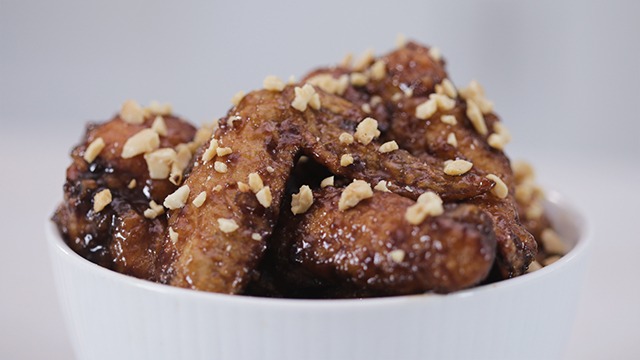 Soy-Garlic Glaze Recipe
Takes 10 minutes
Makes sauce for 1/2 kilo chicken
1/4 cup soy sauce
3 tablespoons soju
3 tablespoons water
2 tablespoons honey
1 tablespoon rice vinegar
1/4 cup brown sugar
1 teaspoon garlic powder
1/2 teaspoon ginger, grated
2 teaspoons cornstarch dissolved in 1 1/2 tablespoons water
1 tablespoon crushed peanuts
1 Combine soy sauce, soju, water, honey, rice vinegar, sugar, garlic powder, and ginger. Simmer over low-medium heat, stirring occasionally, until sugar is dissolved and vinegar has evaporated about 6 minutes.
2 Add dissolved cornstarch slurry and cook until mixture thickens.
3 While the mixture is still warm, add glaze and chicken wings to a resealable bag. Seal bag and shake until chicken pieces are evenly coated. Transfer to a serving bowl and top with crushed garlic peanuts.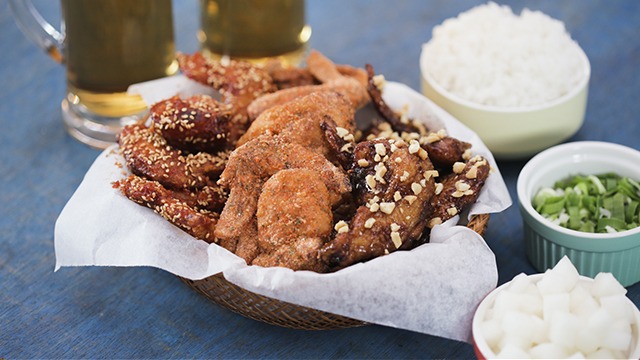 Pickled Korean Radish Side Dish Recipe
If you're going to eat like a Korean drama hero, you might as well go all the way with some pickled radish on the side, too. Good news is that it's easy to make.  
To make it, peel and cube a Korean radish. (Substitute with singkamas or labanos if you can't find the oblong variety.) Small cubes, about a third of an inch, are ideal. Toss and massage them in equal parts white vinegar and white sugar, with a pinch of salt, in a resealable bag. Take out as much air from the bag and let it sit flat, at room temperature, for four hours. Flip the plastic bag, and let it sit for another 4 hours. Then, refrigerate it for another 2 hours, or until needed.
This pickle will last, refrigerated, for about a week.
We don't know about you, but we're making these Korean fried chicken recipes again as soon as possible! Once you get on the Korean fried chicken craze, it's tough to stop!