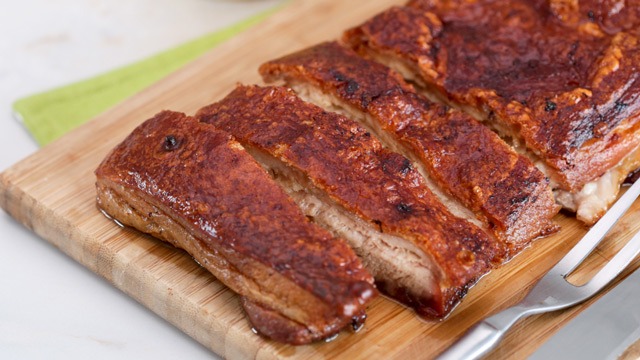 There's no need to buy an entire lechon for a small party. Make this super easy recipe for pork belly boneless lechon, and enjoy the crispy skin, the succulent meat, and the savings! 
This easy lechon recipe may look like it took a lot of effort to make, but the hardest thing you will be doing is waiting because you'll be waiting for the pork to be perfectly seasoned in the brine and then waiting for it to roast to crispy perfection in the oven. The result of all this invested time is a super crispy, extra succulent pork belly dish that you'll be dreaming about making and feasting on again. 
Excited yet? Here's the recipe so you can start the journey to homemade lechon heaven: 
Boneless Lechon Recipe
Takes 3 hours 20 minutes plus brining
Makes 12 servings
1 cup salt
1/4 cup sugar
1 teaspoon coarsely ground black pepper
4 cups cold water
1 (2 2/3 kilograms) whole pork belly, bones removed
Lechon sauce, to serve
1 In a saucepan over medium heat, add salt, sugar, pepper, and water. Stir to dissolve the salt and sugar. Once dissolved, remove from heat and pour into a container filled with ice with a lid that can fit the pork belly. 
2 Once the brine has cooled completely, place pork belly into the brine, adding enough water to cover and ensuring that it's fully submerged. Cover, and refrigerate at least 24 hours (1 day) up to 72 hours (3 days).
3 Preheat oven to 350?F.
4 Remove pork from brine, and place on a roasting pan. Bake in the middle rack of the oven for 3 hours or until the skin is crispy and the meat browned. Baste with pork drippings as needed. 
5 Remove from oven, and let rest 10 minutes before carving with a sharp knife. Serve while hot with lechon sauce or vinegar on the side as needed.
MORE RECIPES: