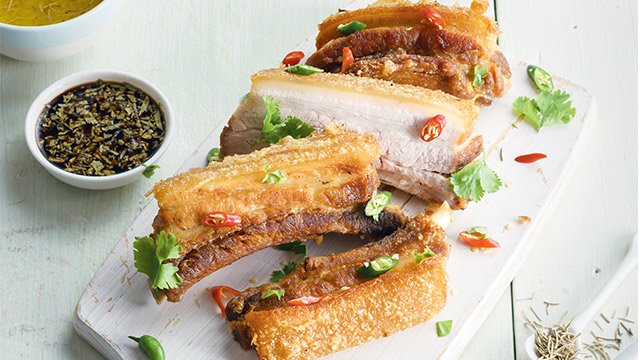 One of the most annoying things that can happen to any homemaker is failing to prepare a meal in time. 
This is where meal planning and grocery shopping comes in. However, even the best-laid plans can be disturbed by unexpected circumstances and coming up with something to cook in minutes can be stressful. 
Here is where the lechon kawali comes to the rescue. Did you know that prepping lechon kawali ahead of time can be helpful in prepping a lot of dishes? 
What are the first steps of making crunchy lechon kawali? Here's a quick recap of how to make lechon kawali: 
1. Place a pork belly slab, rock salt, black peppercorns, and bay leaves in a large stockpot. Fill with water until pork is completely submerged. Bring to a boil. Lower heat and cover pot partially. Simmer for about 1 hour or until fork-tender.
2. Remove the pork belly from the pork stock you just created and let it completely cool and dry. Wrap the meat in plastic wrap and freeze.
After this second step, it's up to you whether you cook it immediately the next day or keep it for another day when you are out of ideas on what to serve for lunch.  
This preparation work that you just did is what makes lechon kawali the make-ahead meal you didn't think you had in your freezer! To make a truly make-ahead meal, you need to cook more than one slab of pork belly. Make as many as you can buy on your grocery run and keep a stock of these ready-to-cook pork chunks ready at a moment's notice to be cook for dinner!  
Now that you know, here are some quick ideas on what you can do with that chunk of meat: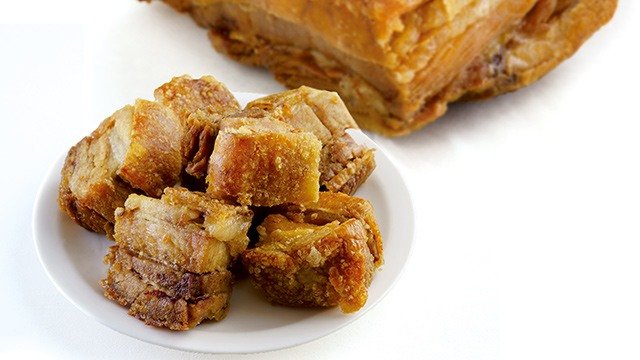 1 Make lechon kawali. 
There's no need to stress over what to do if you can just do what is simple and easy. Heat up a batch of oil and deep fry it until it's crispy and delicious. You can even pop this into an air fryer and use that to make it crunchy on the outside, too!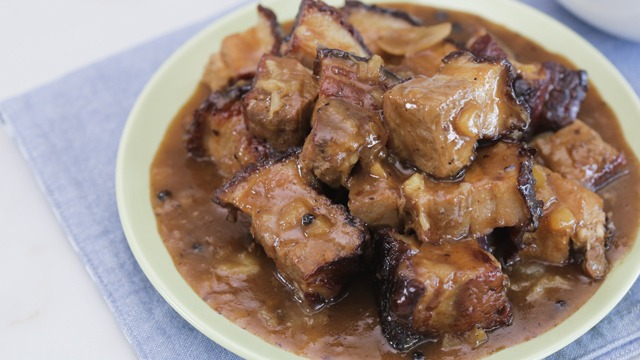 2 Make lechon paksiw. 
Even if you don't fry the lechon kawali until crispy, you can use it to cook this sweet and sour dish easily. Just chop up the already cooked pork belly into chunks and add to the pot with the rest of the ingredients to simmer and become super flavorful. 
ADVERTISEMENT - CONTINUE READING BELOW
Recommended Videos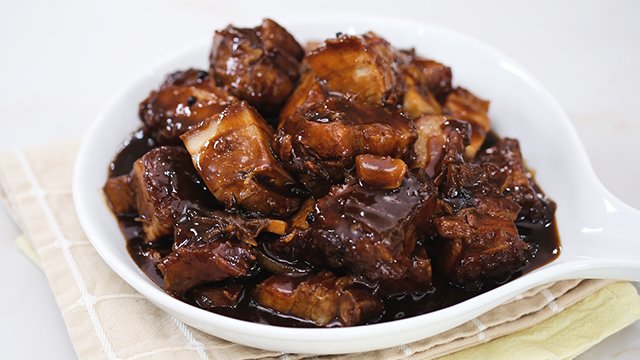 WATCH: How to Make Lechon Kawali Paksiw
Posted in:
Cooking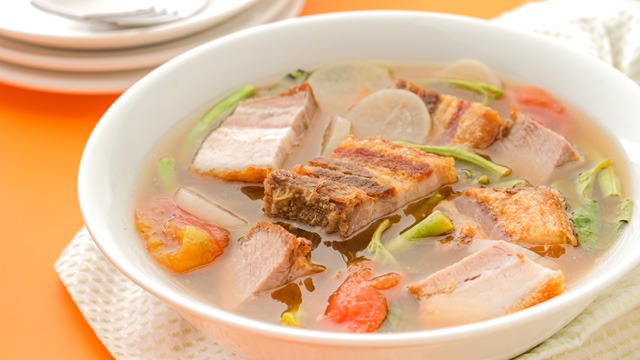 3 Make crispy sinigang. 
There are easy recipes that are delicious, and there are easy recipes that are super delicious. This crispy version of the sinigang is a great basic recipe for sinigang but with the added thrill of having lechon kawali chunks as the main meat. You get the addicting sour flavors from the soup with all the vegetables. What you get is a supremely satisfying meal!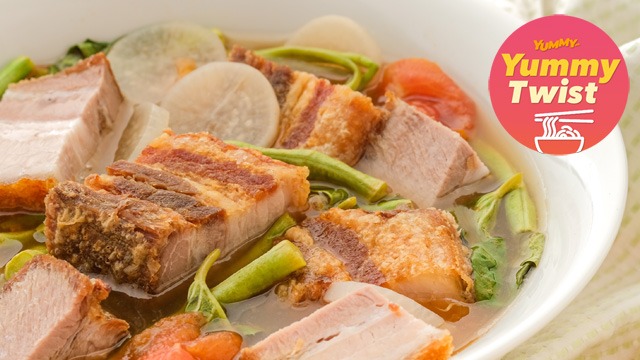 Crispy Pork Sinigang Recipe
Posted in:
Recipe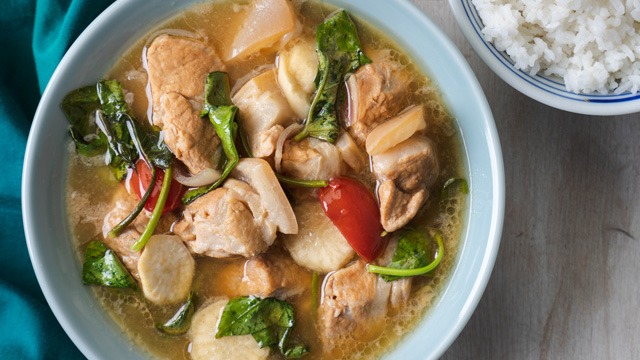 Sinigang Na Baboy Sa Miso Recipe
Posted in:
Recipe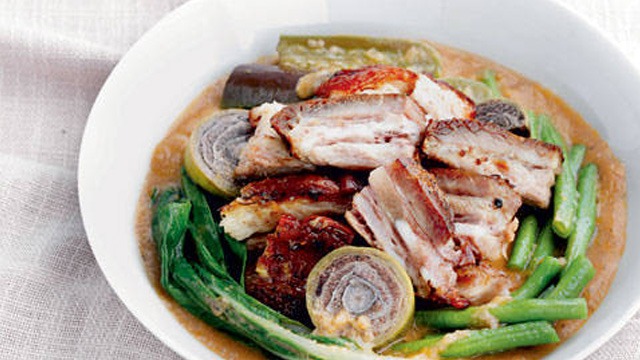 4 Pair it with kare kare sauce.  
Sometimes, all you need to do to make a lechon kawali meal super delicious is pair it with a luscious sauce like this peanut sauce or kare kare sauce. If you love kare kare but don't have the tripe, oxtail, or even the pata to make it work, lechon kawali will work just as well for the dish as any of those other cuts of meat.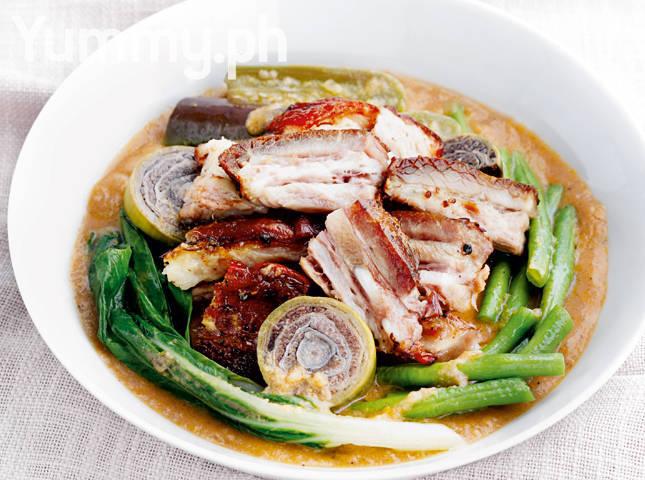 Lechon Kawali Kare-Kare Recipe
Posted in:
Recipe
These are four ways you can make lechon kawali into a make-ahead meal that is fast and easy to make. If you have your favorite pork recipes memorized, transforming the recipe to use lechon kawali chunks should help to get food on the table quicker and with more satisfaction and less stress.  
ALSO READ: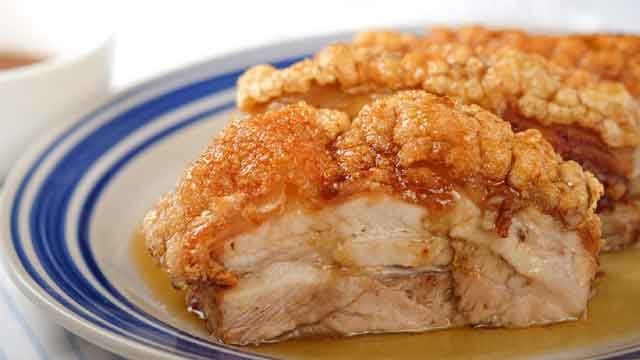 These Recipes Make Lechon Kawali Better
Posted in:
Cooking
***
Thinking about what to cook next? Join our Facebook group, Yummy Pinoy Cooking Club, to get more recipe ideas, share your own dishes, and find out what the rest of the community are making and eating!
Got your own version of the classic dishes? Pa-share naman! Get your recipe published on Yummy.ph by submitting your recipe here!