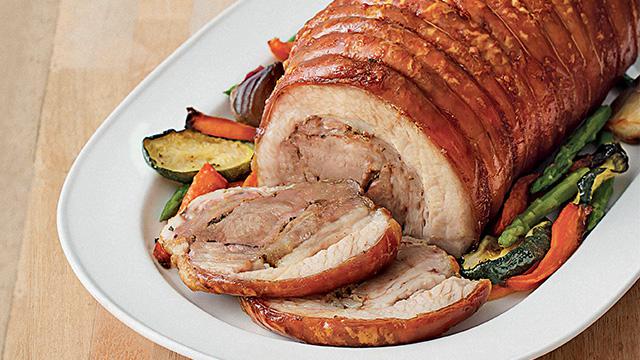 When you hear "lechon", do you think of the roasted whole pig with its glistening reddish skin on a rotating spit over hot charcoal? Can you imagine how crisp that pork skin would be when a knife cuts through it to carve chunks and slices of succulent meat to serve to eager guests? 
We can and we're sure you can, too! However, this vision of a whole roasted pig may have been true before but the reality of the lechon in the present may not be a grand as it used to be. With the pandemic still hovering over everything we do, being practical even during the holidays is a sentiment many of us must accept which includes the lechon baboy.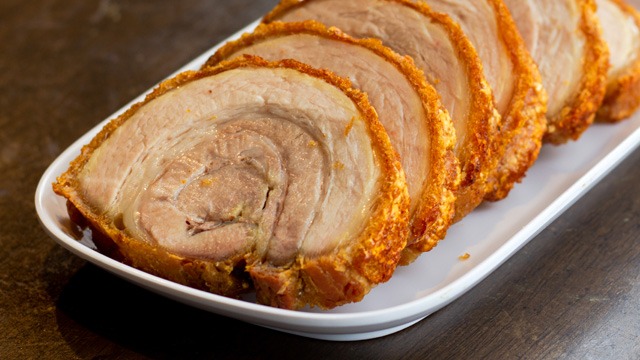 The lechon can be downsized from that impressive whole roasted pig of celebrations past to a mere fraction of it to better fit this new normal. You do not have to settle for whatever is leftover from the lechon seller either. In fact, you can even make a lechon pork belly at home so you do not have to spend more than you can afford to have a delicious Noche Buena feast on the table.
The good news is that while you may sacrifice size, you do not have to skimp on flavor or forego the crispy skin. 
To make a lechon more affordable as well as easy to cook at home, you need to pick a pork part. Our favorite pork cut, which is probably yours as well, is the pork belly or liempo. Here are delicious ways to prepare and cook a lechon pork belly to serve at any celebration: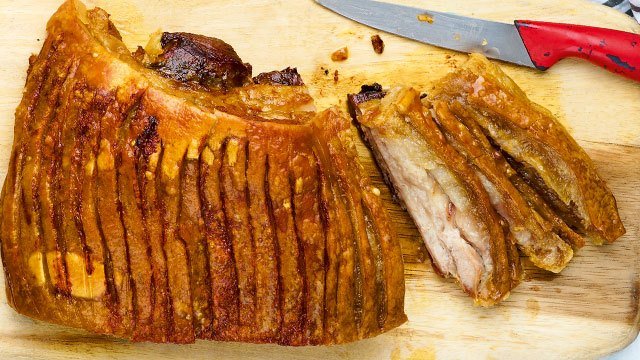 1 Brine the pork and then baste. 
This lechon pork belly is brined to ensure each bite is a juicy one. The key to this recipe is time. You need to create a flavorful brine that will be seeping into the pork overnight for up to three days. That's how it stays juicy even if you accidentally leave it in the oven for longer than is needed to cook it through. 
ADVERTISEMENT - CONTINUE READING BELOW
Recommended Videos
The other key to this recipe is to baste the pork skin in its own drippings (There's going to be a lot in the pan!) during the latter half of the cooking to create that crispy skin that everyone will want a piece of.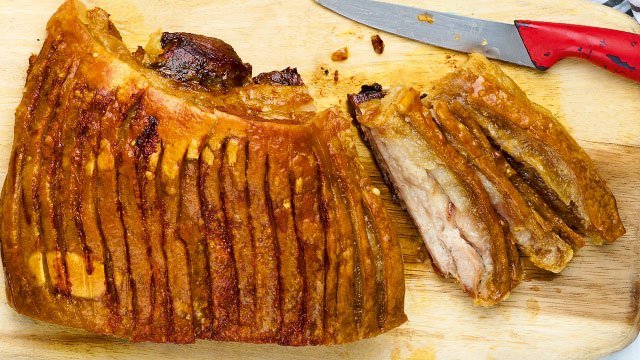 Boneless Lechon Recipe
Posted in:
Recipe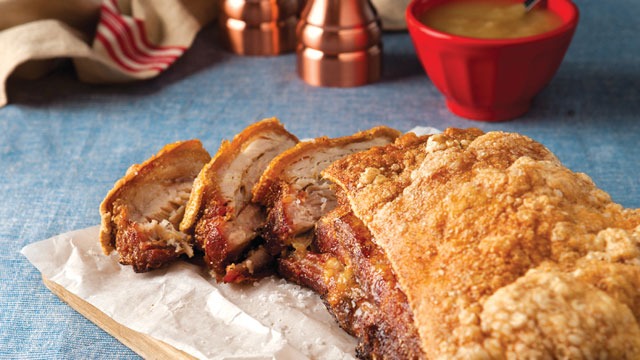 2 Pour hot oil over the pork. 
Chef Myke "Tatung" Sarthou has a roast pork recipe that he can cook with seeming ease. What's great about this is part of his trademark: simple but delicious. The pork is rubbed in just salt and pepper before its placed on a bed of lemongrass, carrots, onions, and celery and roasted until cooked through. 
To make the skin extra crunchy that it's like chicharon, hot oil is poured over the skin to make it pop and sizzle to ultimate crispness. Just look at how crispy that pork skin is!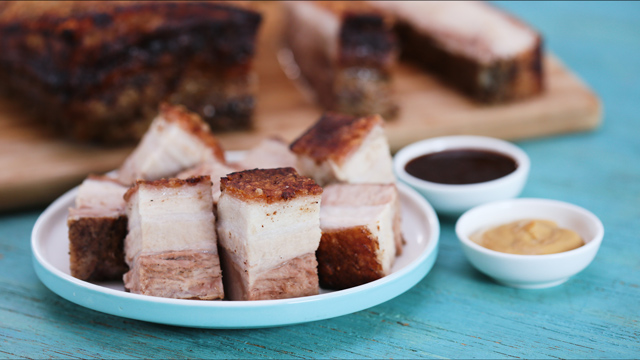 3 Roast it under a layer of salt. 
See these roast pork cubes? You might see these on a Chinese menu but you can totally do this at home! 
These pork cubes are succulent and tender underneath a layer of skin that is super crispy. The secret behind this is that it's roasted under multiple applications of salt. This salt is not just any salt either. One layer is a seasoned salt with Chinese five-spice and sugar that will basically dry brine the pork overnight and then flavor it even more as the pork roasts. 
The thick layer of salt that is placed on the pork skin is not to only season it but to also protect it from the oven's heat. You'll remove this and then roast the pork again to create that super flavorful and crunchy skin that you see on those pork cubes.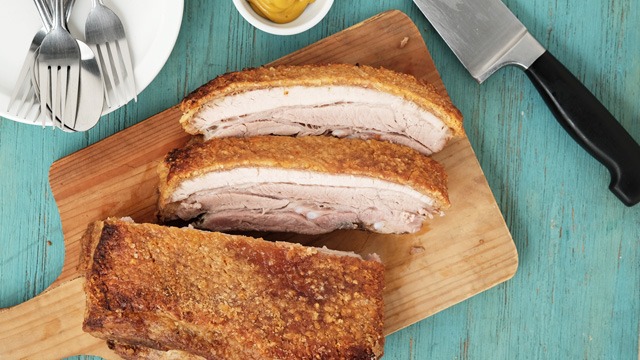 Lechon Macau Recipe
Posted in:
Recipe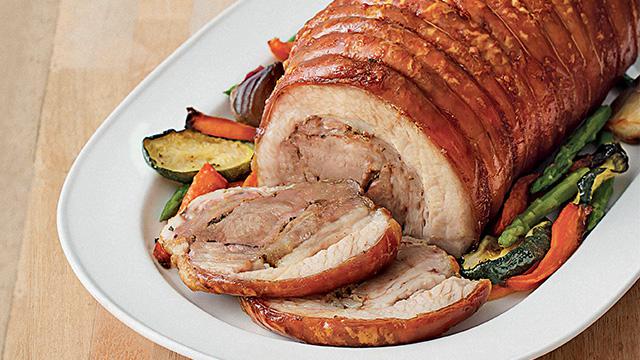 4 Roast it then roast it even hotter. 
The key to the crispy skin of this roast pork is how you cook it again. The preparation for this recipe is easy and moderately basic. Instead of local spices, this pork is updated in flavor with herbs such as rosemary, sage, basil, and pink peppercorns. These make it super aromatic and flavorful but the cooking is what turns this into a succulent and delectable roast pork belly recipe. 
The pork is first roasted in a moderately heated oven until it's cooked through. The heat is then increased to its maximum oven temperature to create a blistering heat that will transform the skin into a crispy layer.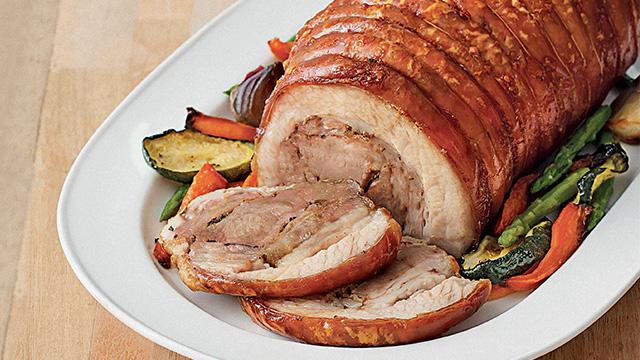 Roast Pork with Crispy Skin
Posted in:
Recipe
These lechon pork belly recipes all contain different ways to create that crispy skin that everyone seeks out when presented with roast pork. Which method are you doing to try? 
***