//
The good thing about food is that you can always find a way to make it taste even better. You can add more ingredients, replace the original ones, or change the way you prep and cook. It's all a matter of choosing which ingredients and methods would bring out the best in your dishes.
Try out these new versions of classic Pinoy favorites: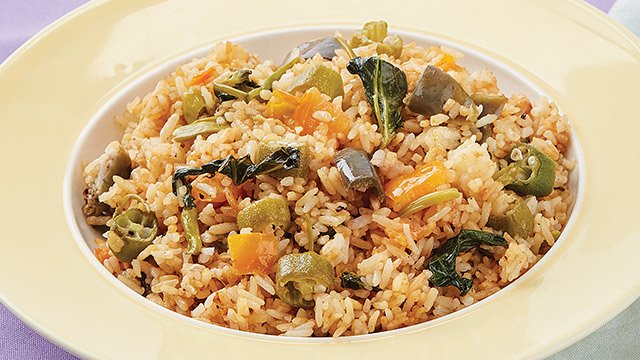 If you think you've had every kind of sinigang, think again!
Ingredients:
4 tablespoons cooking oil
1 piece onion, chopped
2 cloves garlic, minced
1 piece Knorr Pork Cube
4 cups cooked rice
1-2 tablespoons Knorr Sinigang sa Sampalok Mix
Procedure:
1 Heat cooking oil in a pan. Sauté onion and garlic until onion is translucent and garlic is brown.
2 Add Knorr Pork Cube and rice. Mix until well incorporated.
3 Add Knorr Sinigang sa Sampalok Mix. Adjust the taste according to your preference.
4 Serve hot with fried fish or similar dishes.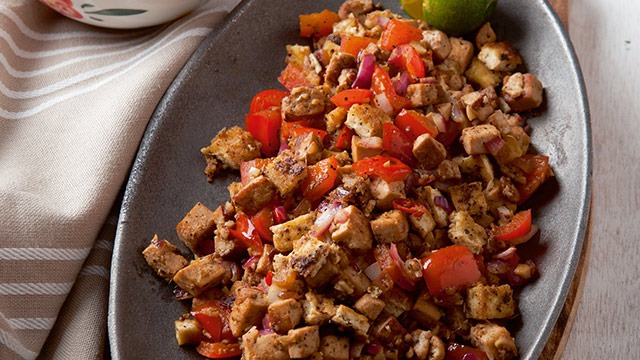 Try this meatless version of a Filipino favorite—you don't even need a hot plate for it!
Ingredients:
2 blocks, around 300 grams each of firm tofu (tokwa), rinsed and patted dry
2 onion, diced, divided
10 cloves garlic, minced, divided
1 siling labuyo (bird's eye chili), minced
vegetable oil, as needed
3 tablespoons soy sauce
1 tablespoon ginger, grated or finely minced
1/2 teaspoon black pepper
1 teaspoon coarse salt
1 teaspoon black pepper
3 tablespoons cane vinegar
1 tablespoon muscovado sugar
1 tablespoon calamansi juice
1 tablespoon Knorr Liquid Seasoning
Procedures:
1 Slice one 300-gram tofu block into 1/4-inch cubes. Place in a bowl and toss with marinade. Let it sit for at least 10 minutes.
2 Slice the other 300-gram tofu block into 1/4-inch thick slabs. Rub both sides with dry rub.
3 Heat vegetable oil in a large frying pan over medium-high heat. Fry the dry rubbed tofu slabs until crispy and golden brown on both sides, about seven minutes.
4 Drain on a paper towel-lined dish; when cool enough to handle, chop into 1/4-inch cubes. Set aside.
5 Heat oil in the same pan over medium-high heat. Sauté onion, garlic cloves, and siling labuyo for about five minutes.
6 Add the marinated tofu and bell pepper. Stir-fry until the tofu browns and the bell pepper softens.
7 Remove from the heat and add the remaining ingredients, including Knorr Liquid Seasoning, and the sauce. Mix well and serve with sliced calamansi and brown rice.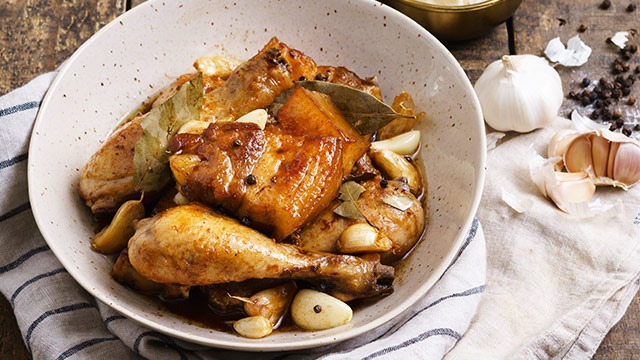 Add more flavor to your classic adobo with this one new ingredient!
Ingredients:
1/4 cup oil
1/2 kilo chicken legs, about 8 pieces
1/2 kilo pork belly, cubed
1/2 cup soy sauce
1 1/4 cup white vinegar
2 laurel leaves
1 1/2 cup water
1 head garlic, cloves separated
ground black pepper, to taste
1 teaspoon Knorr Liquid Seasoning
Procedure:
1 Heat oil in a pressure cooker over medium heat. Add chicken and pork pieces and cook until brown.
2 Add remaining ingredients. Increase heat to high, and bring to a boil. Cover and lock lid. Simmer in low heat for 30 minutes or until pork is tender.
3 Release pressure before unlocking and removing lid. Simmer sauce until thick. Serve with steamed rice.
The key to reinventing your dishes comes from knowing which ingredients will enhance the original flavor of your dish. You can use Knorr Liquid Seasoning and Knorr Sinigang Mix to make your recipes taste even better. Check out more recipes with a twist here!