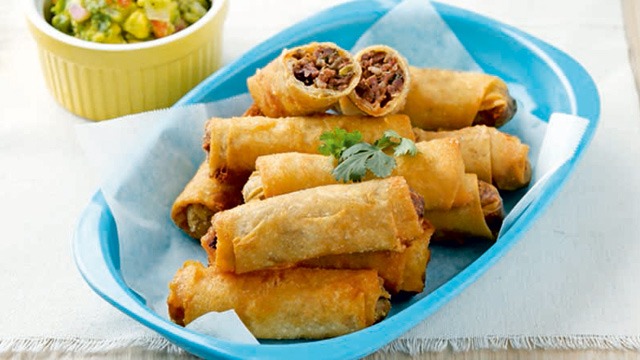 Eating lunch at school or work can often mean that you either spend too much money or you wind up with a disappointing meal. With a little prep, you can have delicious, quality meals without the early morning hassle. Flautas are a Mexican dish made with a rolled-up tortilla that contains a beef, chicken, or cheese filling. 
This recipe uses the more accessible lumpia wrapper and can be made ahead of time: Place the assembled flautas in a zip-top freezer bag and store in the freezer for about two months (when ready to cook, proceed to step 5). Try this recipe for beef and cheese flautas: 
Beef and Cheese Flautas
This version of the Mexican dish flautas, tortilla wrappers usually filled with meat and cheese, is the treat you need in the morning or the middle of the day: meaty, cheesy and pair with your dip of choice for even more layers of flavor.
2 teaspoons vegetable oil
1 medium white onion, chopped
2 cloves garlic, minced
3/4 kilo beef, use lean ground beef
1 teaspoon chili powder
1 teaspoon ground cumin
1/2 cup tomato sauce
Salt and pepper; to season
1 package spring roll (lumpia) wrappers
2 cups mozzarella cheese
store-bought salsa, to serve
1 Make the beef filling: heat vegetable oil in a wok or large frying pan. Sauté onions until translucent. Add garlic and sauté until fragrant.
2 Add ground beef and cook until brown. Drain well and remove excess oil. Return beef to pan. Add the rest of the ingredients for the filling; mix well. Turn off heat and let mixture cool.
3 Lay a piece of lumpia wrapper on a clean flat work surface. Place about 2 teaspoons of the beef filling and 1 teaspoon grated cheese on top. Fold bottom and sides of the wrapper and roll. Seal wrapper with water. Repeat with remaining ingredients.
5 Heat oil in a deep pan and fry flautas in batches for 2 to 3 minutes or just until wrapper is crisp and golden. Serve with store-bought salsa or if you have more time, try it with a chunky guacamole recipe.
ADVERTISEMENT - CONTINUE READING BELOW
Recommended Videos