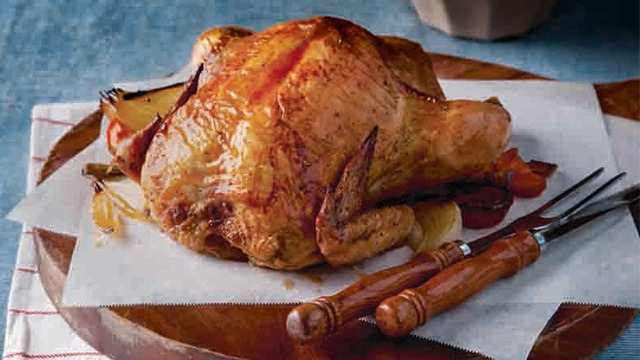 Roasts are always special: they show all the time and effort placed into creating a wonderful meal. One roast dish that makes it onto the table for both weekday and weekend dinners alike is a juicy-on-the-inside, toasty-on-the-outside roast chicken.
Roasting a chicken isn't as complicated as it seems, and it doesn't have to be! As long as you get the basics of it right, you will be able to churn out a delicious one to share with your friends and family. Also, not all roast chickens have to be the same: once you've become comfortable with baking one, make it your own by adding your preferred seasonings and spices.
1 Choose a great chicken to roast.
Good ingredients will always make your dishes shine. Free-range and organic options are readily-available in almost all groceries. Choose one of these for healthier, meatier, and more flavorful roasts! Remember to reach inside the back of the chicken to remove the plastic bag of giblets.
2 Use lots of salt and pepper.
Bring you chicken down to room temperature if it came from the refrigerator. Pat the skin dry, then drizzle with olive oil and rub with butter. Salt and pepper should do the trick for a simple but tasty roast chicken, but you can make it even better with garlic, lemons, and herbs! Lay them in and around the pan or inside the cavity of the chicken so that they get to infuse the meat with lots of flavor.
3 Roast it low and slow.
Place your chicken in an oven-safe glass dish or roasting tray, breast side up, and cover with foil. Roast at 400 degrees Fahrenheit for 1 ½ to 2 hours, depending on the size of your chicken. To check for doneness, look if the juices run clear when you slice between the leg and thigh.
4 Crisp up that chicken skin!
Remove the foil and turn up your oven setting to broil. Roast your chicken for 5 to 10 more minutes until the skin turns crisp and golden brown. Like almost all proteins, let your chicken rest for 15 minutes after roasting. If you carve it right away, all that precious juice will end up going to waste.
5 Eat your veggies.
Cut your work down to half and roast vegetables along with your chicken. Potatoes, beans, onions, and carrots roast beautifully with chicken. They will also get to soak up all those meaty drippings in the process!
6 Make gravy to go with it!

The reserved bag of giblets that you removed from the cavity of the chicken can be used along with chicken drippings to make a flavorful gravy. While your chicken is resting, whip up a fast gravy by whisking chicken drippings with flour. Remember to season this with salt and pepper, too!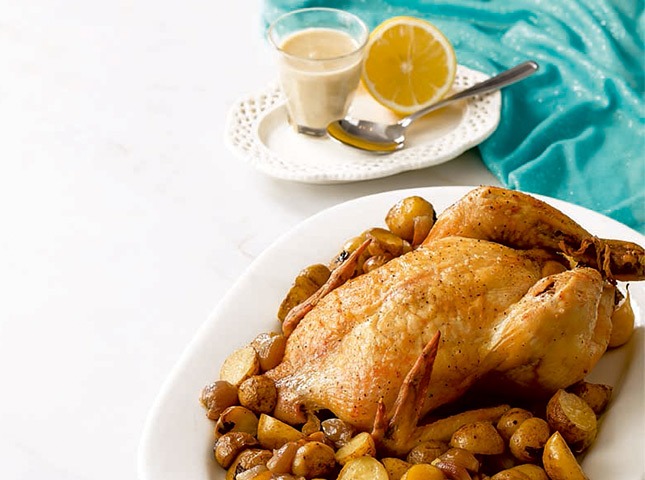 Roast Chicken with Gravy Recipe
Posted in:
Recipe