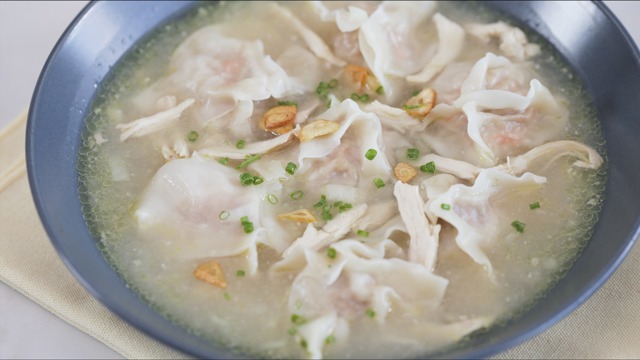 It's the same scene every year. After breakfast on December 24, our dining table would be filled with ingredients. Carrots, onions, and celery on the table; the chicken already boiling on the stovetop. Once cooked, my mom would call me, the ingredients were waiting for me to start mise en place. My mom would make molo soup for the annual holiday lunch and I'm supposed to help her prepare the ingredients.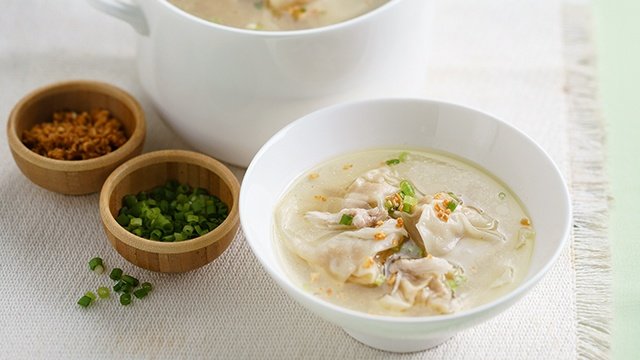 Molo Soup Recipe
Posted in:
Recipe
For as long as I can remember, my mom's molo soup has always been part of our life. She makes it once a year, making it extra special. It's a dish that the family always looked forward to, my cousins included. They would often ask days ahead if mama was making molo soup and she would make enough for everyone so that there'd be some for them to take home.
Mama would spend the whole afternoon cooking: shaping the meatballs, wrapping the seasoned meat in delicate molo wrappers, dropping them in chicken broth made from scratch. The soup would simmer quietly on the stovetop, cooking the dumplings and the shredded chicken, and envelop the kitchen with a warm and savory scent. I remember how my mom would scoop out a ladleful of soup into a small bowl, with a dumpling or two, taste it and adjust the seasoning as the soup bubbled to a quiet rhythm.
I was often asked to taste it. It was comforting, it had a flavorful broth and it had just the right amount of umami—to me, it always tasted like home.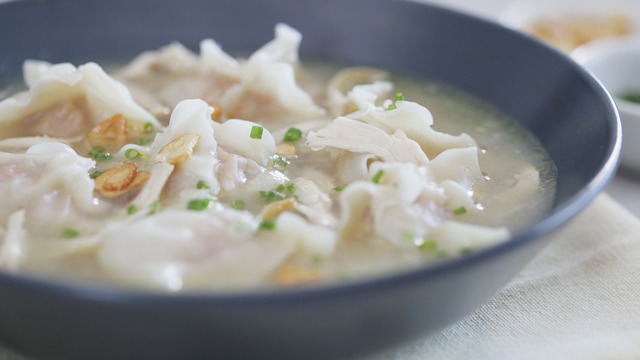 It never occurred to me to learn how to make the molo soup myself. She always made it perfectly, year in and year out. I would pick up tips here and there, like how to know if the meat was seasoned properly and to bring out the molo wrappers only when you're ready to wrap the dumplings so it doesn't dry out. But mostly, I would be wrapped up in my own thoughts, happily anticipating Christmas as the hours slipped by, as I shredded chicken or chopped the carrots.
You know how some dishes just feel like a warm hug? That was what my mama's molo soup always felt like. And on a day that was supposed to be one of the happiest, we all needed that warm hug.
Now that I have a family of my own, I realize how mama's molo soup—even the hours spent prepping it—had become a ritual, our own little family tradition. Whenever I think of family, of the holidays, or speak about my parents, mama's molo soup would always be a part of it. As I grew older, I realized service was and still is my mom's love language. Christmas Day is also her birthday, but there she was, always making sure everyone was fed well. With every slurp of that warm chicken soup, you can feel the hours she spent preparing food for us when she should be the one being pampered.
In 2014, we lost my twin brother. The latter part of the year was a blur in my head, each of us embracing grief and our new normal in the best way we knew how. I don't even remember planning the holiday spread that year. We must have served the staples—chicken macaroni salad and the obligatory Pinoy fruit salad. But I was sure mama served molo soup. And to me, at least, it brought a sense of normalcy. That things were the same, that things were okay. You know how some dishes just feel like a warm hug? That was what my mama's molo soup always felt like. And on a day that was supposed to be one of the happiest, we all needed that warm hug.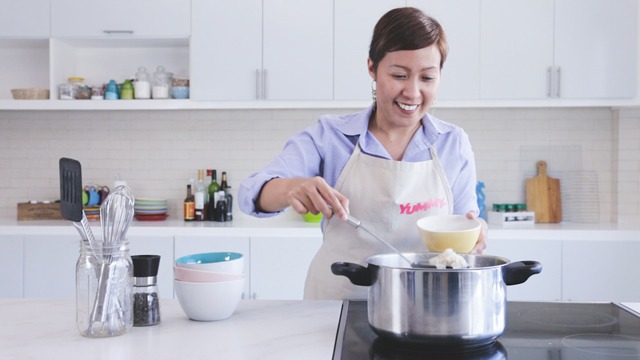 I've never attempted to make mama's molo soup on my own. But every now and then, I think about how my own daughter would eventually dig into her own memory bank of family memories. I want her to have a memory bank full of rituals, of warm fuzzy feelings, of seemingly mundane moments that make up happy thoughts of family. And maybe, just maybe, it would include my mama's—her lola's—wonderful molo soup.
ADVERTISEMENT - CONTINUE READING BELOW
Recommended Videos
ALSO READ: