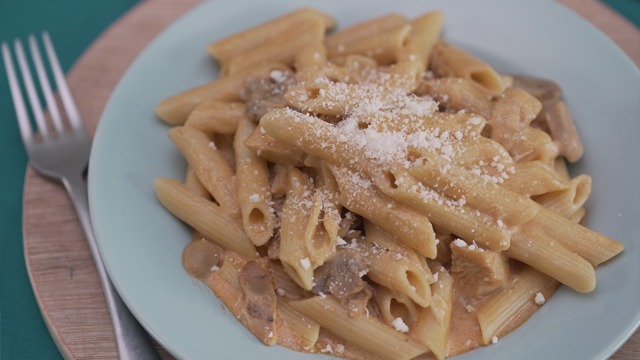 When it comes to pasta, few pasta dishes are unique. There are many ways to make pasta dishes special but for my favorite family recipe is a creamy pasta dish that my siblings and I love to eat, especially during special occasions.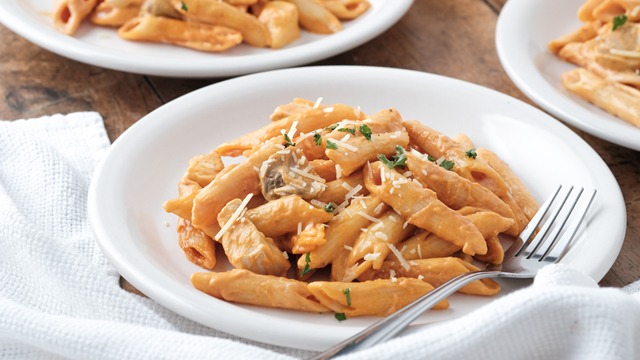 My lola, Emilia Bailon, taught my mother Evangeline this pasta recipe while growing up and she, in turn, passed on the recipe to me. I think that this creamy chicken tomato cream pasta called timbal is comfort food at its finest. It's super creamy and rich, thanks to the use of both evaporated milk and all-purpose cream. Not only that, the entire dish is made with ingredients that are readily available in many kitchens: the evaporated milk and all-purpose cream, bouillon cubes, fresh chicken, tomato paste, canned mushrooms, and a package of dried pasta. 
These are canned and packaged goods you can find in most Filipino kitchens.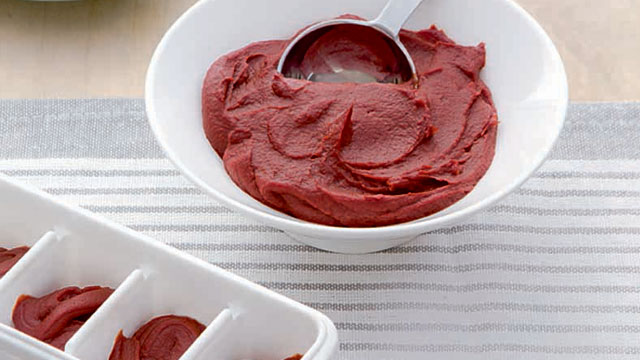 However, it's not the ingredients that made this pasta recipe so special. The way it's made is loaded with the love poured into the dish. It's almost completely homemade, from the stock used to cook the pasta to the chicken that's lovingly shredded by hand so no part of the chicken is wasted. Once you get a taste of this kind of pasta, you won't forget how tasty, how flavorful and delicious this kind of pasta. 
One-pot recipes make cooking pasta easy! Need the one tip to make any pasta recipe just as easy? 
Add more water to your sauce.  
The trick to making a pasta recipe one pot is to make the sauce first and then add more water than it should have. Add another 1 cup water to start off with. You need this extra liquid, so when you add the pasta, it has enough liquid to simmer in.   
ADVERTISEMENT - CONTINUE READING BELOW
Recommended Videos
Once you have your ingredients ready, it's just a matter of dumping it all in the pot to cook completely.
If you love dishes that are flavorful and comes together in one pot, this is a great recipe to try. It's so good, we always expect it to be served during every special family occasion.   
Here's the full story behind the dish and the recipe so you too can learn how it's made: 
ALSO READ: