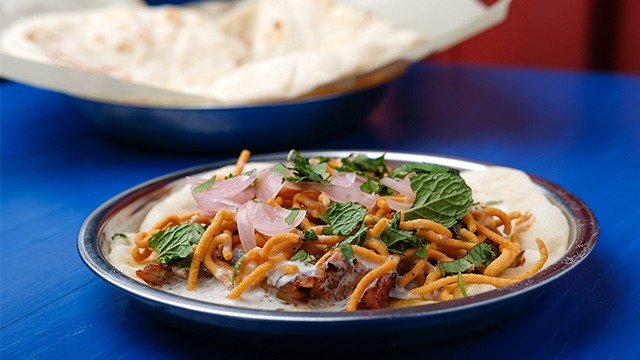 Naan is an Indian yeasted flatbread that is traditionally cooked in a tandoori, or a clay oven. It is made with simple ingredients: flour, milk, yogurt, and yeast. The milk and yogurt give naan its distinct soft and chewy texture.
At Kapitolyo Indian-themed restaurant Naan, this flatbread is served with grilled chicken tikka, spiced crispy chickpea noodles (sev), mango chutney, yogurt, pickled onions, mint, and cilantro. Pick it up with your hands, fold it up like a soft taco, and dig in!
You can also serve this with curry and hummus. If you're a fan of wraps, simply substitute tortillas for naan! This easy flatbread recipe comes from the brains behind the Indian restaurant Naan, Alder Surposa.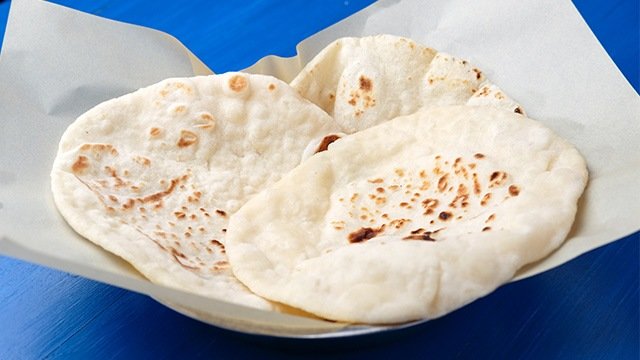 Easy Indian Naan Recipe  
315 ml full-cream milk
60 grams plain yogurt
4 tablespoons vegetable oil
500 grams all-purpose flour
14 grams baking powder
5 grams salt
30 grams brown sugar 
5 grams dry active instant yeast
How to make Easy Naan 
1 In a small saucepan over low heat, combine the milk, yogurt, and vegetable oil. Heat until just warm enough to touch. Take the saucepan off the heat immediately.
2 Combine all the flour, baking powder, salt, brown sugar, and yeast in a mixing bowl. Make a well in the middle and pour the warm milk mixture into the bowl. Mix with a wooden spoon until roughly combined.
3 Transfer the dough onto a flat surface and knead for ten minutes. The dough will be sticky at first—resist from adding flour.
4 Once the dough can be formed into a smooth ball, coat the dough with a drizzle of vegetable oil and place in it a mixing bowl. Cover the dough with a damp towel and leave in a warm place for at least 2 hours or until doubled in size.
5 Once ready, punch down the dough and divide into 60g to 70g rounded portions. Remember: there should be no cracks in the dough. Place the dough balls onto a lined baking sheet, cover with a damp towel, and leave in a warm place to rest for 1 hour. 
6 Heat your tava pan (see tips below!) or cast iron skillet over medium-high heat. Roll out the dough balls on a lightly floured surface until flat and circular in shape. Pick up the dough, and slap it by transferring the naan from one hand to the other. This helps shake off excess flour and will further flatten and expand your dough.
7 Lay your naan dough on the hot pan. Cook for 45 to 60 seconds, until puffy. Flip and cook the other side. Serve with curries or use as a wrap.
Tips for making naan:
1 Be bold with flavor and incorporate more ingredients into your naan: cheese, minced garlic, or butter. Stuff these ingredients into your dough balls before rolling them flat.  
2 Find tava pans in any Assad Minimart branch (Jupiter St., Makati, Timog, U.N. Ave., or Marikina). You can also use a non-stick cast iron pan to make flatbread at home.
3  Keep the cooked naan in a bowl lined with a clean towel to keep them warm.
Naan is located at 2/F 16 United Street, Kapitolyo, Pasig City. Follow them on Instagram! 
***