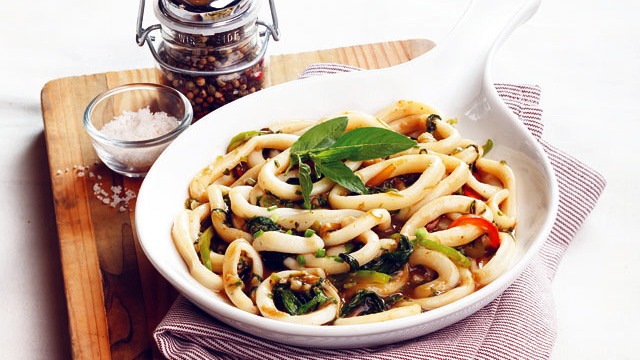 Squid, or pusit, can be a hassle to prepare! Each squid has to be cleaned and prepared before cooking and this can take time to do. While this can't helped if you're cooking whole pieces of squid, there are a few shortcuts you can do to make it easier on yourself. Here are a few ideas to speed up the process: 
1. You don't have to remove the squid skin. This is purely for aesthetics and if you don't have the time, you can leave it on. 
2. Use prepared squid rings! Those frozen packs of squid rings make fabulous substitutes for fresh and are perfect for calamari.
3. Have your fish vendor do it for you. Ask! Not everyone knows how to prepare their ingredients and that's exactly what they are there for.  
Once you have your prepared pusit, use it for more than just adobo! Here are a few squid recipes that we think you haven't tried yet and might become your new favorite seafood dish: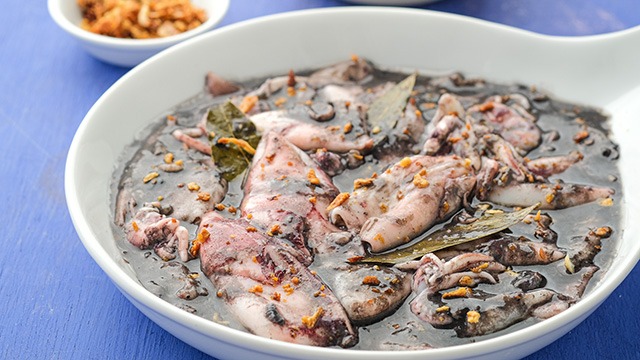 1 Adobong Pusit Sa Gata Recipe  
We know you love the adobong pusit recipe but have you tried it with gata? You should! The squid ink is fabulous when coconut milk is stirred in! The gata is a delicious sweet ingredient that not only complements the squid, but it also tempers the saltiness and makes this version super luscious with every bite!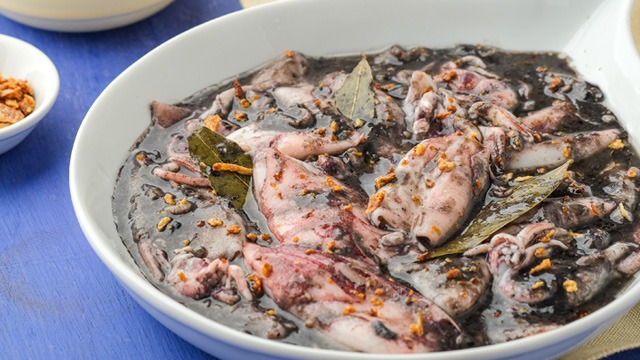 Adobong Pusit Sa Gata Recipe
Posted in:
Recipe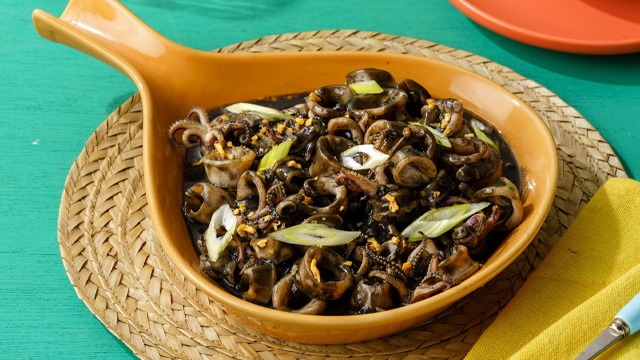 Adobong Pusit Recipe (Squid Adobo)
Posted in:
Recipe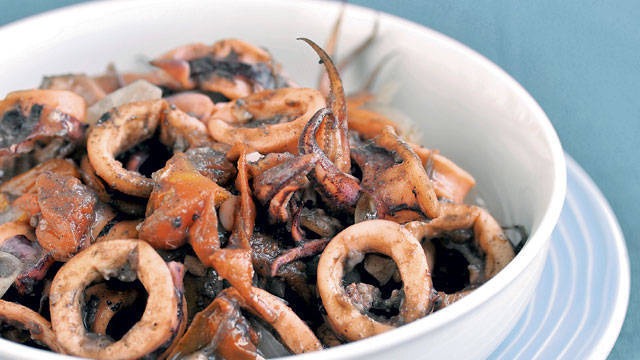 2 Adobong Pusit in Balsamic Vinegar Recipe 
If you're looking for something different to do with your adobong pusit or in a country that just doesn't have the coconut or cane vinegar we love with our adobo, this recipe is the one you should try! Balsamic vinegar is a great ingredient to swap with our local vinegar. It's tangy but with an underlying sweetness that caters to the Filipino sweet tooth. It may be a splurge but you don't need much to make this adobo supremely delicious but different from your usual adobong pusit.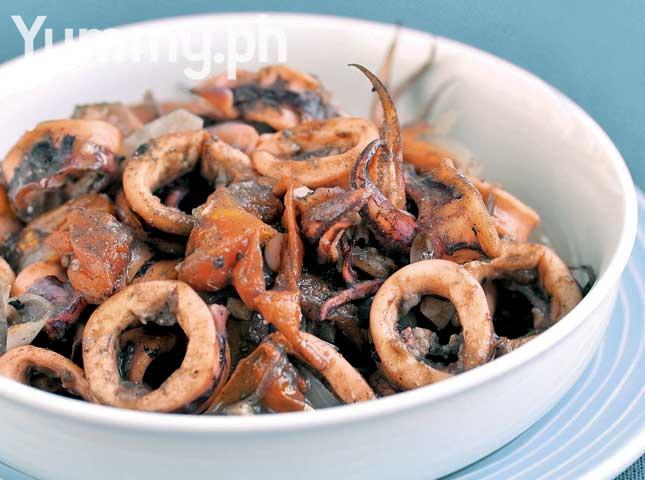 Adobong Pusit Balsamico
Posted in:
Recipe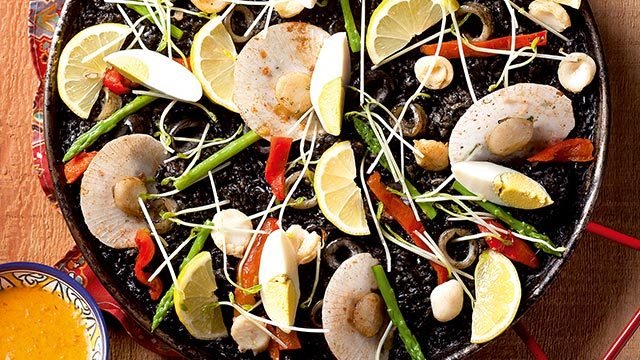 3 Seafood and Squid Ink Paella Recipe 
Different kinds of seafood can make any recipe instantly better. This recipe is best when served to friends and family! In this recipe, it's not just the squid rings that make an appearance in the dish, the squid ink does, too! Harvest the squid ink sacs in every squid you prepare or save any of the blackened liquid from your bag of squid, so when it comes time to simmer the rice, you can tint the rice with its unique seafood flavor.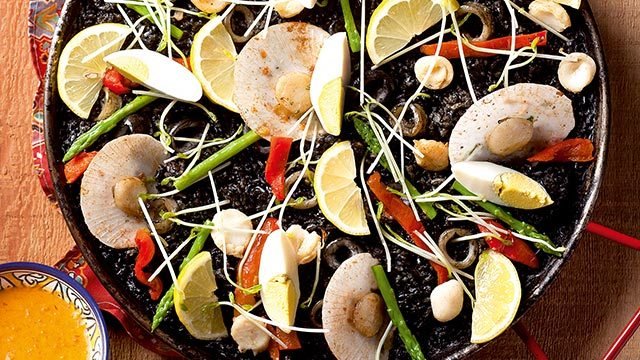 Seafood and Squid Ink Paella Recipe
Posted in:
Recipe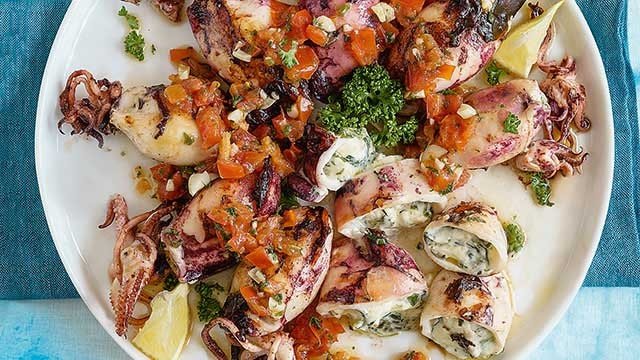 4 Stuffed Squid Recipe 
Stuffing squid with something delicious isn't new. However, we think this recipe for the stuffing is one that you just have to try! Instead of the usual tomatoes, onions, and garlic stuffing, these ingredients are instead replaced with a creamy cheese, spinach, and herb stuffing that's drizzled with a garlic, tomato, parsley, and lemon sauce. We bet you have never had stuffed squids like these!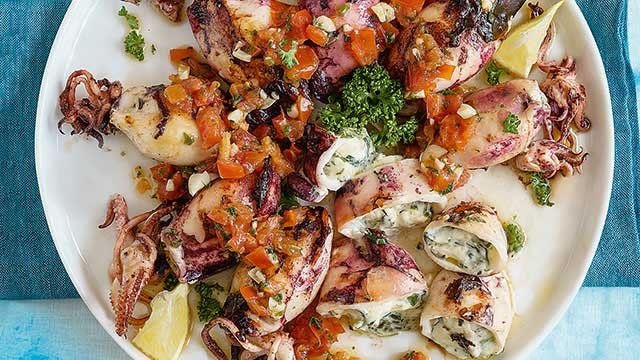 Stuffed Squid Recipe
Posted in:
Recipe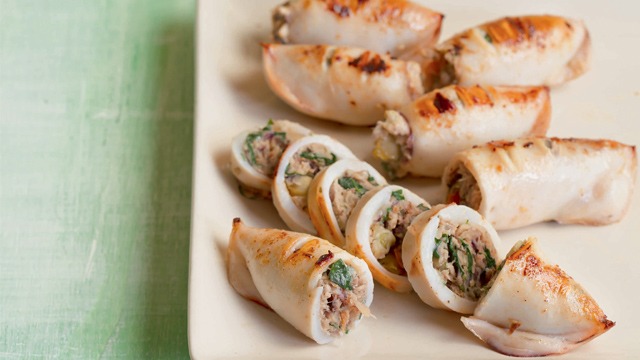 Grilled Malunggay Stuffed Squid
Posted in:
Recipe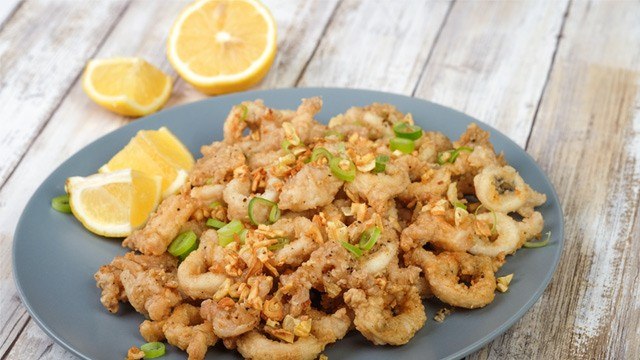 5 Calamari with Garlic and Lemon Recipe 
Calamari or squid rings are common appetizers at bars and restaurants. You don't need to go out to get a taste of these delicious rings! In fact, why not take its flavor up a notch or two by topping these rings with something crunchy and flavorful? We think crunchy garlic bits are perfect on top! Squeeze some lemon juice before spearing a ring and we think you won't need any dip on the side to complete your meal.  
ADVERTISEMENT - CONTINUE READING BELOW
Recommended Videos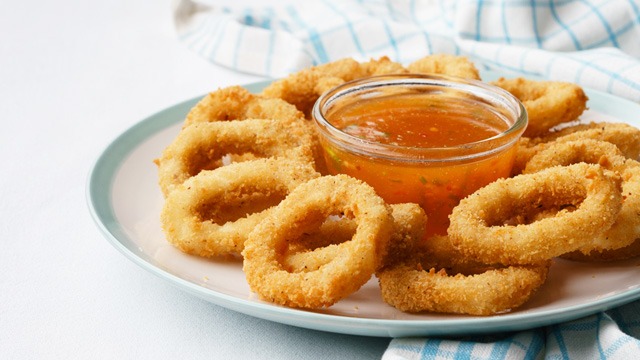 Spicy Calamari Recipe
Posted in:
Recipe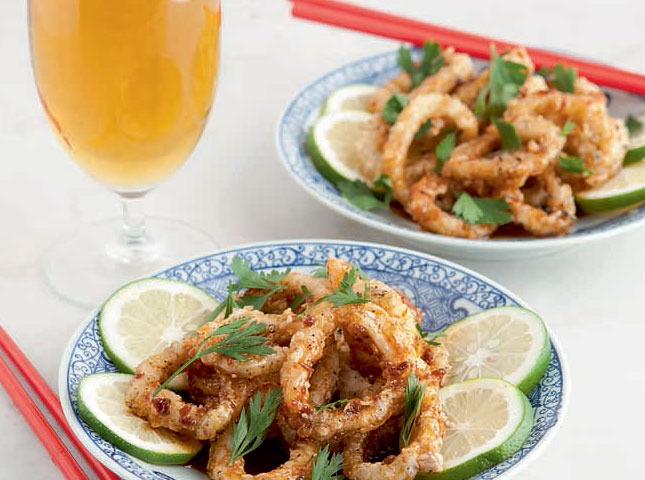 Aligue-Glazed Calamari Recipe
Posted in:
Recipe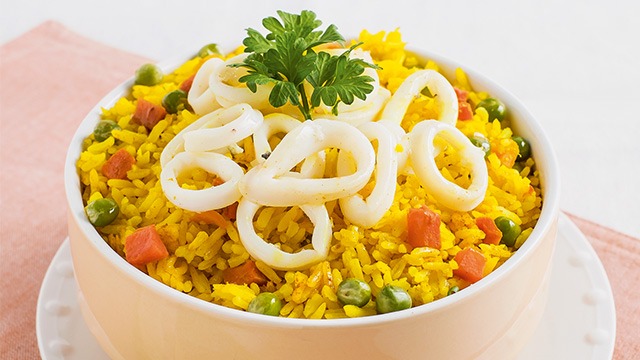 6 Turmeric and Squid Rice Recipe 
Squid doesn't have to be in a fancy, complicated recipe to be appetizing! This simple turmeric fried rice served topped with squid rings is made even better with a few key ingredients and is ready to eat in under 15 minutes! What's not to love?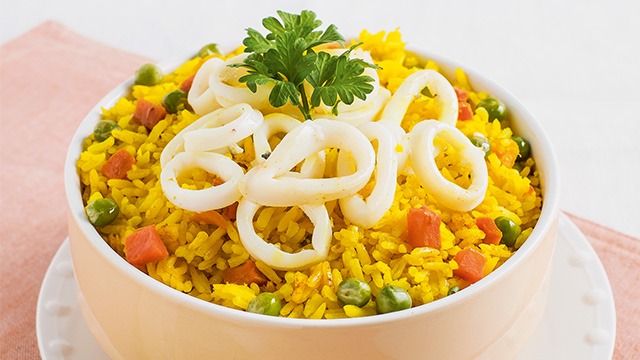 Turmeric and Squid Rice Recipe
Posted in:
Recipe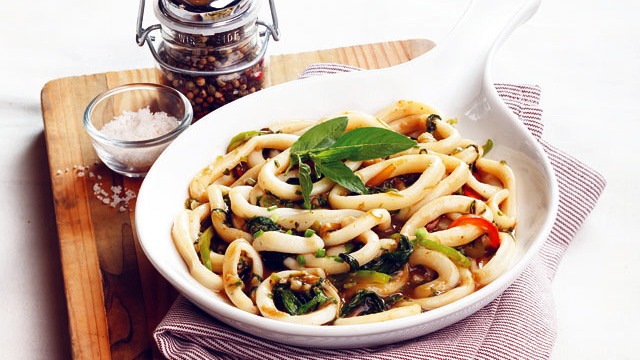 7 Thai Basil Squid Recipe 
Basil is commonly used in pasta and finely chopped into pesto. For this recipe, squid is simply fried with super aromatic and flavorful ingredients that you probably have in your kitchen, plus the fresh basil leaves. The result is a fantastic and easy stir-fried dish that you can cook in minutes and should serve immediately.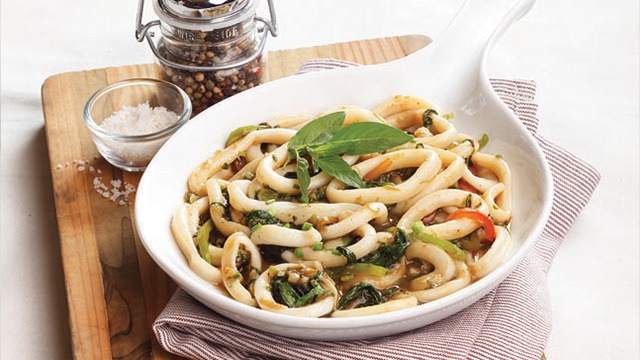 Thai Basil Squid Recipe
Posted in:
Recipe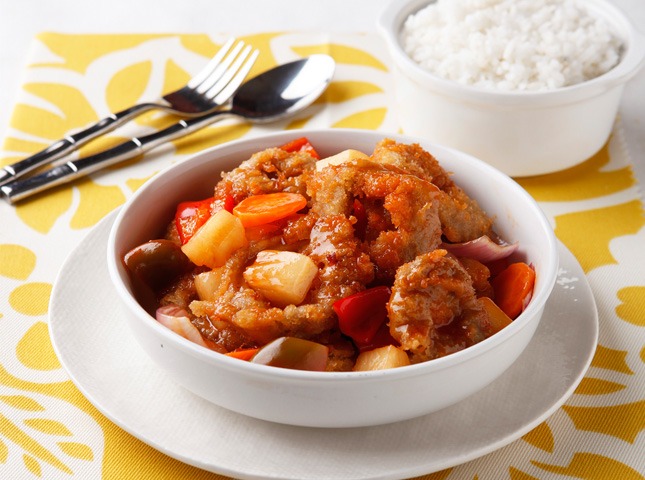 8 Sweet and Sour Squid Recipe 
Sweet and sour dishes don't have to be just made with pork! This sweet and sour recipe is a brilliant idea! You can upgrade your usual crunchy squid rings and instead of pairing it with a dip, toss it instead with a flavorful sweet and sour sauce. It's the perfect seafood version that still has all the flavor you love in the pork version, but has an incredible crunch, too.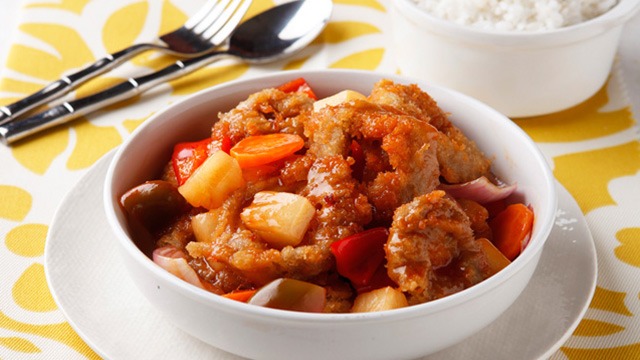 Sweet and Sour Squid Recipe
Posted in:
Recipe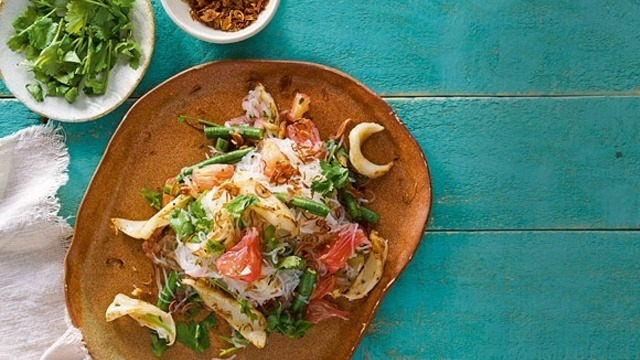 9 Squid and Pomelo Glass Noodle Salad Recipe 
If you're looking for something light and refreshing with your squid, you have to try this salad recipe! This fresh salad is almost no-cook! All you really have to do is sear the squid on the grill to get those appetizing grill marks and charred flavor, then it's just a matter of tossing everything together. You can even skip the grilling and make a squid ceviche or kinilaw to transform this into a totally no-cook recipe that you can make on the beach! 
ALSO TRY: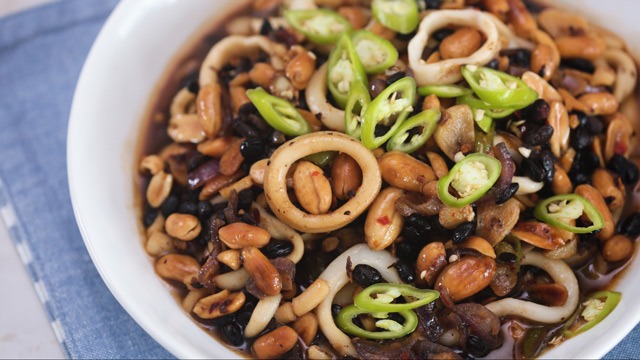 WATCH: How to Make Spicy Stir-fried Squid
Posted in:
Cooking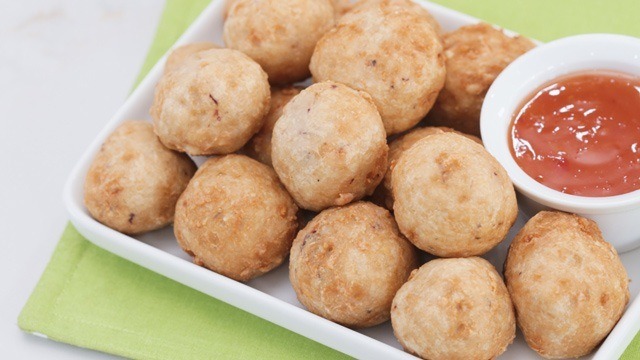 WATCH: How To Make Squid Balls
Posted in:
Cooking