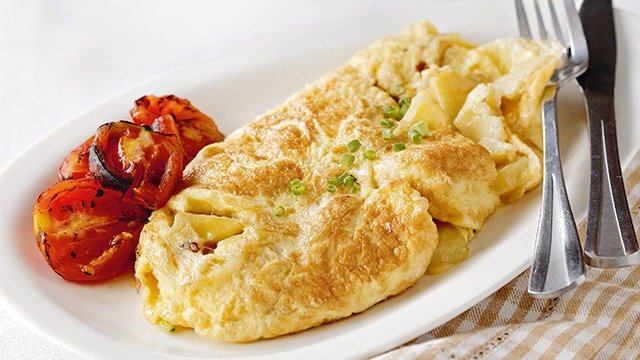 Eggs are a breakfast essential! Few breakfast plates are complete without a sunny-side-up or a creamy scrambled egg on the side. It's a known fact that just placing an egg on top automatically makes it eligible to be a breakfast meal!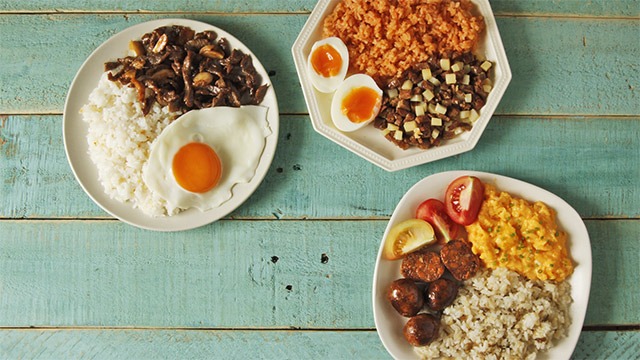 WATCH: Silog Combos You Need to Try
Posted in:
Cooking
Since eggs are so essential to breakfast, it can get boring. After all, there are only so many silogs you can make and eat until you're tired of the same meal day in and day out.
This is where the versatile omelet recipe comes in!
Omelets are your everyday egg recipe that can become something else at every meal. What's so great about it is that what you add to the omelet can range from one simple ingredient to all the toppings that you can imagine you'd want with your egg.     
To prove it, here are seven omelet recipes that will change the way you eat breakfast every day of the week: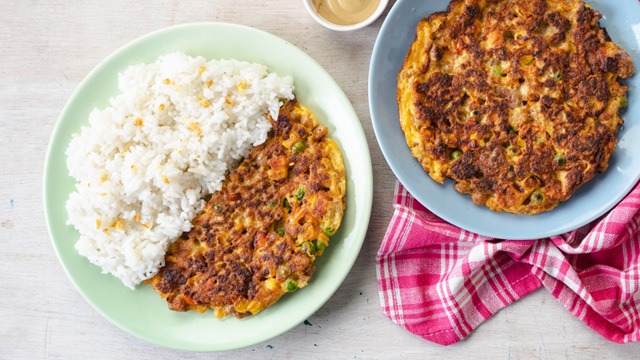 1 Tortang Giniling na Baboy Recipe 
Torta is popular in many carinderias for a reason. It's easy to make, it's tasty, and it can be made of any ground meat that is available! This ground pork omelet recipe is made fast and easy so you can be sure you're going to have a filling breakfast with garlic fried rice.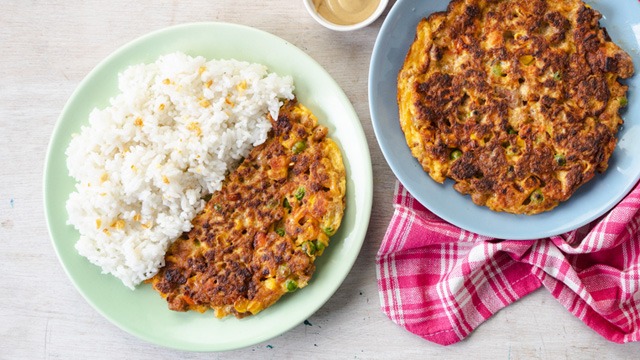 Tortang Giniling Na Baboy Recipe
Posted in:
Recipe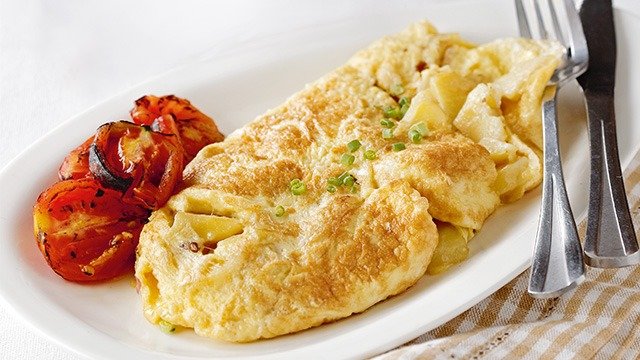 2 Potato Omelet Recipe 
Going meatless? Then this recipe is for you! This omelet may not contain any meat but it's made heartier with chunks of tender potato that's been fried and seasoned before being enfolded into an egg blanket.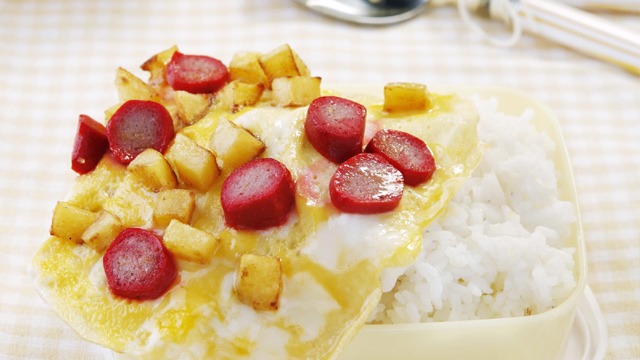 Fish Hotdog and Potato Omelet Recipe
Posted in:
Recipe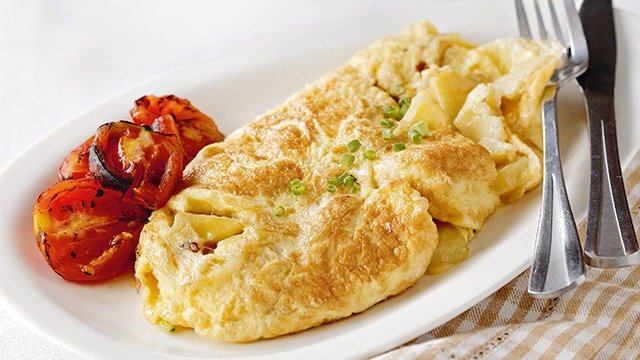 Potato Omelet Recipe
Posted in:
Recipe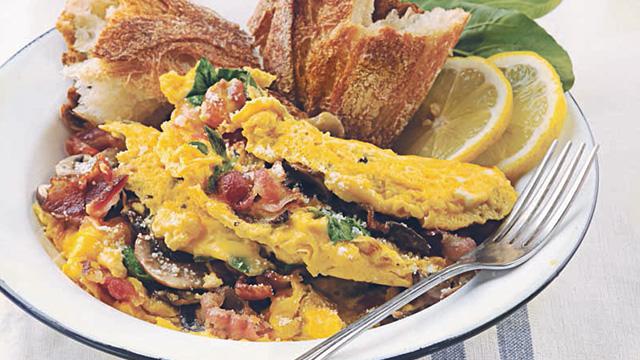 3 Bacon, Mushroom, and Spinach Omelet Recipe  
If you love bacon, this might be the omelet for you. Savory bacon is first cooked and crisped up before being added to the mixture. Scrambled eggs are poured right into the pan to create an omelet that has the delicious bacon, mushroom, and spinach mixture right in the egg. We think this may be amazing stuffed into a toasted pandesal!   
ADVERTISEMENT - CONTINUE READING BELOW
Recommended Videos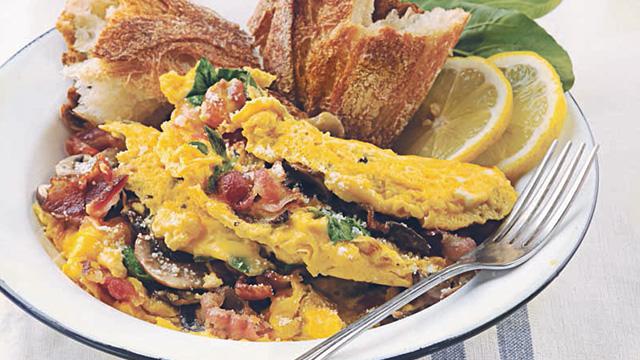 Bacon, Mushroom, and Spinach Omelet
Posted in:
Recipe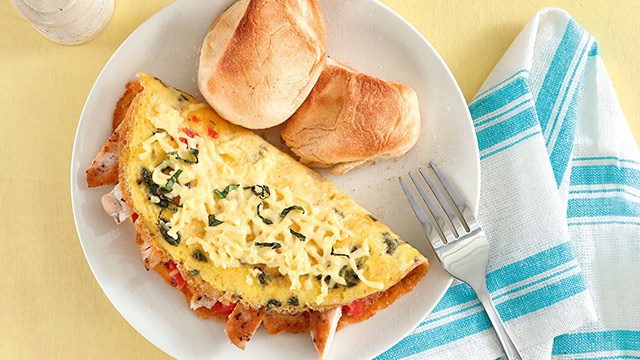 4 Chicken Omelet Recipe 
You gotta love recipes that use up ingredients that are already cooked. This one uses up cooked chicken, prepared salsa, some grated cheese, and eggs to make last night's leftovers into a hearty and delicious breakfast.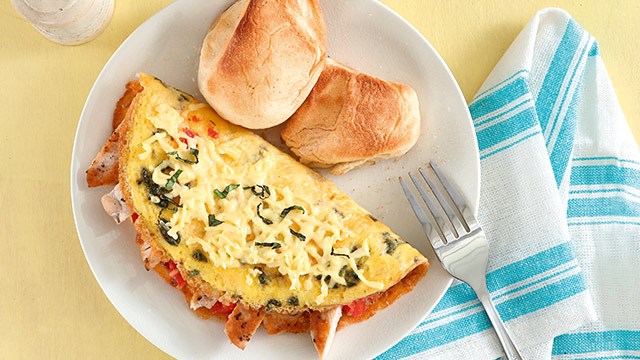 Chicken Omelet Recipe
Posted in:
Recipe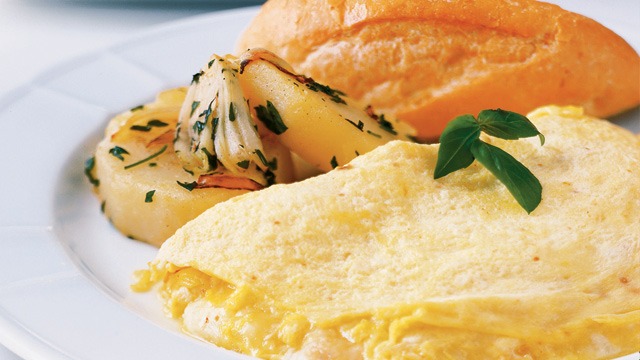 5 Omelette Quatro Formaggio Recipe 
Don't be intimidated by the recipe title! All it really means is that it's an intensely cheesy omelet. Four different cheese (cheddar, gruyere, mozzarella, and blue cheese) make this omelet cheesy, gooey, and (we think) really irresistible – especially if you are a fan of all things cheese.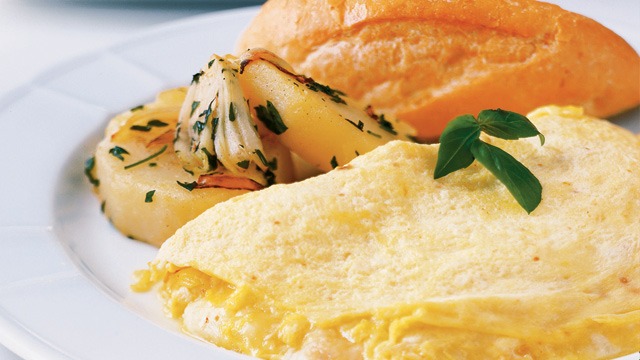 Omelette Quatro Formaggio Recipe
Posted in:
Recipe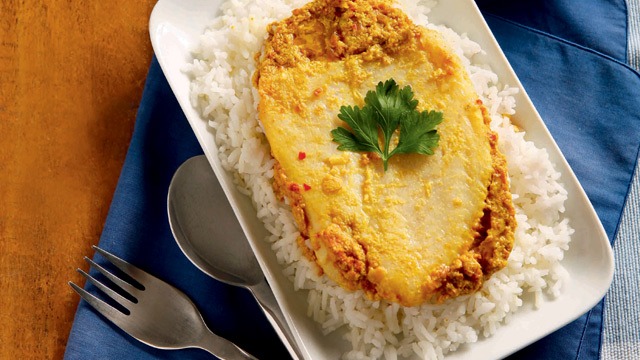 6 Steamed Fish Omelet Recipe 
If you're a fan of spices, this omelet recipe will completely change the way you enjoy omelets. This is steamed instead of fried in a pan, and the resulting omelet is tender and powerfully aromatic and flavorful. You can make this the night before for a truly flavor-packed breakfast the coming morning. You're going to need lots of steamed white rice with this one.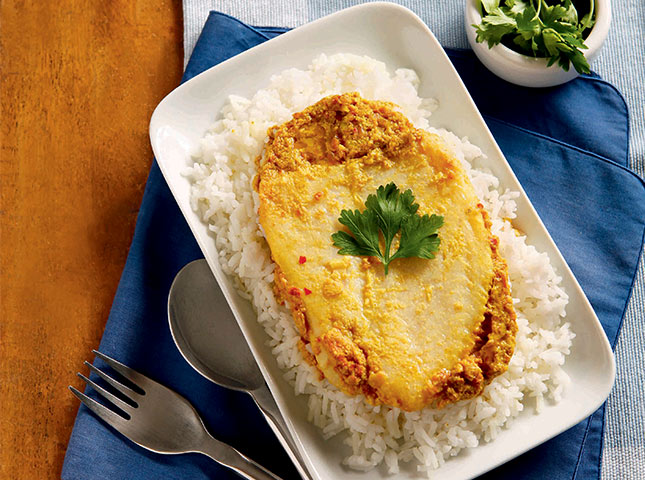 Steamed Fish Omelet Recipe
Posted in:
Recipe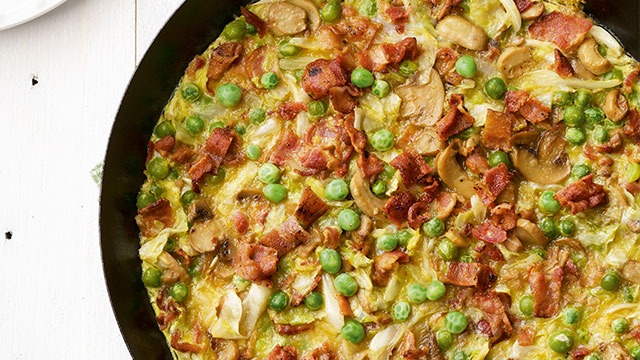 7 Bacon and Cabbage Frittata Recipe 
A frittata is actually an omelet with the fillings stirred right into the egg mixture instead of being stuffed into the fold. This frittata recipe packs in all the veggies you want into itself so every slice from this open-faced omelet is hearty and delicious.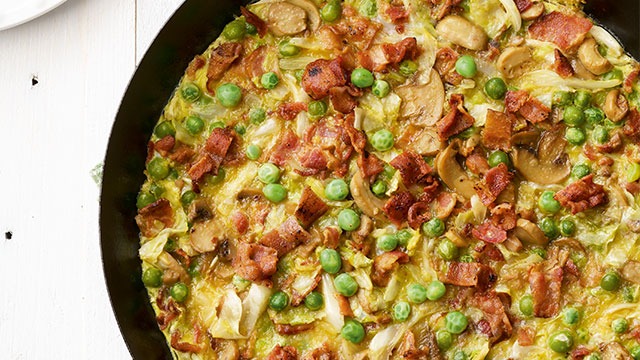 Bacon and Cabbage Frittata Recipe
Posted in:
Recipe
There's no reason to get tired of egg recipes for breakfast. With these recipes and all the other egg recipes here, you will always have a flavorful meal no matter what time of day it is. 
For more breakfast ideas, read these articles, too: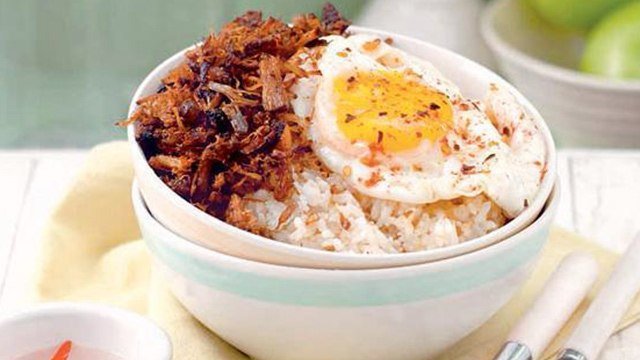 6 Ways to Make Prepping Breakfast Easier
Posted in:
Prepping