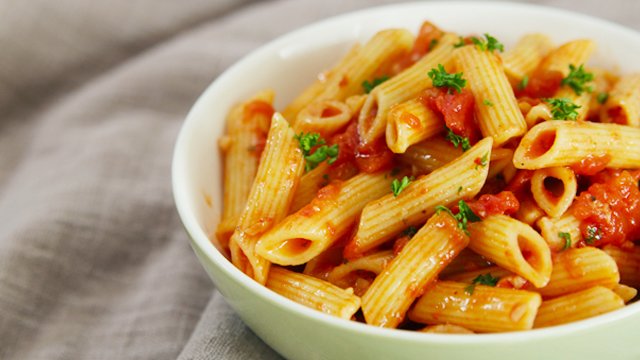 Not everyone has the luxury of time. While many of us may have more time than we thought we might have, some of us who are juggling working at home can run out of time to prepare their meals when work or even life itself eats up all of our attention. Time can really fly regardless of whether you're having fun or working to submit that report! 
For anyone who suddenly discovers that they are short on time to prepare a decent meal, you probably have a recipe or three up your sleeve that you can make in minutes. If the dish you're planning to cook is a pasta dish, we have a pasta cooking hack that might save you even more time than you thought you had. 
Here's the trick we suggest you try: Instead of waiting for your water to start boiling first before adding the pasta, why not start or soak the pasta in cold water first.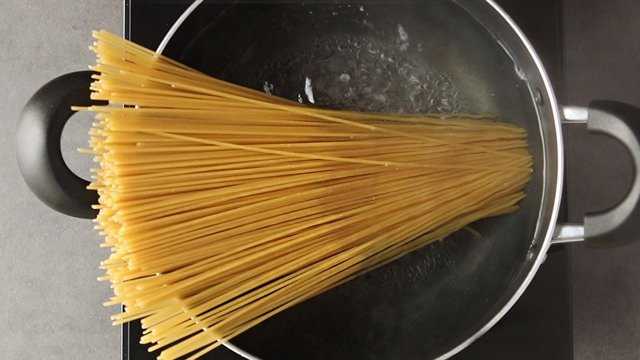 This pasta cooking hack is actually one that is not new. Alton Brown, host of the popular Good Eats, Cutthroat Kitchen, and The Next Iron Chef, wrote about this novel idea back in 2015 on his personal blog, where he said that cooking pasta in lots of water is not only unnecessary, especially for shaped pasta, but that he preferred it when he added his pasta in cold water, rather than in hot boiling water as we have all been lead to believe and follow. The pasta, once the water starts boiling, cooks to al dente doneness in under 5 minutes (4 minutes and 30 seconds to be exact, according to Brown)!   
Later that year, J. Kenji López-Alt of "The Food Lab", a column on the culinary website Serious Eats, uses a cold water technique, too, in his skillet baked ziti recipe where he uses a particular brand of pasta that he soaked first before cooking in the Italian traditional manner: in the sauce. He claims it saves at least 10 minutes of cooking time. 
What does starting or soaking the pasta in cold water do?
Both are time saving techniques but more than that, the texture is significantly better according to Brown while López-Alt says that this not only cuts cooking time, his method "delivers perfectly al dente baked pasta" without boiling the pasta prior to putting the dish together.   
We're all for cooking hacks that will save us precious time! Care to try either of these two unique methods of cooking pasta, too? Here's what you do: 
1. To soak pasta, place pasta in enough salted water in a bowl to cover 3 to 4 inches. Stir then proceed to cook your pasta sauce. Drain after 30 minutes. Add soaked pasta to the pasta sauce and let simmer until just al dente. 
2. To start your pasta in cold water, combine pasta, enough cold water to cover, and salt. Place over medium heat and bring to a boil. Cook for about 4 1/2 minutes or until al dente and drain.  
Try either of these two unique pasta cooking methods with any sauce! 
ALSO READ: 
***
Thinking about what to cook next? Join our Facebook group, Yummy Pinoy Cooking Club, to get more recipe ideas, share your own dishes, and find out what the rest of the community are making and eating!
ADVERTISEMENT - CONTINUE READING BELOW
Recommended Videos
Got your own version of the classic dishes? Pa-share naman! Get your recipe published on Yummy.ph by submitting your recipe here!