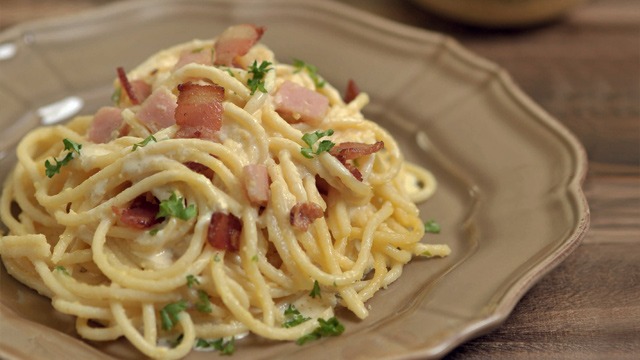 It can't be stressed enough how commuting or driving home can be so stressful! After a long day of work and the seemingly endless hours we spend on the road traveling to get home, it's understandable if all you want to do when you get home is rest. Until, of course, you start hearing and feeling your stomach rumbling with hunger! That one sparse cracker you ate just isn't enough! You have to eat, and eat a proper meal.
This situation can lead to either of two things: spending over your budget to have food delivered to your doorstep, which isn't fast enough since you're already hungry, or you rolling around in your bed trying to desperately sleep through the hunger pangs.
Don't despair! Pasta is easy to prepare so these quick and easy pasta recipes will have you eating within half an hour. You'll be fed, satiated, and happy with a delicious meal in your belly in no time.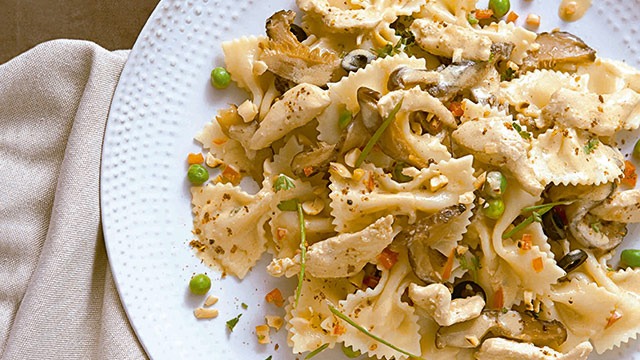 1 Chicken Mushroom Pasta Recipe
These bow-tie shaped noodles are shaped like this so the sauce can cling to every nook and cranny as much as possible. With sauce loaded with cheese and mushroom, you'll want as much sauce with every bite!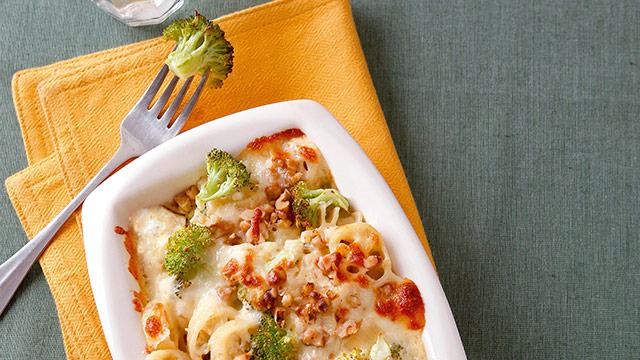 2 Three-Cheese Pasta with Broccoli and Walnuts Recipe
Umami-packed and one-of-a-kind blue cheese combined with cream cheese and Parmesan cheese make up the base flavors of this incredibly cheesy sauce. The showstopper has to be the walnuts though, that add crunch and earthiness to take this dish over the edge.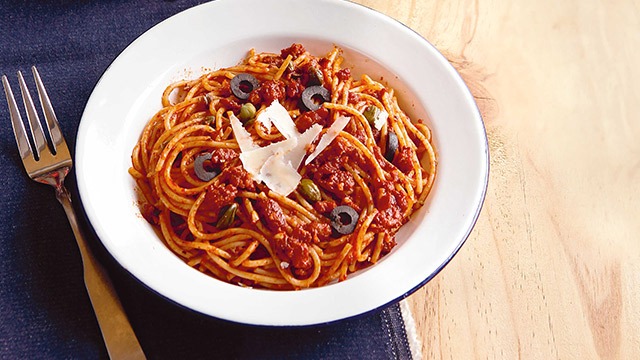 3 Spaghetti with Longganisa, Olives, and Capers Recipe
Olives and capers have this unique, savory, but fruity flavor profile that affects recipes like no other. It's these flavors that perfectly complement the aromatic and bold flavor of longganisa. Choose this recipe and get to play with both classic Italian flavors and homey, comforting Filipino flavors as well.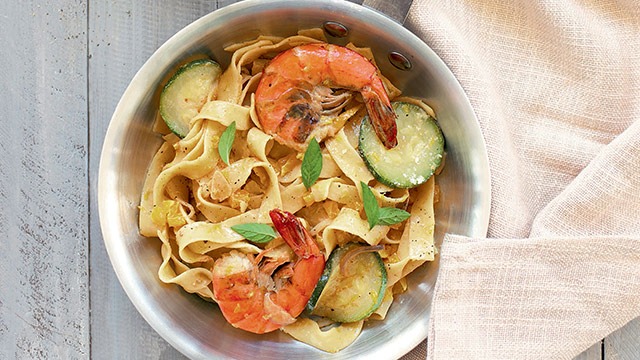 4 Fettuccine with Prawns and Zucchini Recipe
Prawns and zucchini are wonderful together. They're both cooked until tender and have that natural sweetness going on. This might not be the pasta recipe you normally go for, but perhaps it's time to try the road less taken! Trying out an entirely new recipe will open up your mind to new possibilities!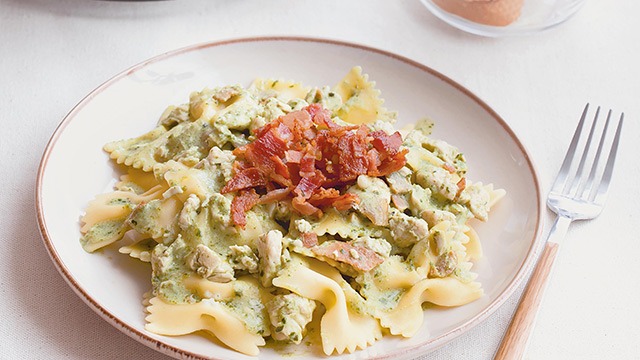 5 Creamy Chicken Bacon Pesto Pasta Recipe
Are you looking for bold flavors in your food? You can't go wrong with a good pesto recipe. With the addition of cream, it balances out any flavors that may be too strong, so even people who aren't big fans of pesto can still appreciate it.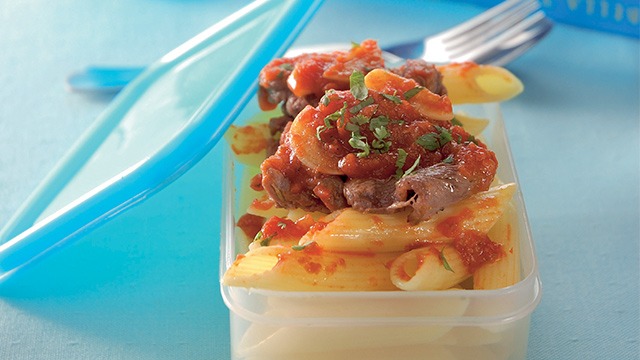 6 Three-Cheese Beef Pasta Recipe
This beefy and fragrant recipe is extremely easy to make! Using sukiyaki-cut beef, it cooks fast so you also finish cooking this in record time.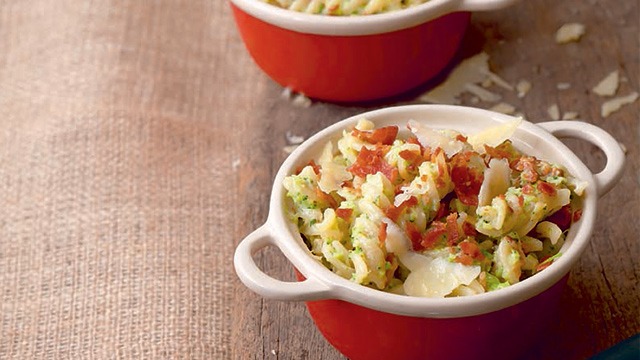 7 Creamy Bacon and Broccoli Pasta Recipe
Quick cooking doesn't mean you have to compromise eating your greens! This recipe combines decadent bacon with crunchy and delicious broccoli in a creamy and irresistible sauce.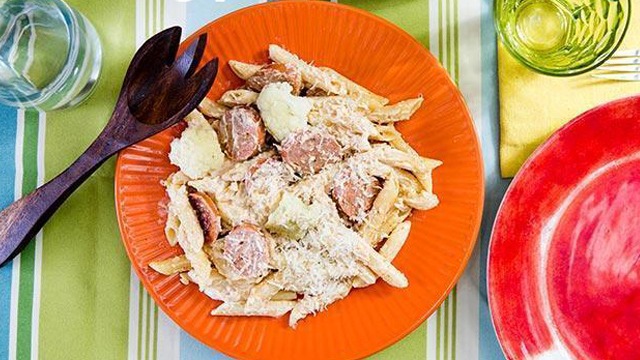 8 Sausage and Cauliflower Pasta Recipe
This 25-minute recipe uses cauliflower and flavorful Hungarian sausages that add spice and complexity with each forkful.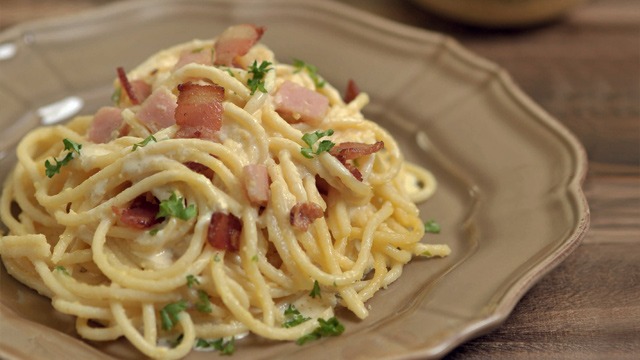 9 Spaghetti Carbonara with Bacon Recipe
Who can say no to creamy carbonara? We certainly can't! The creamy, velvety texture lent by the all-purpose cream and generous butter is made infinitely better by the delicious, umami-packed flavor of bacon.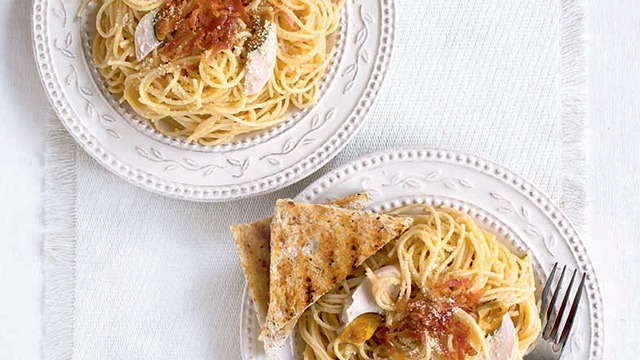 10 Salted Egg Carbonara Recipe
Salted egg is one of those unique flavors that is so easy to use in our kitchen. It's decadent, savory, salty, creamy, and just makes perfect sense to add to your next pasta dish!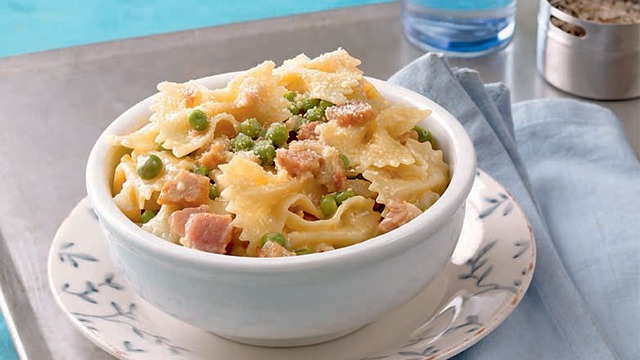 11 Ham and Pea Farfalle Recipe
Ham and peas should always be in your freezer, so making this recipe is one you can toss together anytime. Bringing these two ingredients together in perfect harmony is a delectable, creamy sauce and makes for the perfect partner to al dente-cooked pasta.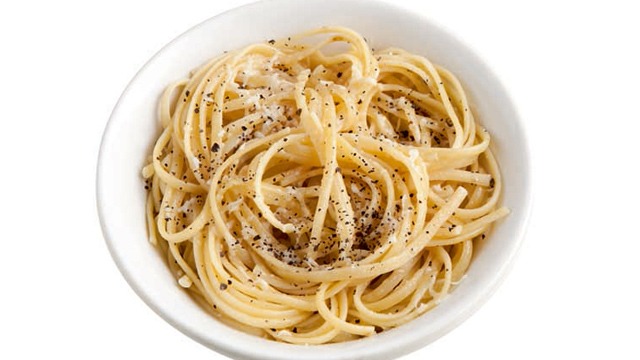 12 Cacio e Pepe Maccheroni Recipe
This recipe celebrates the greatest thing about pasta: cheese! It doesn't need a lot of other ingredients to highlight just how wonderful cheese and pasta is.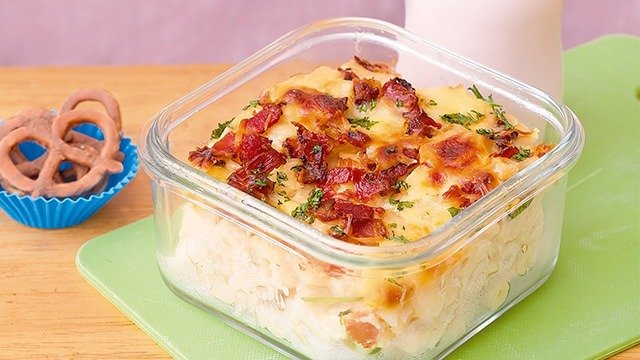 13 Creamy Bacon Mac and Cheese Recipe
Who doesn't love a good mac and cheese? It's always filling and super satisfying.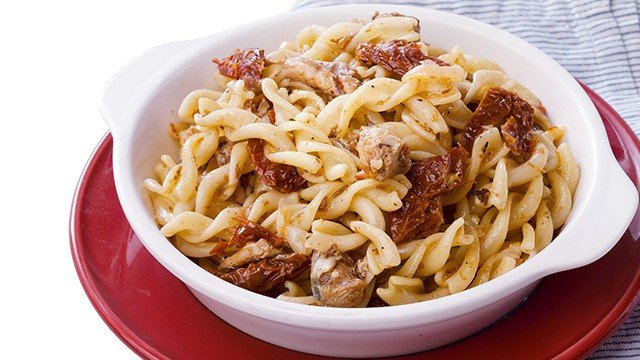 14 Mackerel and Sun-Dried Tomato Pasta Recipe
You'll want to remember this quick and easy recipe. Keep your pantry stocked with pasta, sun-dried tomatoes, and canned mackerel, so you can make this recipe anytime you're feeling hungry. Boil your pasta and toss it with a handful of ingredients and you'll be done in just 15 minutes.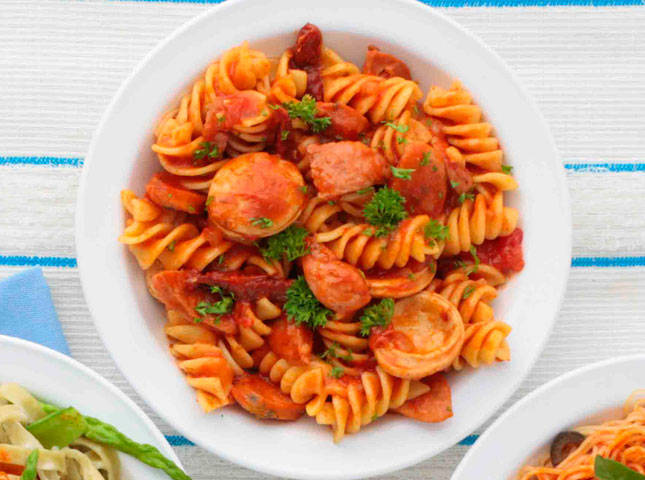 15 Pasta Arrabiatta With Mixed Sausages Recipe
Sausages are amazing ingredients to always keep in your freezer because of its long shelf life. Plus, even just a little of it goes quite a long way because of its strong flavor. This recipe is extra flavorsome thanks to a combination of Italian, Hungarian, and Bratwurst sausages. The pasta just makes it that much more hearty.
Start hoarding pasta and not just boring old spaghetti noodles! Pack up some playful butterfly-shaped farfalle, twisted fusilli, wide fettuccine, and more! Browse through your supermarket shelves for more fun pasta shapes to help you whet everyone appetite. There's nothing to fear about storing these because of its long shelf life. It's also a great guarantee that even if you skip the groceries after a long day at work, you'll still have something to something delicious to cook and eat. Never go to sleep hungry ever again!
This is just the beginning! Try out one of these recipes, and get inspired! Don't be afraid to experiment with your favorite flavors and whatever ingredients you may find your kitchen. As long as you have pasta in your pantry, there's hope for a quick, delicious, and easy dinner recipe. You know what? Even if you don't have dried pasta, you can easily make fresh pasta!
Don't forget to check out our article on how to cook pasta which will give you skills you'll always use. Also, check this article out so you can cook pasta and make the sauce in one pot so you have less dishes to wash!