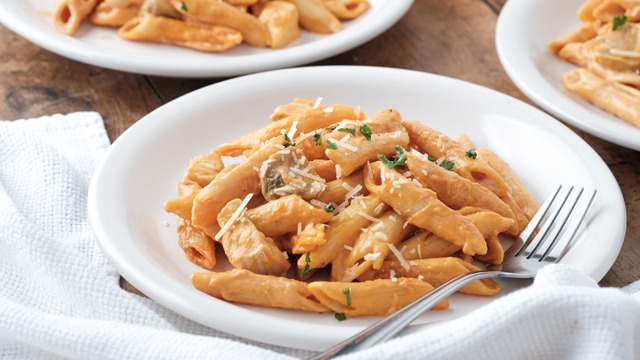 For me, pasta was always cooked in boiling water before being added to the pasta sauce or plated before being topped with the sauce.
That isn't the case for the timbal, a tomato cream pasta dish. It's all cooked in one pot and it's creamy, rich, and loaded with everything that is delicious using ingredients you can find in any Pinoy kitchen: fresh chicken, evaporated milk and all-purpose cream, tomato paste, and cubes of bouillon stocks.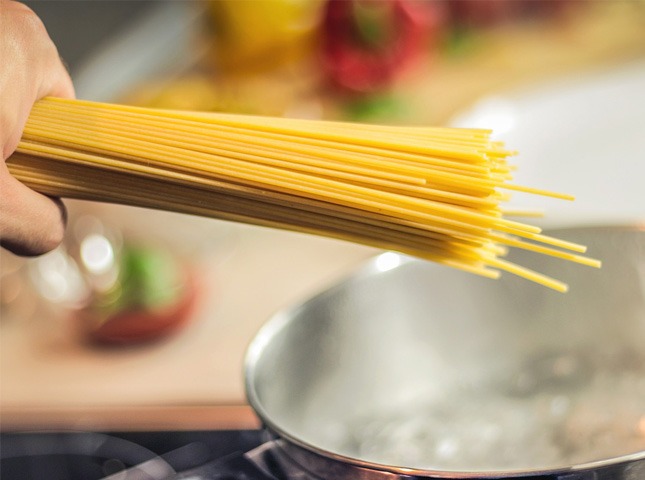 9 Secrets to Cooking Pasta Like a Pro
Posted in:
Cooking
But, what exactly is timbal? My mother, too, doesn't know the answer, only that she learned to make it since her mother, my grandmother Emilia Bailon, would make it. So when my mother made it for her family, it's always a big batch, and my sister, brother, and I were always grateful for the generous servings since we loved the dish. My sister, after she moved to Mindanao, called my mom just to get the recipe so she too could make it on her own.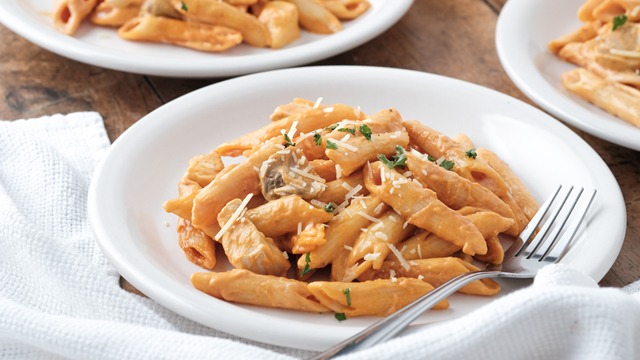 We grew up tasting our grandmother's cooking through my mom. My mom was the fourth among nine children, and as one of the girls, it was one of her duties to accompany my grandmother when she went grocery shopping. It was on these shopping trips that my mother learned the value and importance of certain brands when cooking to impress. 
My grandmother was a cook in Cabuyao, Laguna. In fact, she was well known even outside of the town because she used to travel with my grandfather who worked for the now-defunct BLTB Company. She traveled to other places to cook for other people, my mom would proudly tell us. My mom, Evangeline, who was my grandmother's kitchen helper, became knowledgeable with my grandmother's secret techniques to make her dishes delicious.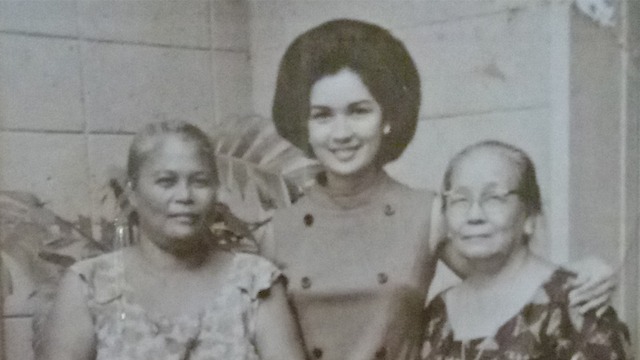 The timbal, my mother would claim, had secret techniques, which she learned from my grandmother.
The chicken has to be on the bone and boiled in a lot of water because the water is the stock to be used in the dish. The chicken is then shredded or chopped up to be added later. Another secret to her extra delicious pasta is the use of butter. Only butter will do since my mother (and most probably my grandmother, too) can tell with one taste if you scrimped on ingredients and used oil instead. The final secret is cooking the pasta in the chicken stock you just made to make the tastiest pasta dish you'll ever eat.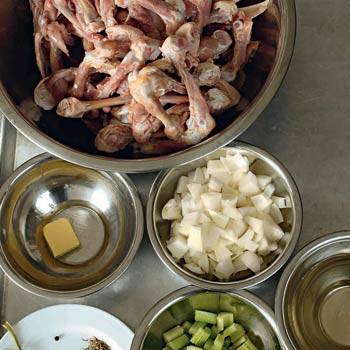 How to Make Homemade Chicken Stock
Posted in:
Cooking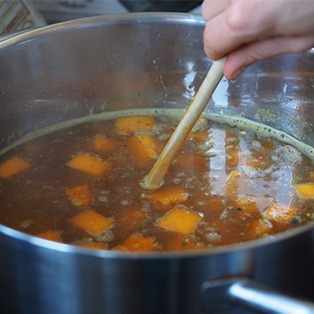 4 Tips to Making Great Homemade Stock
Posted in:
Cooking
It's absolutely delicious, and on every special occasion, we expect it on our table. 
The timbal is one of those dishes that my grandmother would cook during special occasions, too, and my mom would cook it every year in memory of her. She'd make timbal by the giant pot-load for undas because that's when everyone would come home. She would then distribute it to anyone who happened to drop by the family home in Cabuyao before going to the nearby cemetery. As we drove to the house, she'd make whomever was driving stop because she saw someone she knew on the road, and would then proceed to get out to tell whomever it is, "Tara na sa bahay! May dala ako!"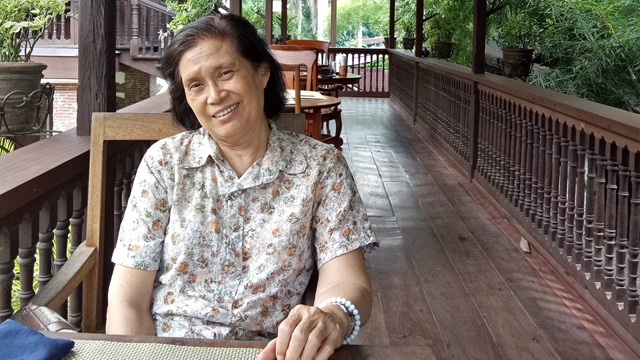 The next thing we know, that person is either in the car with us on our way to the house or they'd promise to drop by at the soonest with a container so they could have some timbal to bring home and enjoy. My mom was generous that way. She loves to feed people, and maybe, even lola did, too. 
ADVERTISEMENT - CONTINUE READING BELOW
Recommended Videos
It's Christmas, and this creamy pasta will be on the table again as this year, the tradition comes full circle since my mom has taught me, too, the secrets to making this creamy tomato pasta even better than any other pasta dish. 
Timbal Recipe
Takes 40 minutes
Makes 6 servings
2 tablespoons butter
1/2 head garlic, peeled, smashed
1 large red onion, peeled, chopped small
1/2 kilo chicken, boiled, meat removed and cut into chunks or shredded, stock reserved
1 1/2 cans (282 grams each) sliced mushrooms, drained
1 70-gram pack tomato paste
6 cups chicken stock (from boiled chicken)
2 chicken bouillon cubes
500 grams penne rigati pasta
1 250-gram pack evaporated milk
1/2 cup all-purpose cream
1/2 block processed cheese, grated, more to serve
Salt, to taste or as needed
1 In a large pot over medium heat, melt butter. Add garlic, and cook, stirring, until it becomes aromatic but not yet colored. Add onions and cook, stirring, until translucent. Add boiled chicken meat and mushrooms, and sauté until just heated through. Add tomato paste and stir. Cook until the tomato paste colors the butter.
2 Add the chicken stock and bouillon cubes to the pot. Bring to a simmer. Remove the chicken and mushrooms from the stock into a large bowl. Set aside.
3 Add the pasta to the now simmering stock. Stir, then let cook, simmering, until the pasta is almost cooked. (Pasta will thicken the stock into a runny sauce.) Return the chicken and mushroom mixture back to the pot.
4 Pour and stir in the evaporated milk. (The mixture will thicken again.) Stir in cheese and simmer over low heat until melted into the sauce. Taste and season with salt if needed. Serve while hot and creamy.
Here are more pasta dishes in case you're still craving for more of these creamy dishes: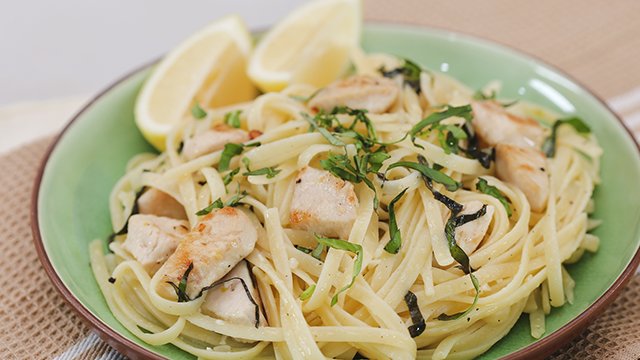 WATCH: How to Make Garlic Chicken Pasta
Posted in:
Cooking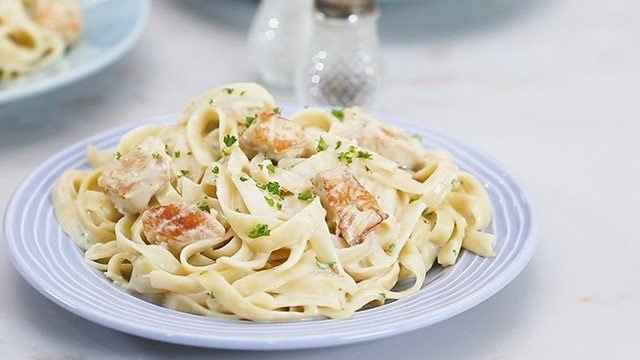 WATCH: How to Make Chicken Alfredo Pasta
Posted in:
Cooking