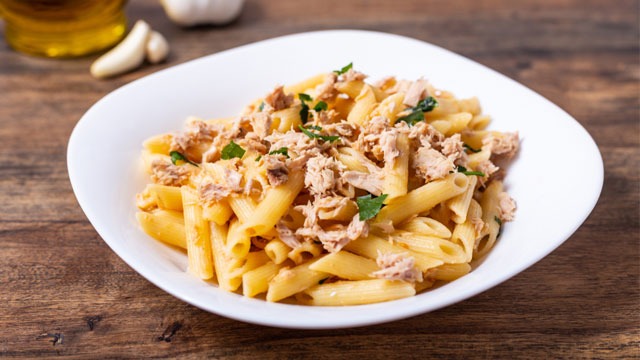 Pasta may come in various shapes and sizes but it's just fitting since there are many ways to cook pasta! Choosing the kind of pasta to use and what sauce to pair with it is a simple choice for many. 
If you follow the advice of the Domestic Goddess Nigella Lawson, you should know that she is a firm believer in getting as much flavor as possible while using as little effort as necessary. "Maximum flavor for minimum effort." She has two tips about cooking pasta: 
1 Always have olive oil and lemons available.
2 Make it fast by using canned goods. 
These two tips are really about the ingredients. Getting your hands on good quality ingredients isn't just for chefs! Simple ingredients such as good olive oil and juicy lemons can be all you need for a delicious pasta dish! If you have ingredients that you like, use them to their maximum capacity, even if it's as simple as just oil and citrus fruit. 
Plus, if you need to reach into the cabinet for prepared ingredients, know that there's no shame in using canned goods when these are available. These are meant to make your cooking life easier and simpler! There is no need to spend a few hours simmering a tomato sauce from scratch if you can use a delicious and ready-to-eat spaghetti sauce from a can or bottle. 
The message is simple: cut cooking and prep time when and where you can by using simple and prepared ingredients. 
One of the simplest ingredients you can find in the market is canned tuna. Tuna and pasta make a delicious dish! Here are recipes to try that embrace the simplistic approach of even the Domestic Goddess herself: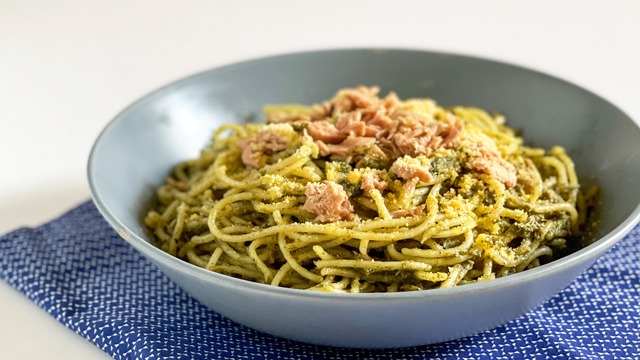 1 Pesto Tuna Pasta Recipe  
Prepare pesto is one of those ingredients that you either have on hand or you don't. This prepared sauce is a classic pasta sauce! A can of tuna is added to add a meaty element that's light plus a little cream to make it more appetizing.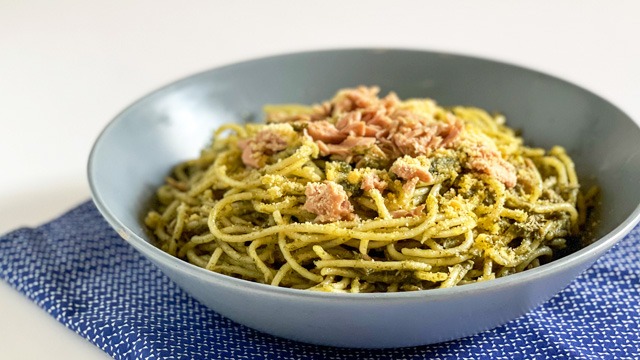 Tuna Pesto Pasta Recipe
Posted in:
Recipe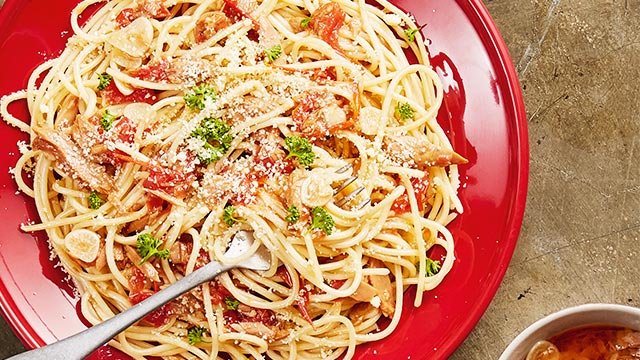 2 Spicy Tuna Pasta Recipe
Who would have thought that a little can of tuna can be so flavorful? This recipe proves that the right can of tuna can transform a simple meal into one that's addictive and delicious. Toss in a few more ingredients to elevate the flavors a little more.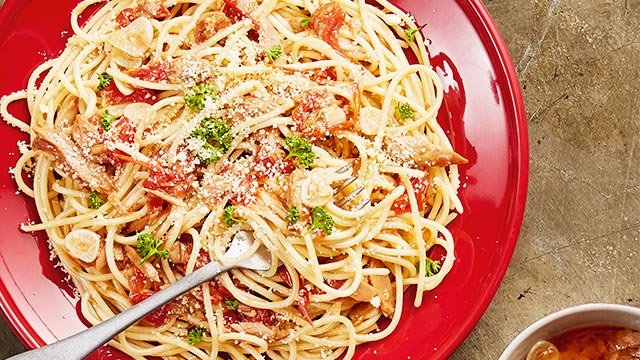 Spicy Tuna Pasta Recipe
Posted in:
Recipe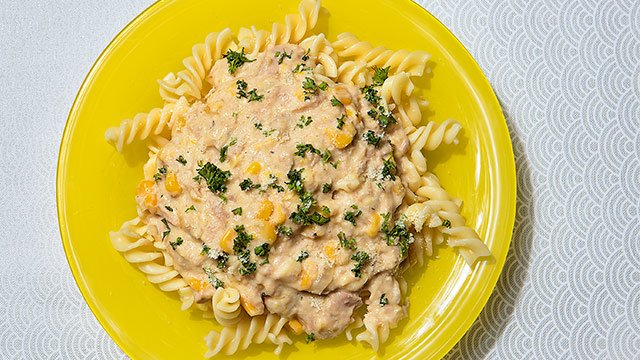 3 Corn and Tuna Pasta Recipe
A sweet ingredient such as corn is not what you would normally associate with pasta but in this recipe, it's a winning combination! The creamy corn sauce with tuna is a delightful play on sweet and savory that any one who loves corn will want to try.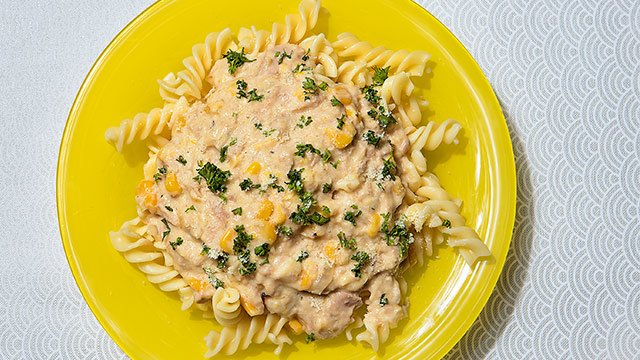 Corn and Tuna Pasta Recipe
Posted in:
Recipe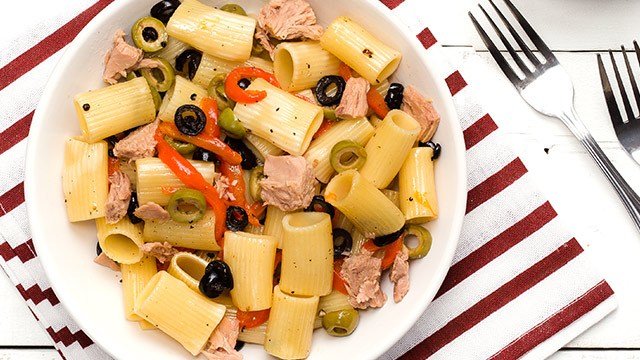 4 Olive and Tuna Pasta Recipe 
Keeping it simple is easy when you have flavorful ingredients. This recipe is all about making a sauce light yet extra tasty. The sliced olives and the slivers of pimiento deliver the briny element while the tuna provides its touch of meatiness to the oil-based pasta dish. Remember to season the pasta well by giving it a taste before serving so you know the oil is seasoned enough to make the pasta tasty, too. 
ADVERTISEMENT - CONTINUE READING BELOW
Recommended Videos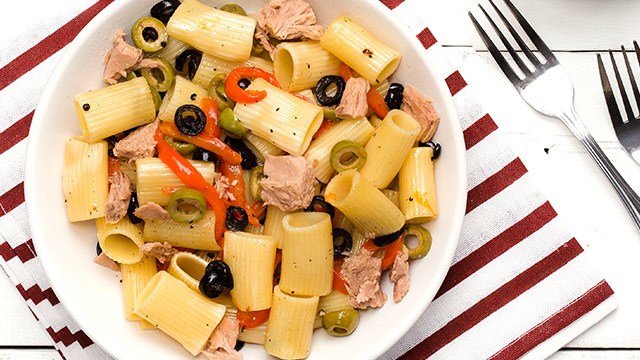 Olive and Tuna Pasta Recipe
Posted in:
Recipe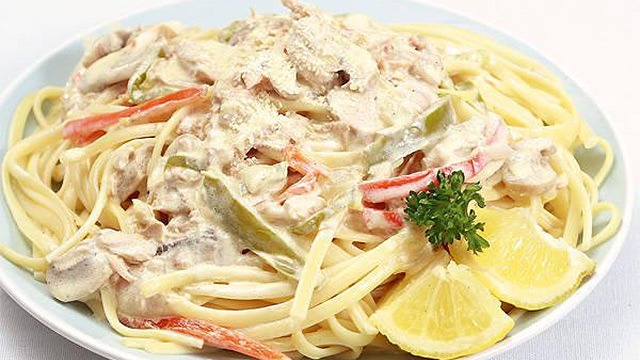 5 Creamed Tuna and Mushroom Pasta Recipe
Creamy mushroom dishes are an instant delight on anyone's menu. Create a simple creamy mushroom sauce for pasta and add some tuna to give it more texture as well as flavor.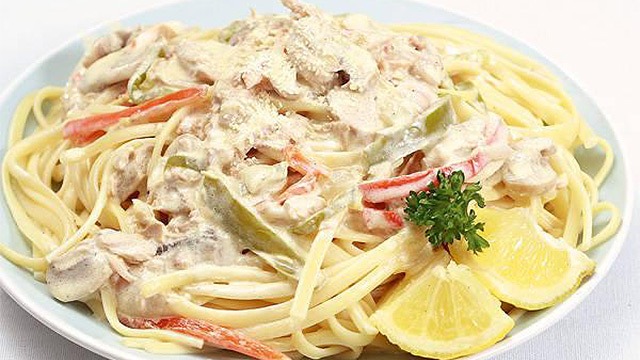 Creamed Tuna and Mushroom Pasta
Posted in:
Recipe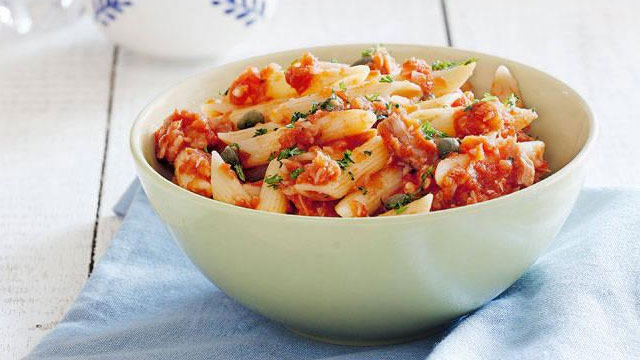 6 Pasta with Tuna and Capers Recipe 
Did you know that capers are little flower buds that have been brined and preserved? Think of these little briny pearls as another kind of olive. That's why these are just as tasty and delicious as olives! That's why adding this to a dish can instantly make it more delicious. Add it to savory tomato sauce with tuna and pasta for a dish that is similar to a puttanesca but using fewer ingredients.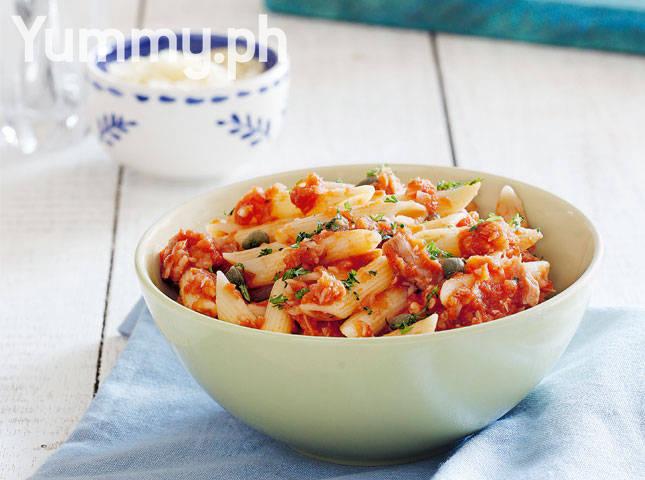 Penne with Tuna and Capers
Posted in:
Recipe
Pasta recipes are easy, especially if you already know what flavors and ingredients you like. Here are more pasta recipes to try if tuna isn't on your list of ingredients today:  
***