Pocket-Friendly Post-Holiday Recipes
Still got leftovers from holiday feasts? Here's how you can give them a tasty twist using pork and beans.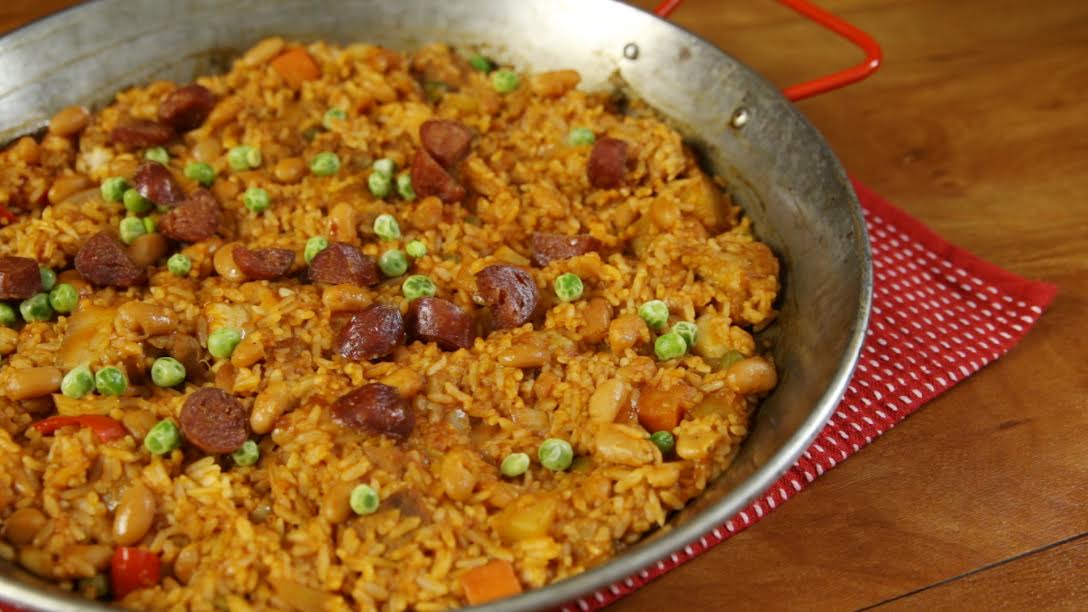 The festivities may be over, but who says you can't enjoy a feast at home anymore? With some creativity and the right ingredients, you can transform your holiday leftovers, such as menudo and morcon, into a cause for celebration.
Here's an idea: Throw a small themed dinner party. How about a Spanish fiesta or a Chinese lauriat? Make the following dishes the star of your banquet.
Both recipes have one thing in common: Hunt's Pork and Beans, made from real pork bits and high-quality white beans. It also has a rich, thick, and sweet tomato sauce.
Watch how you can turn leftover menudo and morcon into festive but affordable dishes:
Beany Menudo Paella
2 tablespoons oil
50 grams chorizo de Bilbao, sliced diagonally then into half moons
1 medium white onion, peeled, chopped
2 cloves garlic, peeled, chopped
1 cup leftover menudo (pork, pork liver, hotdog, potatoes, and carrots)
1/4 cup tomato paste
1 can (390 grams) Hunt's Pork and Beans
1 teaspoon chili powder
1/2 teaspoon Spanish paprika
2 tablespoons soy sauce
2 cups day-old rice
1/2 cup frozen green peas, thawed
Salt and ground black pepper, to taste
1 In a small paellera or nonstick frying pan over medium heat, heat oil. Add chorizo, and sauté until slightly browned. Remove chorizo with slotted spoon to a plate, and set aside.
2 In the same pan with the chorizo-flavored oil, add onion and cook until translucent. Add garlic, and cook until fragrant and beginning to brown slightly. Stir in menudo, soy sauce, and Hunt's Pork and Beans. Stir to mix. Sprinkle paprika. Add rice, and stir to mix thoroughly. Season salt and ground black pepper to taste. Stir to mix well. Top with green peas, beans, and chorizo. Increase heat to medium-high, and cook without stirring to brown bottom and create tutong. Remove from heat, and serve while hot.
Fried Morcon Wonton
1 tablespoon oil
2 cloves garlic, peeled, finely chopped
1 cup leftover morcon, finely chopped (beef, hotdog, green and red bell peppers, egg, pickle, and cheese)
1 can (230 grams) Hunt's Pork and Beans, drained well
1 small egg, beaten, for egg wash
20 pieces square wanton wrappers, large, chilled
1 clove garlic, peeled, smashed
2 tablespoons soy sauce
1/4 cup tomato ketchup
1 tablespoon Worcestershire sauce
1 teaspoon brown sugar
2 tablespoons water
Salt and ground black pepper, to taste
Oil, for deep frying
1 Drain Hunt's Pork and Beans. Set aside the sauce.
2 In a frying pan over medium heat, heat oil. Sauté garlic until fragrant. Stir in morcon and pork and beans. Cook, stirring, until mixture is almost dry. Transfer to a plate. Set aside to cool.
3 Lay one wonton wrapper flat on a cutting board. Using a small spoon, spoon a small portion onto the center of the wanton. Use egg wash to wet the corners and edges of the wrapper. Pick up corners and press closed. Repeat with remaining wrappers and filling. Keep chilled until ready to cook.
4 Pour enough oil in a deep sauté pan for deep frying the wontons. Place over medium heat. Place enough wantons in the hot oil to not crowd the pan. Fry until golden brown. Drain on paper towels. Set aside.
5 Meanwhile, make sauce: Mix Hunt's Pork and Beans sauce with garlic, soy sauce, tomato ketchup, Worcestershire sauce, sugar, and water together in a small bowl. Season with salt and pepper to taste. Stir until granules are dissolved. Serve immediately with soy-sauce-tomato dip.
This article was created by Summit StoryLabs in partnership with Hunt's.