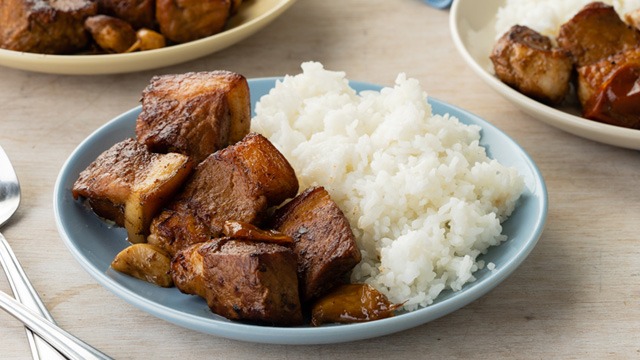 Products recommended on our website are independently selected by editors. If you buy something through our links, Summit may earn an affiliate commission at no extra cost to you.
Adobo is one of the most popular Filipino dishes. While there is no official Philippine national dish, adobo is one of the top dishes many Filipinos might argue is the best dish to represent the country.
It's undoubtedly one of the most recognized Filipino dishes, so much so that the adobo is the first Filipino dish featured on Google Doodle! Every household has its own adobo recipe, too, so there can be dozens of variations of the dish all over the country, officially or unofficially recognized as an adobo recipe.
The Basic Ingredients of Pork Adobo
"Adobo" means "to cook or marinate in vinegar" so it's safe to say that vinegar is the most important ingredient in a pork adobo. How to cook a classic adobo recipe revolve around these basic ingredients:
• Vinegar
• Soy sauce or salt
• Black peppercorns
• Garlic
• Bay leaves
• Water
• Pork (or another kind of meat or protein)
You might wonder why soy sauce and salt are in the same line. That's because adobo is not an adobo without vinegar but it can be an adobo without soy sauce. That means there are basically just five ingredients in the basic adobo marinade or sauce apart from water and the main protein which in the case of an adobong baboy, it's pork.
You can buy a classic soy sauce from this Lazada Lazmall Flagship Store or Shopee Mall store.
You can also buy a classic vinegar from this Lazada Lazmall Flagship Store or Shopee Supermarket.
There are numerous ways to cook pork adobo. So, if you love adobo as much as the common Filipino does, you may know several if not all of these ways of cooking it.
Here are 10 easy ways to cook the pork adobo recipe:
1 Basic Pork Adobo Recipe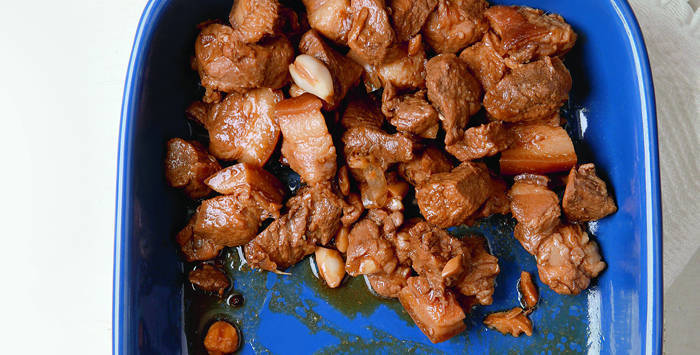 This pork adobo recipe is a basic but fast and easy one which means it's not marinated in the sauce. Instead, it's combined in the pot and then simmered until the pork is tender. Since the pork cubes are small, it takes less time to tenderize.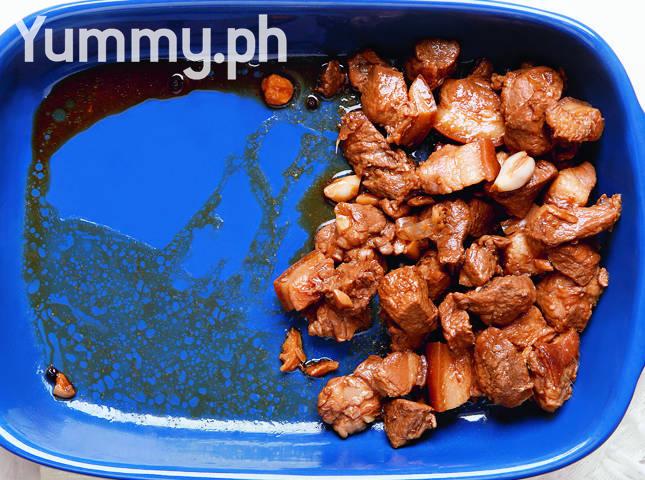 Pork Adobo Recipe
Posted in:
Recipe
2 Classic Chicken and Pork Adobo Recipe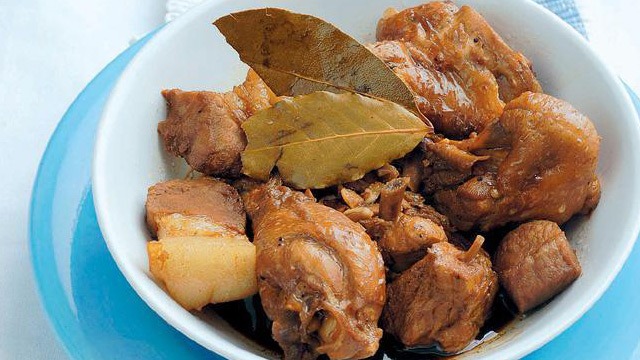 ADVERTISEMENT - CONTINUE READING BELOW
Recommended Videos
You can't go wrong with a classic adobo recipe that marries both pork and chicken in the same recipe. This is marinated in the adobo sauce, but this recipe actually goes one step further in the marination process. It not only has vinegar in the sauce but also pineapple juice to give it a touch of sweetness that many Filipinos love!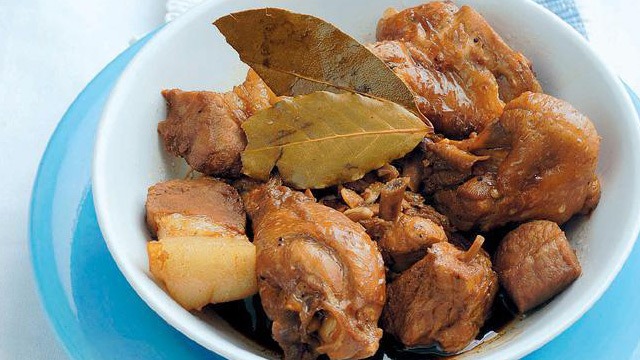 Classic Chicken and Pork Adobo
Posted in:
Recipe
3 Adobong Baboy Na Tuyo Recipe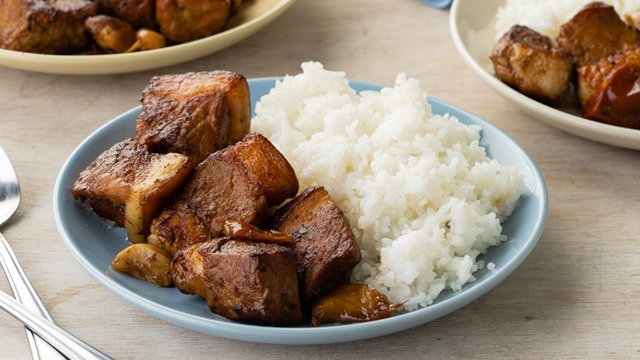 There are some people who love their adobo super tasty and flavorful but don't care much about the adobo sauce. For these people, the taste and texture of the pork are the ultimate goals, and this is where this dry version of the adobo comes in. If you love tender pork without any sauce, this is the recipe for you.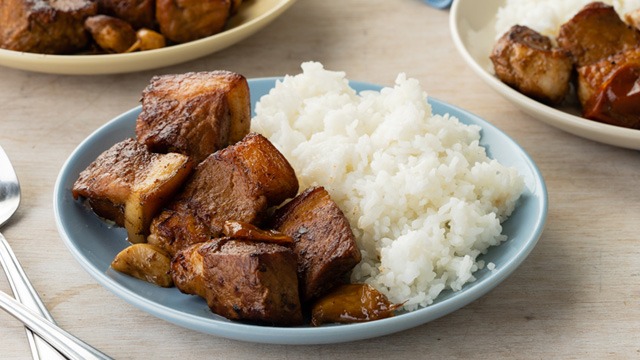 Adobong Baboy Na Tuyo Recipe
Posted in:
Recipe
4 Basic Adobong Puti
Recipe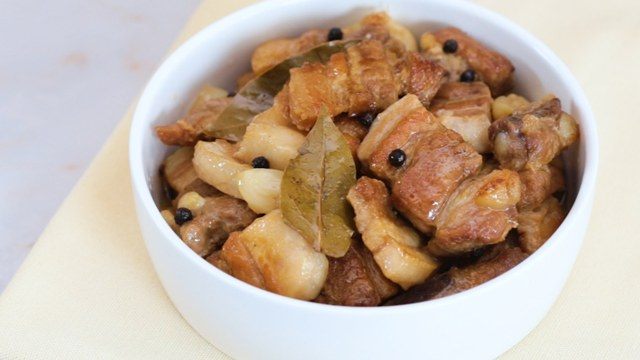 You might be wondering if you can cook adobo without soy sauce and you can! It's perfectly acceptable for the soy sauce to be omitted from the recipe and still be considered an adobo recipe which is why there is what is known as adobo sa asin or adobong puti.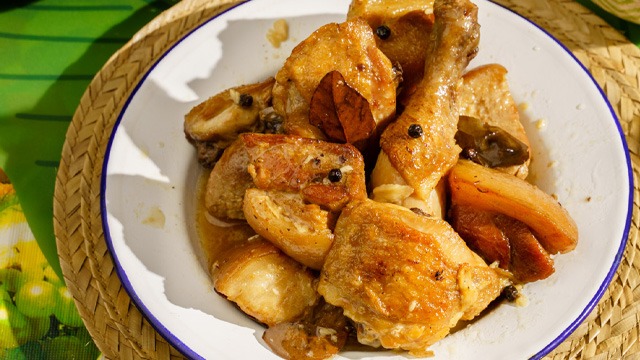 Adobong Puti Recipe With Pork And Chicken
Posted in:
Recipe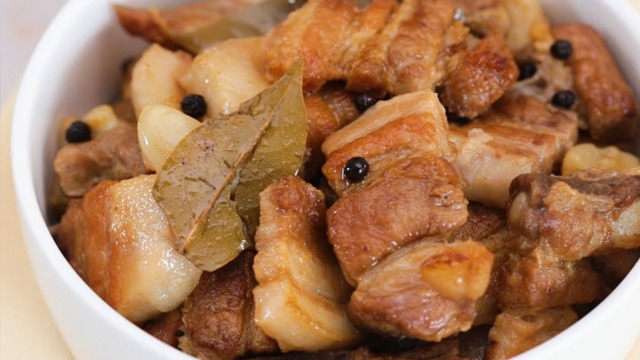 Adobong Puti Recipe
Posted in:
Recipe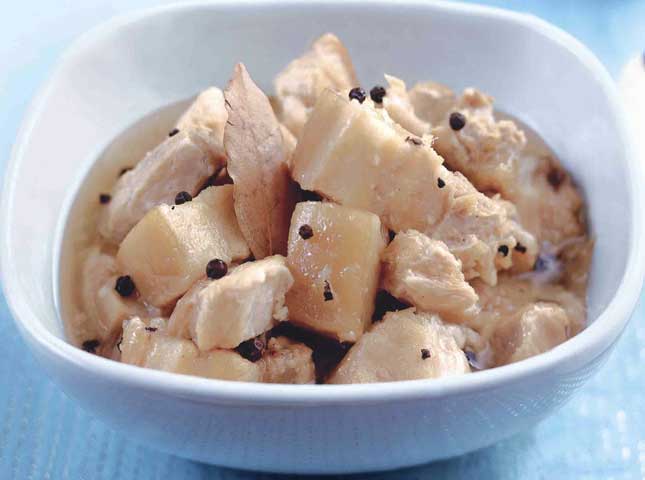 Adobo sa Puti Recipe
Posted in:
Recipe
5 Pork Adobo sa Dilaw Recipe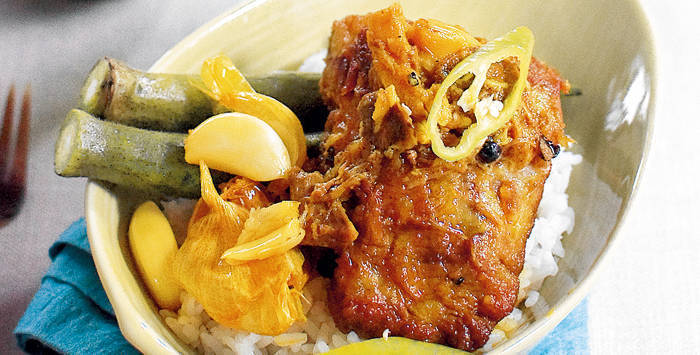 What can you do to make adobo different than the usual? You can try to substitute or add ingredients such as luyang dilaw to make this kind of adobo. Also known as turmeric, lugang dilaw is a subtle flavor that can easily be added to adobong puti. An adobo recipe that uses soy sauce will overwhelm the color of the lovely golden yellow that turmeric.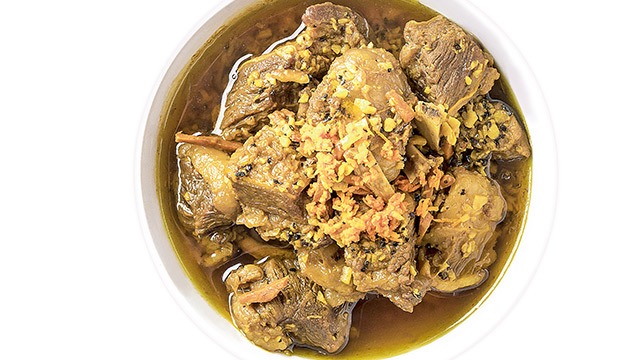 Adobong Dilaw (Yellow Adobo) Recipe
Posted in:
Recipe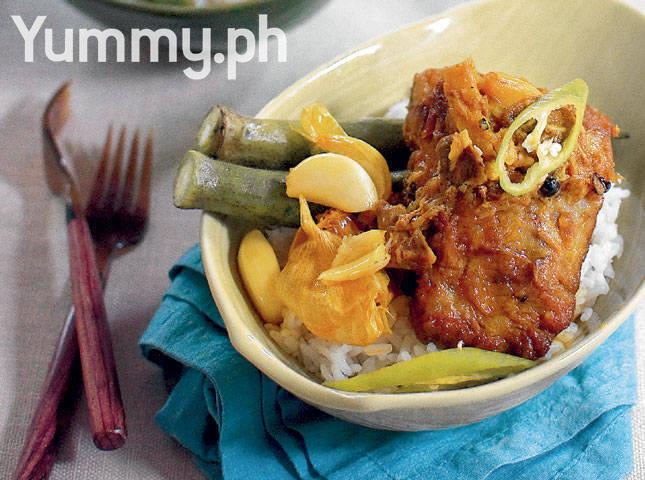 Adobo sa Dilaw
Posted in:
Recipe
6 Pork Adobo Recipe With Sinamak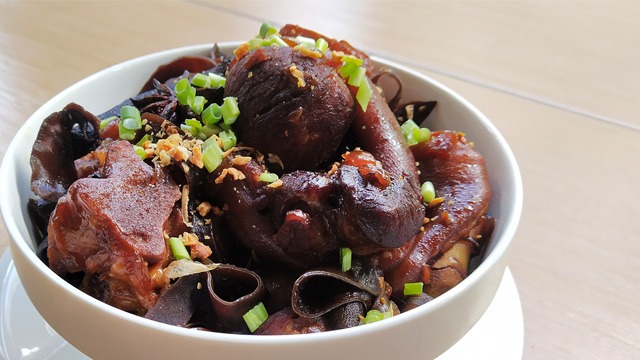 The vinegar you use for your adobong baboy can mean a difference in taste, too. The sinamak or the Ilocos Norte spiced vinegar contains ginger, garlic, black peppercorns or its ground-up version, coconut vinegar or sukang puti, bird's eye chili or siling labuyo, and sibuyas Tagalog or shallots. This makes a delicious and flavorful vinegar for your pork adobo recipe.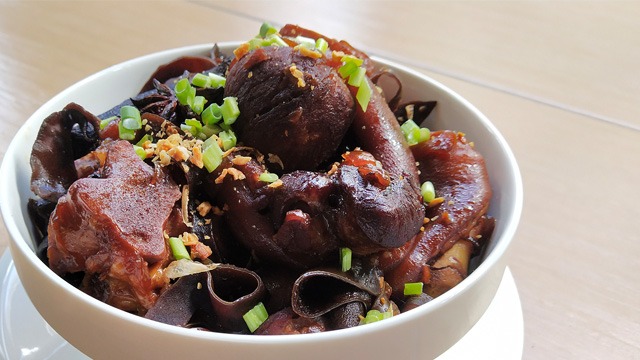 Pork Adobo Recipe With Sinamak
Posted in:
Recipe
7 Chili-Garlic Pork Adobo Recipe
Another ingredient you can simply add to your pork adobo dish is chili garlic oil or sauce. This condiment is one you may use for siomai and Chinese-inspired dishes but this can also level up your adobo into one that's got some heat with even more garlic flavor.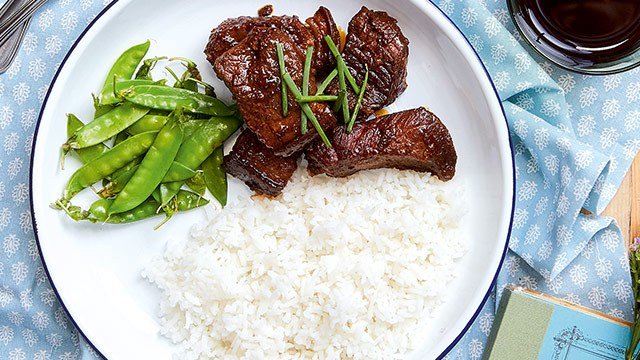 Chili-Garlic Adobo Recipe
Posted in:
Recipe
8 Pork Adobo Recipe With Pork and Beans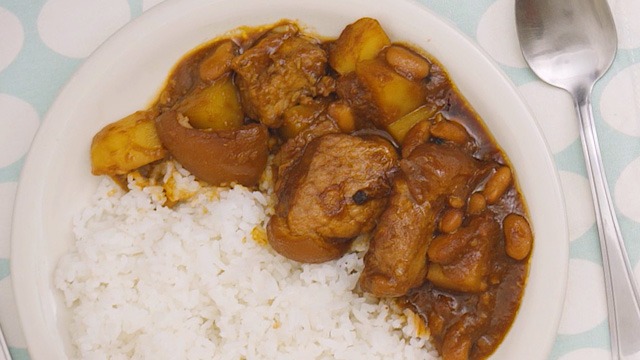 This adobong baboy recipe has surprise ingredients that make it unique: potatoes and pork and beans! This is actually the adobo that Viterbo family prefers and loves to cook. It's much more hearty and filling than your usual all-meat adobo dishes.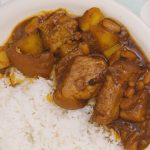 Adobo Recipe With Pork and Beans
Posted in:
Recipe
9 Adobong Baboy at Itlog Recipe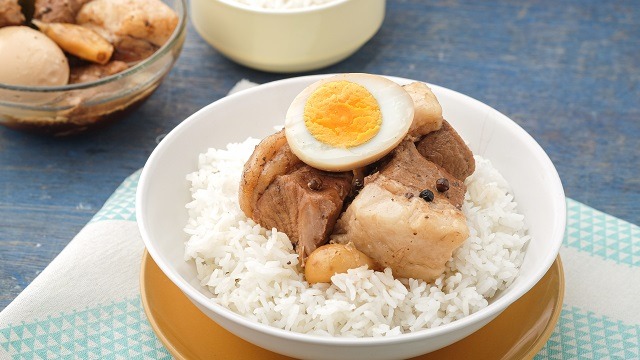 Sometimes, you just want a pork adobo that is more filling and there are several ways to do that. In this recipe, a simple hard-boiled egg is all it needs to make it more hearty and filling. The egg absorbs the adobo sauce just enough to give it flavor but not too much that the eggs become overcooked and develop that grayish ring around the yolks.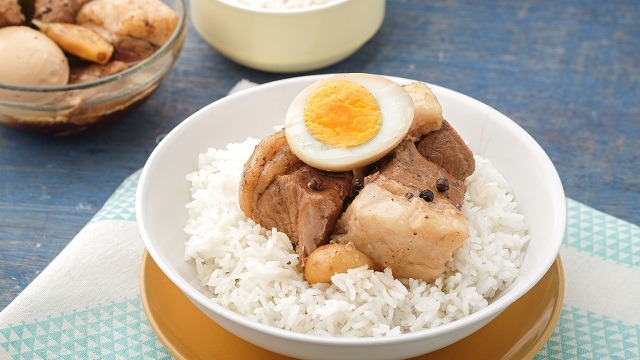 Adobong Baboy at Itlog Recipe
Posted in:
Recipe
10 Spanish Pork Adobo Recipe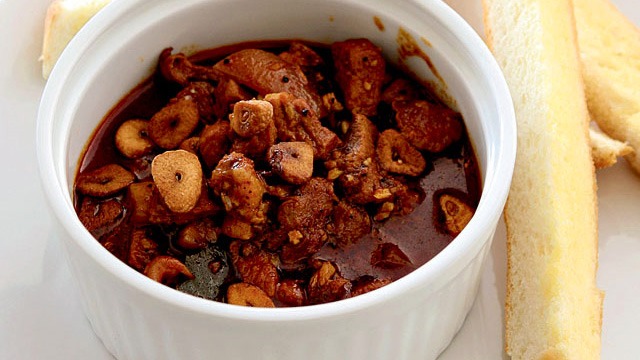 What makes this pork adobo recipe Spanish in flavor? The Spanish pork adobo is simmered just like normal but lacks a few ingredients and includes an extra ingredient. There is no bay leaves or soy sauce (which is a Chinese influence) but includes the earthy flavor of Spanish paprika. Think Spanish chorizo and you get the idea but in ulam form as pork chunks instead of a sausage.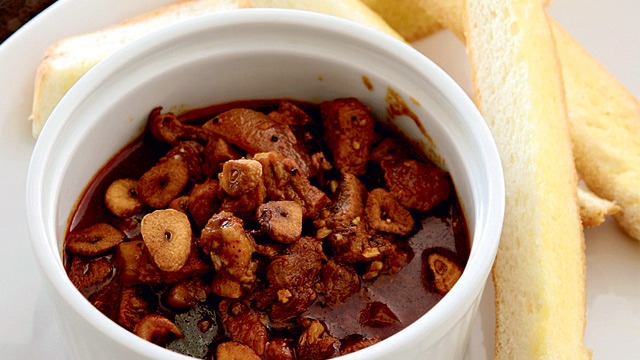 Spanish Adobo Recipe
Posted in:
Recipe
Links are updated regularly and as much as possible, but note that products can run out of stock, discounts can expire, and listed prices can change without prior notice.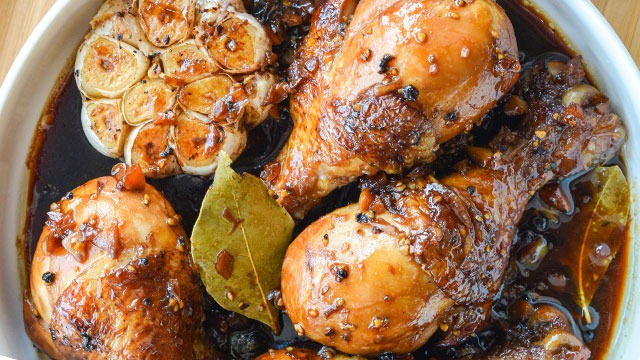 How To Cook A Delicious Saucy Adobo
Posted in:
Cooking
***