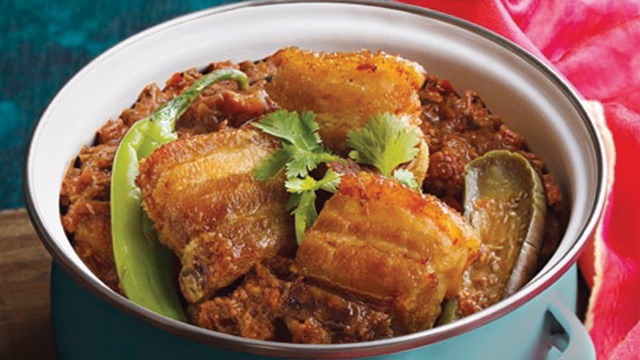 Pork binagoongan in a classic and well-loved Filipino dish. Typically, pork is slowly stewed in bagoong (or shrimp paste) with tomatoes. This recipe mixes two more Pinoy favorites with pork binagoongan: lechon kawali and gata! Add another layer of texture to your regular binagoongan by frying pieces of pork belly until they are crispy. Stir in a little gata, or coconut milk, for a touch of earthy creaminess. Nothing screams Pinoy more than this next-level dish does!
Lechon Kawali Binagoongan sa Gata
1 kilo pork belly, sliced into 2-inch pieces
Corn oil, for deep-frying
2 tablespoons corn oil
1 medium red onion, chopped
1 tablespoon garlic, minced
5 native tomatoes, chopped
1/2 cup shrimp paste (bagoong alamang)
1/2 cup pork stock (reserved from boiling pork belly)
3 tablespoons cane vinegar
2 medium eggplants, sliced into 2-inch lengths
1/2 cup fresh coconut cream (kakang gata)
1 green finger chili (chili pangsigang)
Ground black pepper, to taste
1 Make the lechon kawali: Place pork belly and salt in a large stockpot. Fill with water, enough to submerge pork. Bring to a boil then lower to a simmer. Simmer for 1 hour or until pork is fork tender. Remove pork from liquid and pat dry. Reserve 1/2 cup pork stock.
2 Make the binagoongan sauce: Heat oil in a wok. Sauté onions and garlic until fragrant over medium heat. Add tomatoes and sauté until soft. Add shrimp paste and cook for 1 minute.
3 Add pork stock and vinegar. Cook, without stirring, over medium heat for 5 minutes or until the acidity of the vinegar has evaporated (sauce should no longer be overpoweringly sour).
4 Add eggplants, coconut cream, and chili. Simmer until mixture is thick, about 8 minutes. Season with pepper.
5 Heat oil in a heavy bottomed pot. Deep-fry pork belly in batches until golden and crispy. Drain on paper towels to remove excess oil.
6 To serve, place half of the sauce on a serving platter. Arrange lechon kawali on top. Pour in remaining sauce.
ADVERTISEMENT - CONTINUE READING BELOW
Recommended Videos