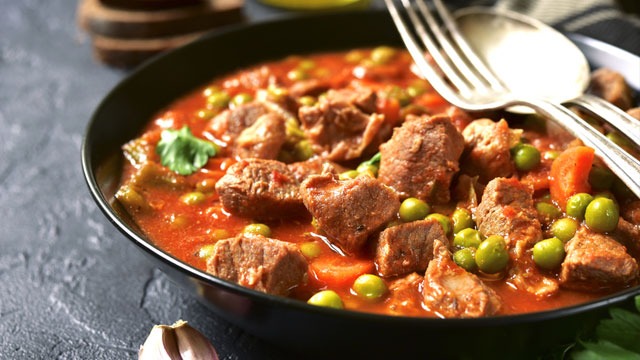 Stews make fantastic dishes. One of the most popular stews you can make is the kaldereta. 
The kaldereta is a local stew that is simmered long and slow. This dish was traditionally made using kambing or goat meat and the ingredients were meant to mask the gaminess of the goat. This is a rich-tasting stew loaded with chunky cuts of meat, potatoes, and carrots in a rich and savory tomato sauce flavored with bell peppers which give it the signature taste that makes it different from other beef stews such as the mechado. It's so delicious, hearty, and satisfying that it has become a classic Filipino dish many of us made for special occasions. 
This dish is more common in the provinces however where goats are raised on farms. That's why the more popular meat used is beef instead of goat for this dish.
Kaldereta may be made with beef but you can also use other meats, too. In that same line of thinking, if beef can be substituted for the goat, why not use pork instead of beef? This simple swap is an easy one to make. Since the price of beef and pork are now almost the same, you have your choice to use either meat for this dish.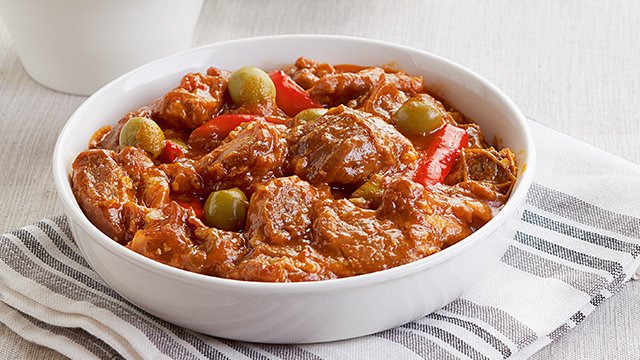 You can even mimic the way that the original kaldereta was made. Since goat is leaner than pork, turn to leaner, bonier cuts of pork for the dish. This means using pork ribs for the dish instead of the meaty chunks you get from the pork pigue or kasim. The good news is that the pork ribs are the more affordable cut. It will have more bone than meat of course, but if you love to nibble on bones, these are the perfect cuts for you. 
However, before eagerly cooking it, you need to remember that you have to remove the membrane on the back of the ribs. This is best done when the ribs are whole. You can actually leave this membrane on the ribs if you would rather not remove it. However, it becomes a plasticky piece of the pork cut that isn't exactly edible, so if you have a few minutes to spare, take the time to remove it. You can also ask your butcher to do this for you before going home from the supermarket. 
Here are two ways you can make pork kaldereta recipes that we think you should try: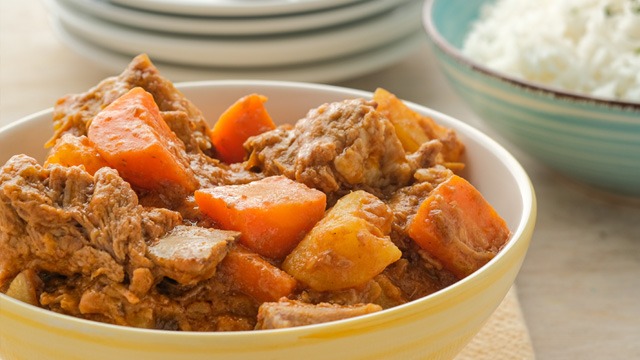 1 Pork Kaldereta With Liver Spread and Peanut Butter Recipe
What makes this pork kaldereta on par with other kaldereta dishes is the way this is made. This recipe is a delicious kaldereta recipe but to make it even better, the sauce is made even richer. The peanut butter and the liver spread are both thick and creamy ingredients. When added to the tomato sauce base, the sauce also becomes creamy and even thicker than the original.
What you get is a super-rich kaldereta dish that you might think is even better than the beef version.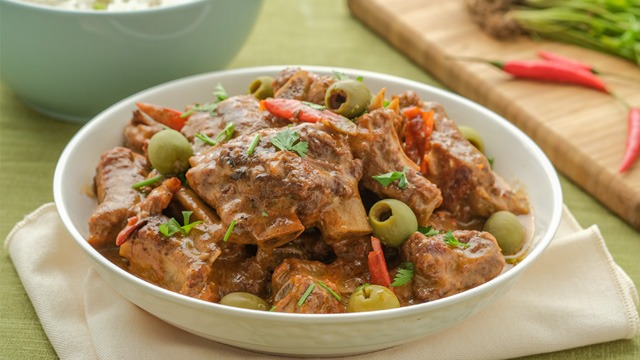 2 Spicy Pork Ribs Caldereta Recipe 
If you are not a fan of a kaldereta with peanut butter and liver spread, maybe try this recipe instead. This is made creamier, cheesier, and spicier for a kaldereta that's still comforting and delicious but without the nutty taste. 
Instead, it's more classic in flavor with the cheese and the green olives to give it that classic taste. Plus, it's got a surprising hit of heat from the siling labuyo.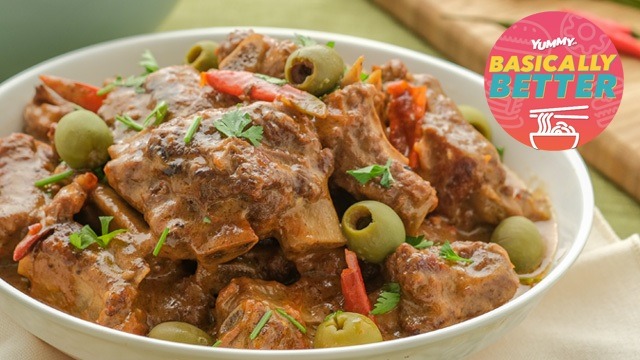 Spicy Pork Ribs Caldereta Recipe
Posted in:
Recipe
Are you think of making even these pork kaldereta recipes even more appetizing? Why not try hacking the kaldereta recipe and making our own recipe. Here are a few ideas to try with your pork kaldereta recipe: 
1 Add a melty cheese that will not only add its salty, umami flavor into the flavorful tomato sauce, but it will also transform it into a creamy dish. 
2 Add olives and even capers which will give your kaldereta

 a delicious flavor that will remind you that this dish really was derived from the Spanish beef stew. 

3 Add other veggies apart from potatoes and carrots to the stew such as corn, green peas, chickpeas or garbanzos, and the florets from the cauliflower and broccoli.
If any of these ideas sound delicious, we can't wait for you to learn if it truly is the next time you make kaldereta. 
ADVERTISEMENT - CONTINUE READING BELOW
Recommended Videos
***