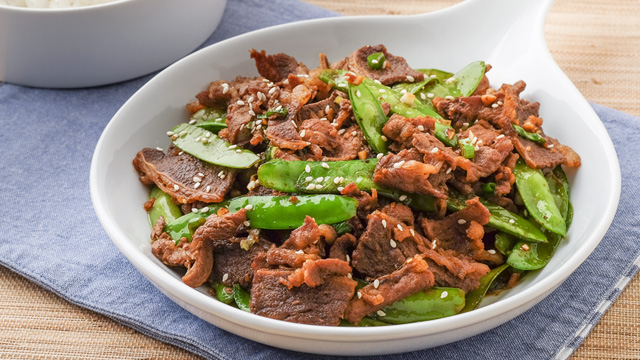 Garlic, beef, and soy sauce are the basic ingredients in salpicao, and it can be the most delicious pairing. Garlic is an aromatic ingredient that, when toasted, becomes even more fragrant and delicious when paired with something salty like soy sauce and inherently savory and umami-packed like beef. 
However, we know how to make this simple but already tasty combo even more delicious. 
How to do you make stir-fried beef? 
Making a quick stir-fried beef recipe is actually easy. It's just a combination of beef–thinly sliced–cubed small, or cut into thin strips are best for stir fries–and seasonings. You don't even have to add veggies if you don't want to add it in! That's the beauty of home cooking: any ingredient that you don't like doesn't have to go into the dish you're making. 
It's knowing what to put into your dish that makes cooking decisions harder. Do you love soy sauce? Would you like some sesame seeds or just the sesame oil added in for some delicious warmth? Maybe, a few vegetables like broccoli or young corn is what you want to add in or maybe the flavor of red bell peppers would make the beef stand out against its bitterness. 
The only way to really make it even more delicious and appetizing is to add more ingredients, from more seasoning to different vegetables, to make the flavors of the beef shine. Grab some quick-cooking beef cuts, gather the ingredients you love, and get cooking. You're going to want more rice with every bowl of these quick-cooking beef recipes!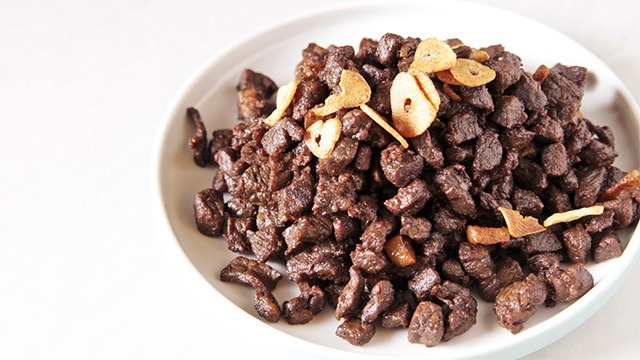 1 Beef Salpicao Recipe
There are many ways to make salpicao but the original, the classic way to do it is with beef, garlic, Worcestershire sauce (or soy sauce), and that's it. The key however to the best salpicao is really the beef. You need to cook it just right and to cook it just right, you need to have the right cut of beef. We say you can't wrong with tenderloin for this quick and tasty stir fry, but if you cook it on high heat for just a few seconds, stirring, then go for meaty sirloin.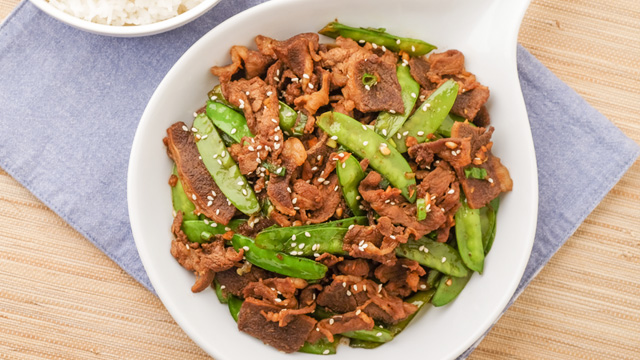 2 Sesame Ginger Beef Stir Fry Recipe 
When we said that you can add what you like into your stir-fried beef dish, we meant it. Here, the simple beef stir fry is just thinly sliced beef, ginger, sesame, and some seasoning to make it taste delicious. Plus, it gets done in as little as a few minutes after you prepare all your ingredients.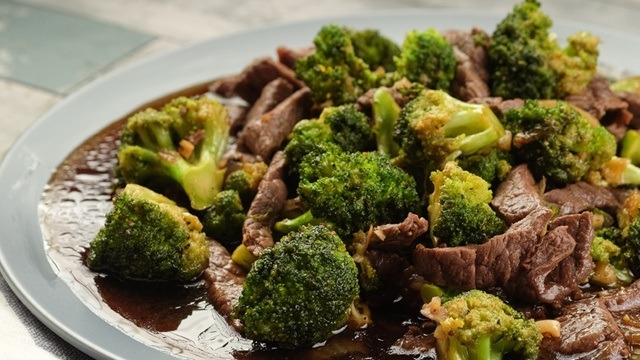 3 Beef with Broccoli Recipe 
When it comes to stir fry dishes, this simple combination of thinly-sliced beef and broccoli florets tossed in oyster sauce may be the most popular. It's fast and easy to cook, and it's definitely delicious.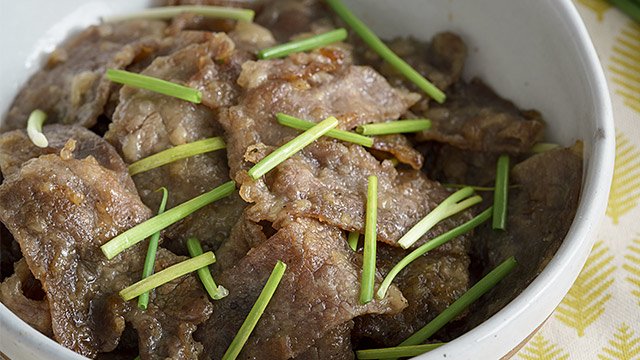 4 Quick Orange Beef Recipe 
Fruits may not be the first flavor you think about when cooking with beef, so it's just as well that you find out yourself how delicious the combination can be when put together. Lemon chicken and even orange chicken recipes are popular so it's just right that a citrusy beef recipe should be just as delicious, too.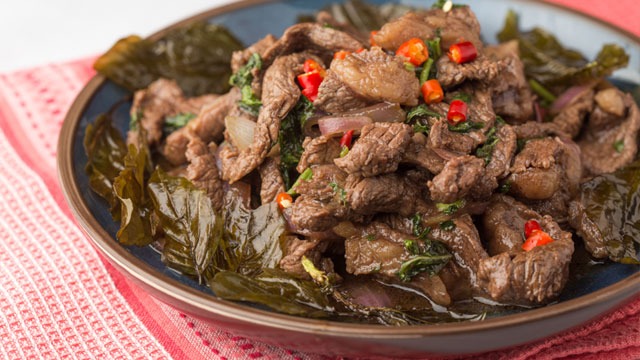 5 Beef Basil Recipe 
You probably know this dish as "Thai beef with basil". However way it's called, the basic components that make up the dish are aromatic basil leaves and beef with a little bird's eye chilis, or siling labuyo, thrown in for some heat. The result is a super flavorful and delicious dish that comes together and cooks in less time the rice needs to get fluffy.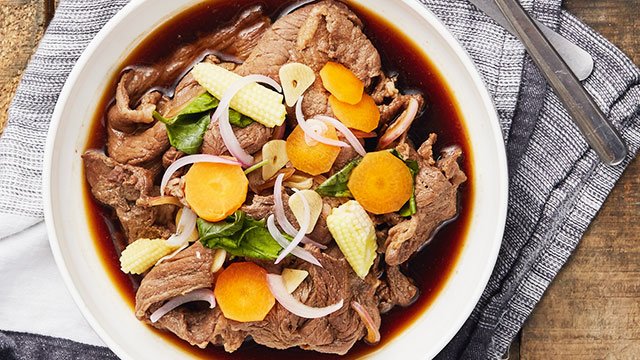 6 Quick Sukiyaki Beef Recipe 
Stir fries are really just recipes that require high heat, quick-cooking ingredients, flavorful seasonings, and the ability to toss everything together in one wok with confidence. That's why even a recipe that may require more time can be made quicker, faster with a few key ingredients made easier to cook: thinly-sliced vegetables and beef.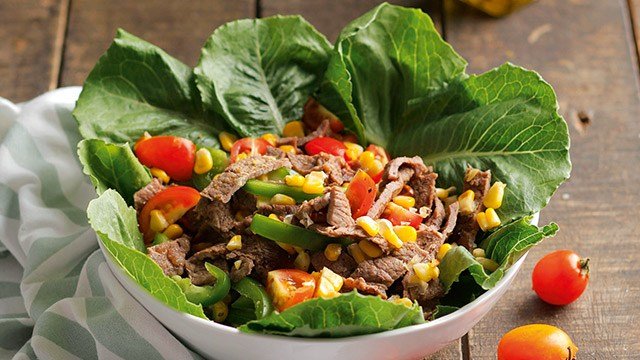 7 Stir-Fried Beef Salad Recipe 
There's no rule that says that salad can't be cooked! Here, fast-cooking breakfast beef cuts join salad ingredients for a heartier take on a dish that could be not as satisfying without the meatiness and heft of the beef strips.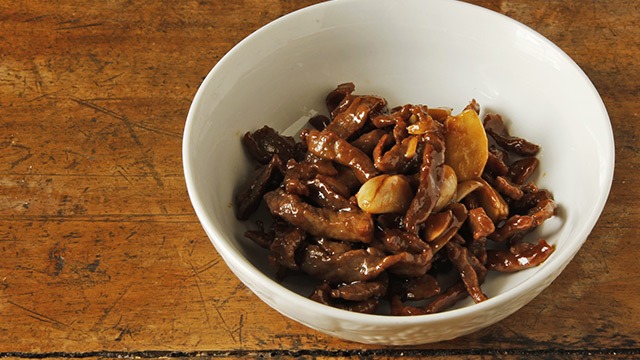 8 Beef Tapa Recipe 
This breakfast favorite is really a stir-fried recipe! Marinated beef strips are thinly sliced so it cooks fast, so it's just a matter of adding, say, a few colorful vegetables such as sitsaro (snow peas), cauliflower or broccoli florets, slivers of carrot, or even a handful of shredded cabbage would turn this breakfast ulam into a bonafide stir fry you can eat for lunch or dinner.   
9 Beijing Beef Recipe 
It's really amazing how ketchup can transform from a condiment to a recipe ingredient. It's basically a tomato sauce that you don't even have to season to make it taste delicious! Here, it's tossed with more sugar, more vinegar, garlic, and a few vegetables which give its flavor to the dish and thickened into a flavorful sauce that is perfect served with some steamed rice.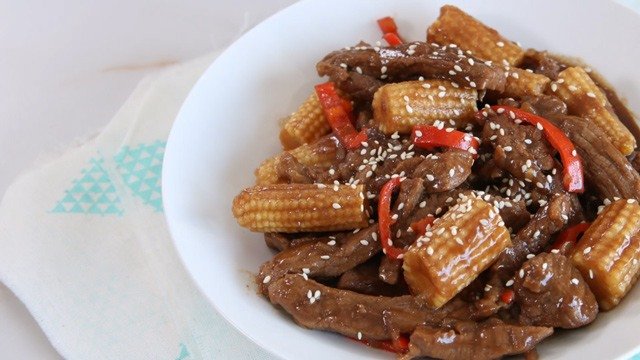 10 Beef and Baby Corn Stir Fry Recipe 
If you're going simple yet tasty, you should try this simple recipe that is tossed in a sauce made with soy sauce and sesame oil. Beef sirloin is thinly sliced so it cooks fast and even the vegetables need minimal cooking.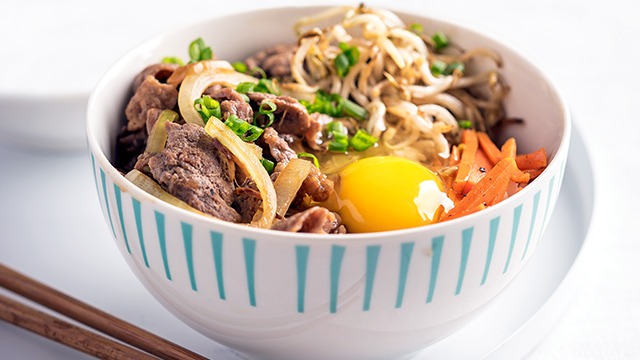 11 Beef Misono Recipe
We can't list down quick-cooking beef recipes without including this fast food favorite! Misono is allegedly a family cooking style in Japan that was characterized by quickly cooked food on an iron plate. What so great about the misono is that can be cooked on anything that can withstand high heat. Serve it with sauteed onions and bean sprouts, slivers of carrots, and of course, a heaping bowl of steamed rice for the perfect beef bowl. 
There's no reason why any beef recipe needs to be difficult to cook! Just remember that thinly-sliced beef is your best friend for fast-cooking recipes, and any beef recipe can be quick and easy to cook. 
ALSO READ: