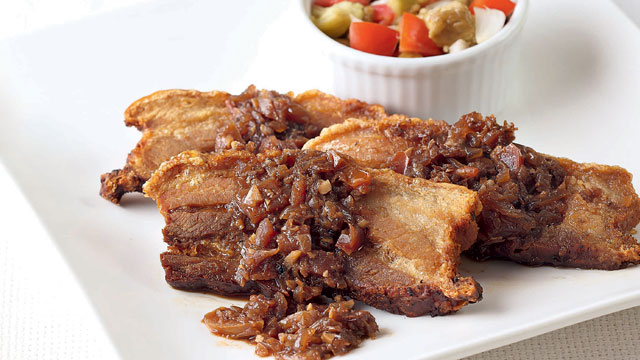 One of the most distinctive ingredients in a Filipino kitchen has to be bagoong. Salty, fermented, and addictive, bagoong or shrimp paste is a great substitute for plain salt. This ingredient is so flavorful, aromatic, and just a little of this paste goes a long way towards making your dish salty, briny, and intense. 
Binagoongan is a classic Filipino dish and there are many variations you can make. You can make just about any main ingredient into a binagoongan dish! Use pork for the basic pork binagoongan or use chicken. You can even pour in some gata or coconut milk to make it into the non-spicy version of a Bicol Express that doesn't rely on the heat to make it appetizing and addictive. These usually need more than just a tablespoon for the dish, and it's the main flavoring ingredient, making it super tasty and delicious.   
However, if you don't have more than just a tablespoon of this, you can still make a dish that's super tasty. Here are recipes with bagoong, whether you have a little bit or a lot of it: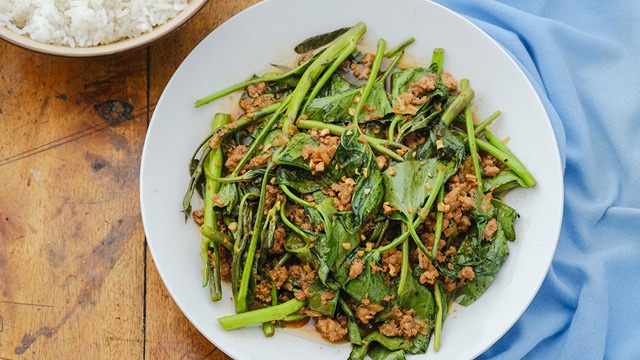 1 Apan-apan Recipe
This Bacolod dish is a ginasang kangkong dish whose flavors are amped up a notch simply by adding a little ground pork into the dish and making it more flavorful by a tablespoon of bagoong. If a little bagoong is all you can handle in any dish, this is the dish to try!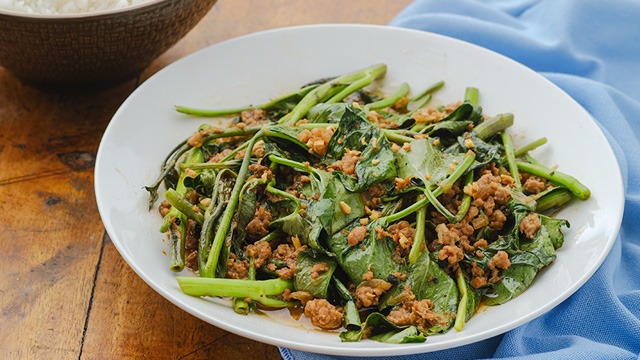 Apan-Apan Recipe
Posted in:
Recipe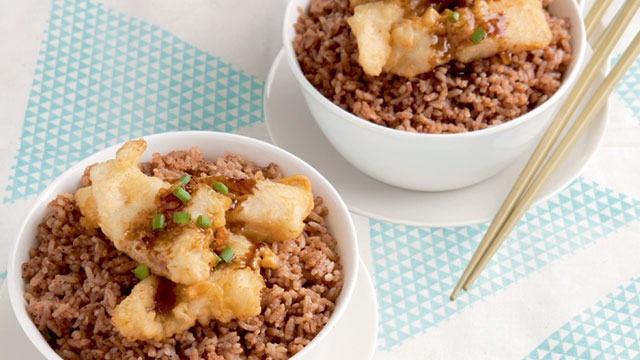 2 Bagoong Fried Rice Recipe 
Just like there are many ways to make binagoongan, there are also many ways to make bagoong fried rice. The classic Thailand version of the bagoong fried rice is an all-in-one meal! It contains all of the ingredients that you need to make it not just flavorful but also crunchy, salty, spicy, sweet, and sour. It's the ultimate umami bomb! 
However, you don't need to go too overboard with your bagoong fried rice and make it simpler, as part of a meal rather than being the entire meal. This recipe is a great one to start with and you can top it off with your favorite fried fish, seafood mix, or any other fried meat ulam you might want to enjoy with it.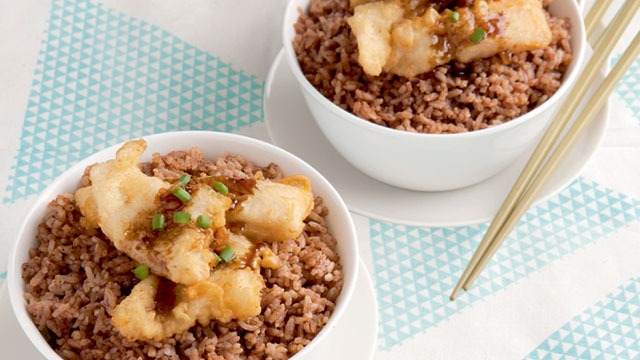 Tamarind Fish on Bagoong Rice Recipe
Posted in:
Recipe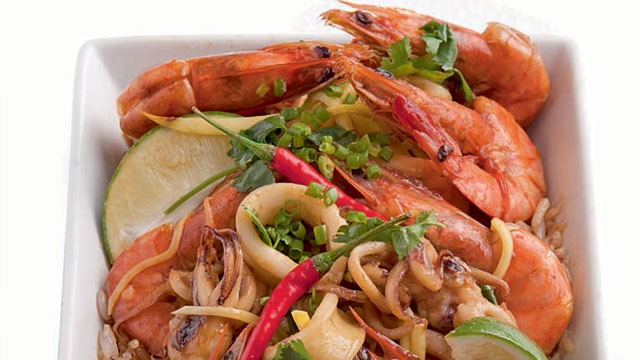 Seafood Bagoong Rice Recipe
Posted in:
Recipe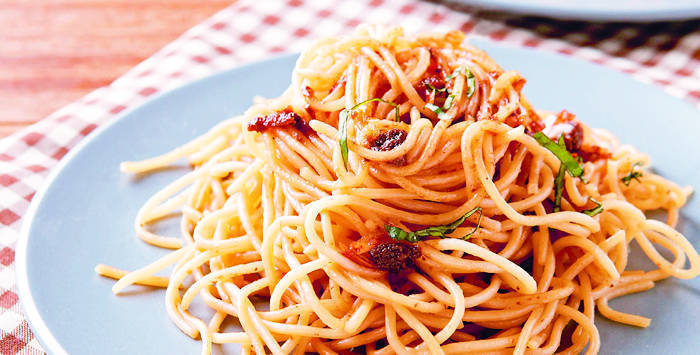 3 Pasta with Garlic and Shrimp Paste Recipe  
If you love pasta, then there's no reason you can't use the bagoong to make it delicious, too. Use the bagoong as part of a simple sauce together with lots of garlic. Think of this as that classic garlic oil pasta but instead of using salt, you use bagoong to give it that briny seafood flavor that you love without needing to go out and buy actual shrimps.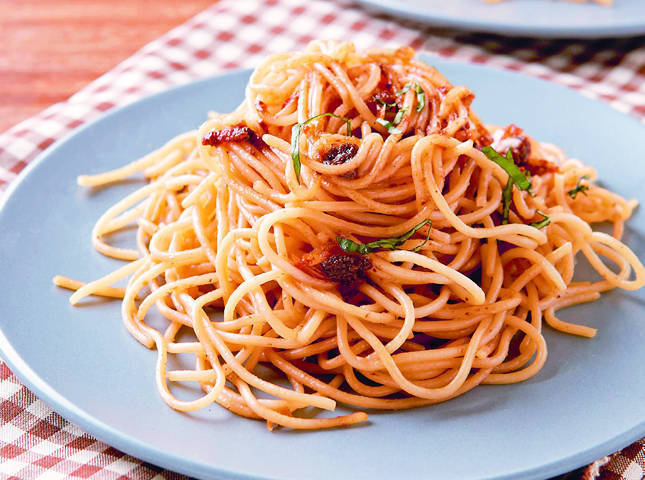 Pasta with Garlic and Shrimp Paste
Posted in:
Recipe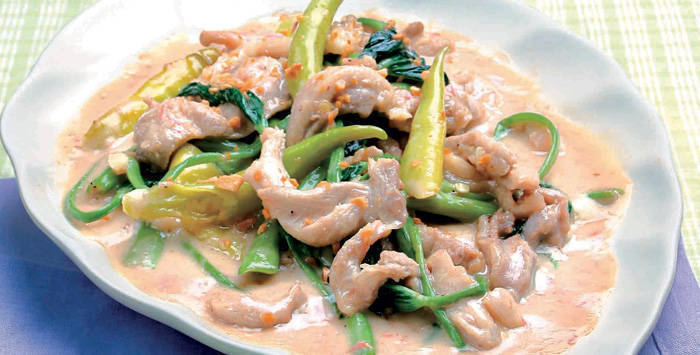 4 Spicy Coco Pollo Recipe 
Also known as a spicy chicken and coconut dish, this dish is similar to a Bicol express but instead of pork, this uses boneless chicken strips. The dish is loaded with some kangkong leaves and its tender stems too to make it into a full meal, complete with the steamed rice on the side.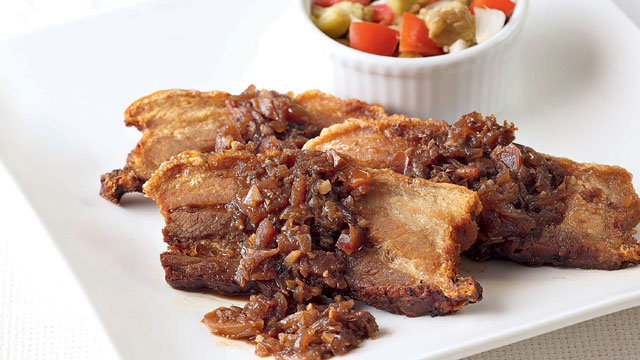 5 Crispy Liempo with Bagoong Sauce Recipe 
There's no reason why the bagoong can't be on the side of a great dish. That's what great condiments are for. However, it doesn't have to stay as a condiment. Make it into a sauce and you can slather as much (or as little!) of the salty, briny, and umami-packed stuff on your food as much as you like. You can even make it into a sauce that's just for dipping, too. 
ADVERTISEMENT - CONTINUE READING BELOW
Recommended Videos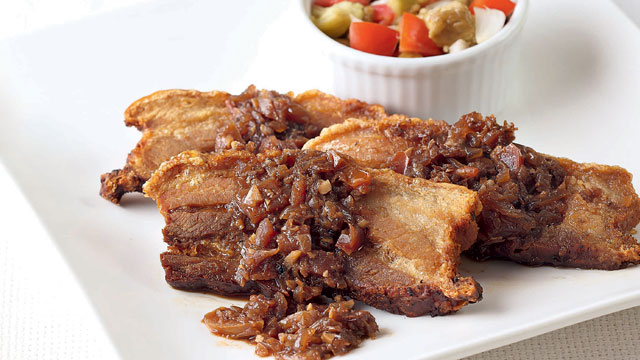 Crispy Lechon Liempo with Bagoong Sauce
Posted in:
Recipe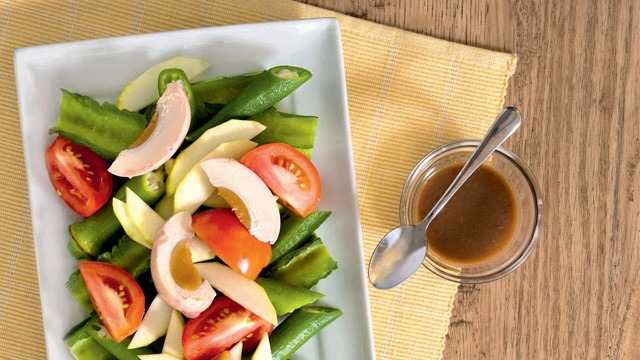 6 Pinoy Vegetable Salad Recipe with Bagoong Vinaigrette
For those who love their vegetables as crisp and fresh as possible and not overcooked until mushy, this is a great alternative take on the western-style salads. Instead of the typical cured anchovy fish fillet, bagoong is the salty, briny component that makes this vinegar-oil dressing so flavorful! Pair it with some local vegetables, blanched to perfection, and you've got a salad that's not leafy but definitely hearty enough to satisfy you.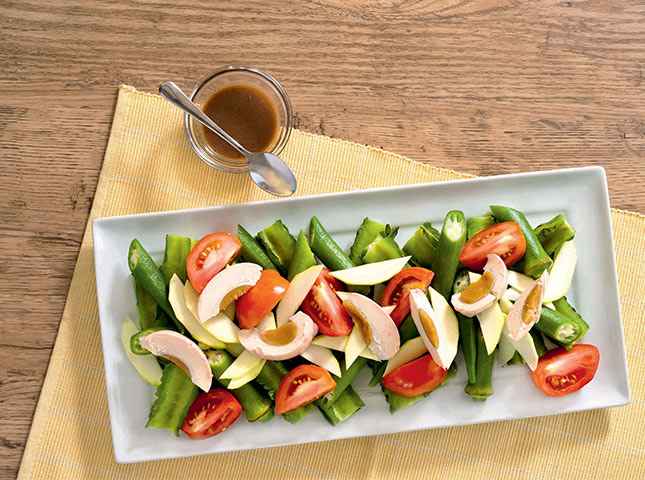 Pinoy Vegetable Salad Recipe
Posted in:
Recipe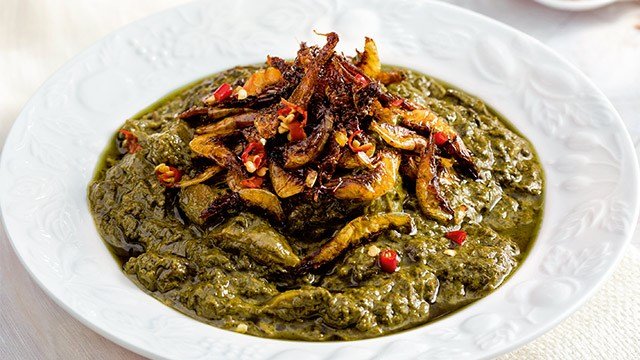 7 Laing Recipe 
No laing can be made without some bagoong to make it super tasty! As one of the main ingredients, the bagoong pairs with the dried leafy greens wonderfully together with the gata. Even without the fresh shrimps or the bits of pork that's fried until crisp, you know there is something in this dish that tastes like the sea. This is the perfect side to pair with almost any fried dish.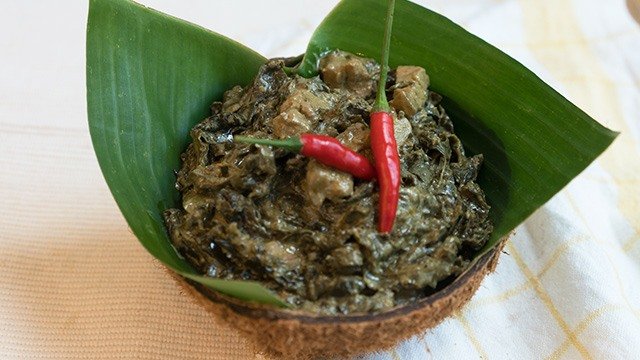 Laing (Taro Leaves in Coconut Milk) Recipe
Posted in:
Recipe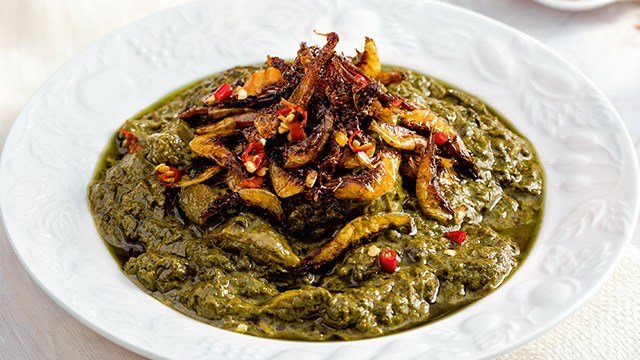 Laing with Crispy Shrimp Recipe
Posted in:
Recipe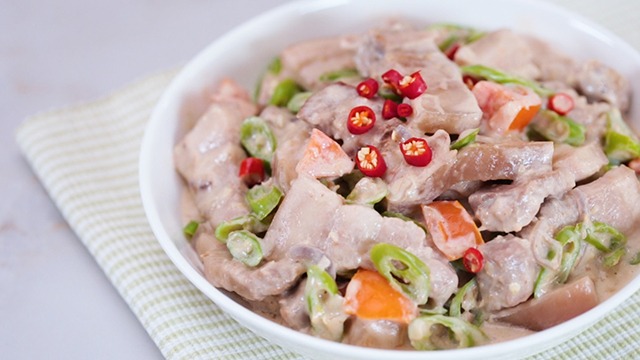 8 Bicol Express Recipe 
No Bicol express recipe can be made without the sili or the bagoong. This savory pork dish is similar to the laing but instead of gabi leaves, this is loaded up with two kinds of chili instead as its greens. Plus, lots of slices of pork make this extremely hearty but what marries all of these ingredients together into a cohesive dish is really the gata and the bagoong that creates the base of the spicy and creamy sauce.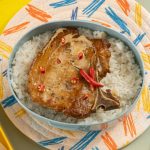 Bicol Express Pork Chops Recipe
Posted in:
Recipe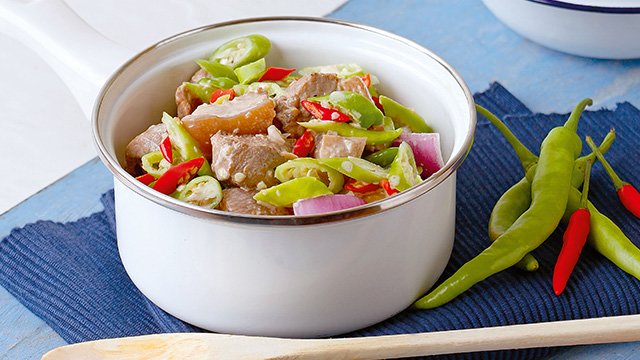 Bicol Express Recipe
Posted in:
Recipe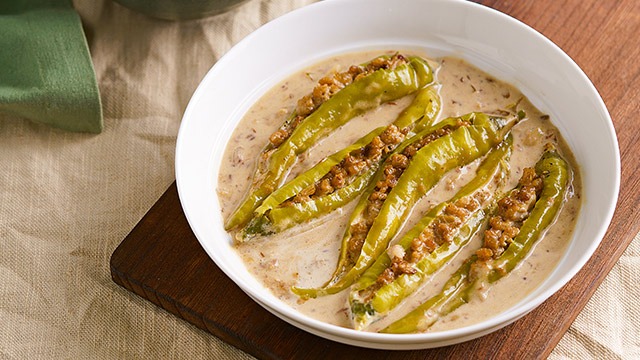 Stuffed Bicol Express Recipe
Posted in:
Recipe
Bagoong should be in your kitchen shelf right beside the salt and the ground pepper, but even if it's not there, know that should you want a burst of salty, briny flavor, you can reach for the bottle and add a little of it to your dish instead of salt. 
ALSO READ: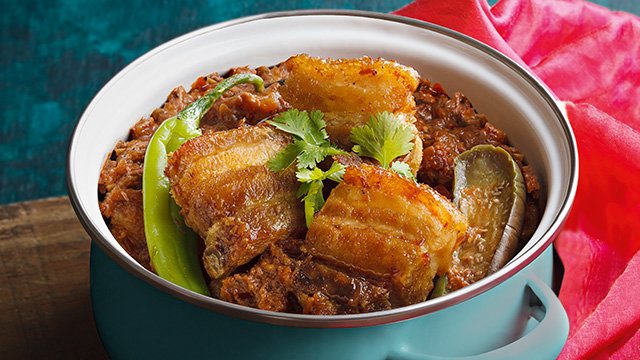 Bagoong Makes These Dishes Delectable
Posted in:
Cooking
***
Thinking about what to cook next? Join our Facebook group, Yummy Pinoy Cooking Club, to get more recipe ideas, share your own dishes, and find out what the rest of the community are making and eating!
Got your own version of the classic dishes? Pa-share naman! Get your recipe published on Yummy.ph by submitting your recipe here!