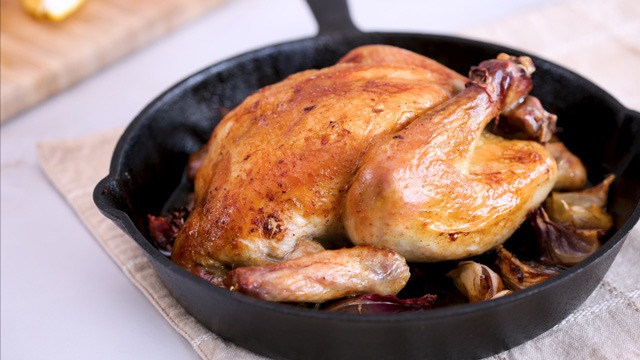 This roast chicken recipe is infused with garlic on two fronts: it's first rubbed all over with smashed garlic ensuring that it flavors the entire chicken and then it is roasted with an entire head of garlic with it. 
It is also flavored with butter as it roasts in the oven with the garlic. What you get is an intensely garlicky chicken that's perfectly browned in the oven.
Get the recipe here: 
Buttery Garlic Roast Chicken Recipe 
Takes 90 minutes
Makes 6 servings
 
1 1.7-kilogram whole jumbo 

chicken

, patted dry
1/2 cup salted butter, melted
6 cloves 

garlic

, peeled, smashed
1 head 

garlic

, cloves separated
2 medium red onions, quartered
Salt and ground black pepper, to taste
Lemon wedges, to serve (optional) 
Gravy, to serve (optional) 
Oil, as needed 
1 Preheat oven to 425 degrees F (220 degrees C). Brush a 10-inch cast iron pan with oil and place in the oven. 
2 Meanwhile, place 

chicken

 on a chopping board. Brush the 

chicken

 skin with half the melted butter, and season generously with salt and pepper. Rub the smashed 

garlic

 all over the 

chicken

. Remove or brush off as much of the

garlic as possible

. (The 

garlic

 will burn in the oven as it roasts.)
3 Place 

chicken

 into the hot cast iron pan together with 

garlic

 cloves and red onions, and turn down the oven temperature to 350 degrees F (180 degrees C). Roast in the preheated oven for 75 minutes, brushing the skin and with the drippings and any remaining melted butter in 15-minute intervals, until browned on all sides and juices run clear when pierced. (Brush any garlic off the chicken while basting.)
4 Remove from oven, and set aside to rest for at least 10 minutes before carving. Serve with lemon wedges and gravy, as desired, on the side.
It's easy to master the roast chicken! Just season generously with your preferred seasoning (just salt and pepper will do!) and let the oven do the cooking for you. See below for more roast chicken recipes to inspire you to use the oven for every special occasion: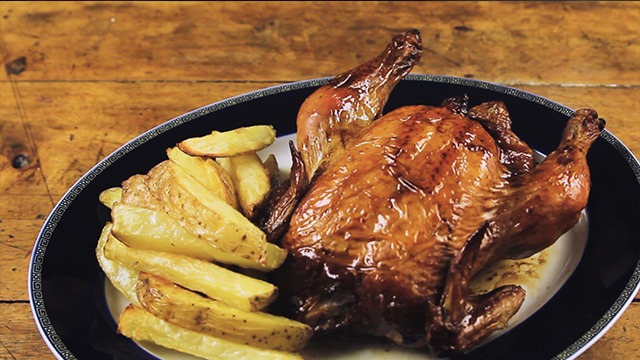 WATCH: How to Make Turbo Broiler Chicken
Posted in:
Cooking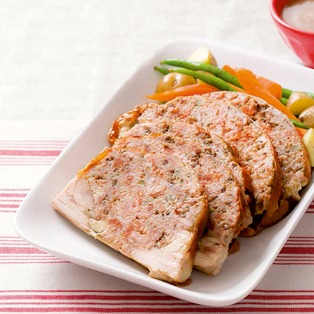 How to Make Chicken Relleno
Posted in:
Cooking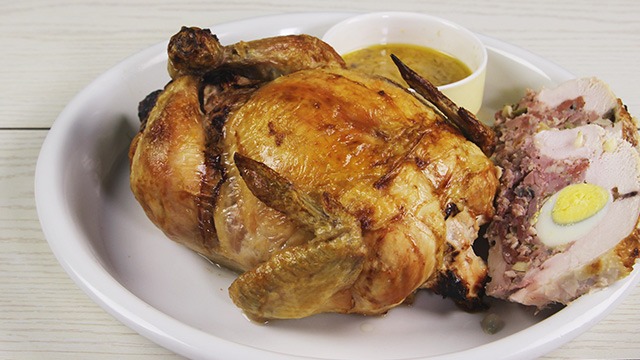 WATCH: How to Make Chicken Galantina
Posted in:
Cooking
ADVERTISEMENT - CONTINUE READING BELOW
Recommended Videos