Sandwiches aren't just for snacks, they're actually a great idea for breakfast! Because they don't require too much prep time or tons of ingredients, sandwiches make for a convenient meal for the family.
They are also quite versatile. With just a couple of ingredients, it's easy to make different versions. For something simple, slather your choice of Lady's Choice Meaty Spreads on white bread, add some sliced veggies, and you already have a filling breakfast. Feeling a bit creative? Put cold cuts or other kinds of meaty palaman, cheese, and more veggies, and you already have a hearty meal for the family!
The secret to making breakfast sandwiches delicious may lie in your choice of spread. So, check out these seven recipes made with Lady's Choice Meaty Spreads and Lady's Choice Real Mayonnaise that you can make every day of the week.
And don't forget to make mornings a little more fun by encouraging your kids to #DoItTogether with you! Why not let them make their own sandwiches? This way, all you need to do is prepare the ingredients beforehand and set them on the dining table come morning!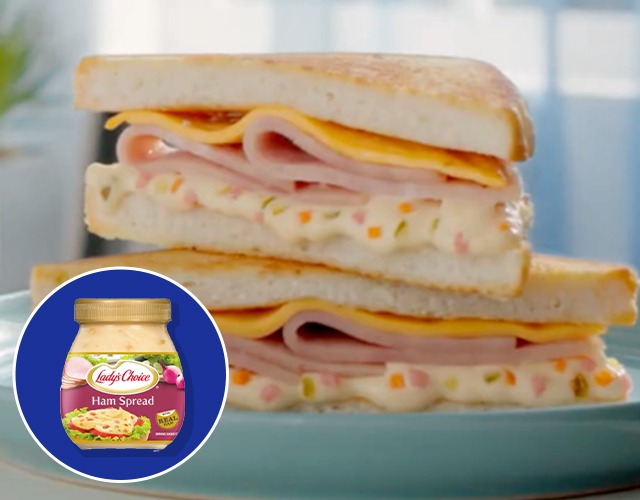 Monday: Mega Melty Sandwich
Power up for the brand new week with this crispy, extra-luscious ham and cheese sandwich. Aside from how you usually prepare it — that is, filling up the toasted bread with ham and cheese — amp up the deliciousness by adding a generous layer of Lady's Choice Ham Spread!
Get the Mega Melty Sandwich recipe here.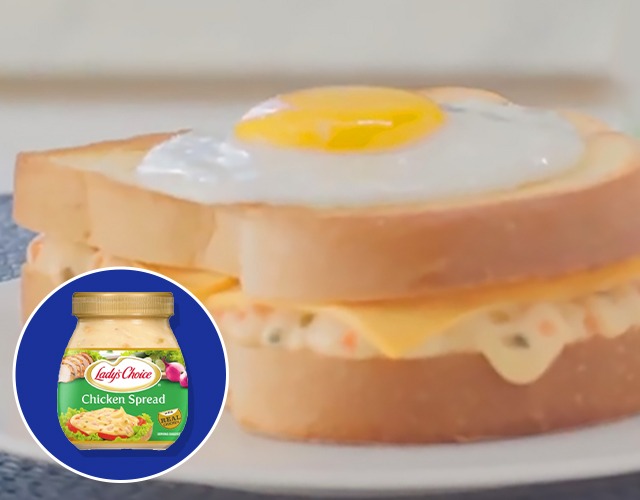 Tuesday: Chicken Lava Toast
This fun and flavorful breakfast sandwich is an instant pick-me-up! Just fill the inside of the sandwich with cheese and Lady's Choice Chicken Spread for that creamy, savory bite, and then place the sunny-side-up egg on top. Your kids will enjoy seeing and devouring the "lava flow" care of the egg yolk!
Get the Chicken Lava Toast recipe here.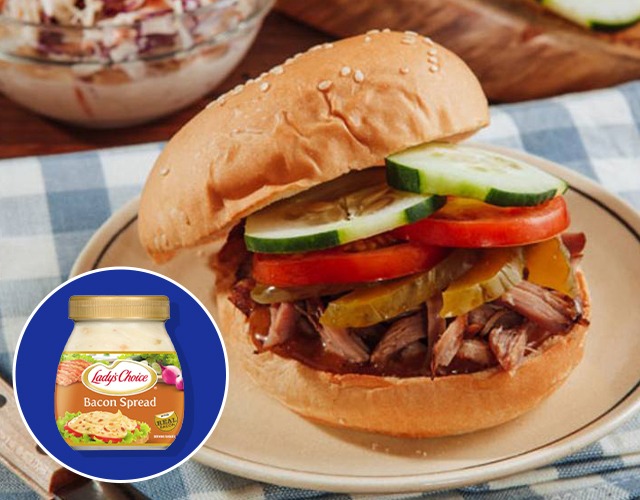 Wednesday: Pulled Pork Sandwich
Feeling the mid-week blues? Perk up your kids and put a smile on their faces with this delicious Pulled Pork Sandwich! To make things quick, ask the kids to shred the pre-cooked pork barbecue using forks. Then, prep the dressing — the highlight of this sandwich — by mixing together Lady's Choice Bacon Spread and barbecue sauce.
Get the Pulled Pork Sandwich recipe here.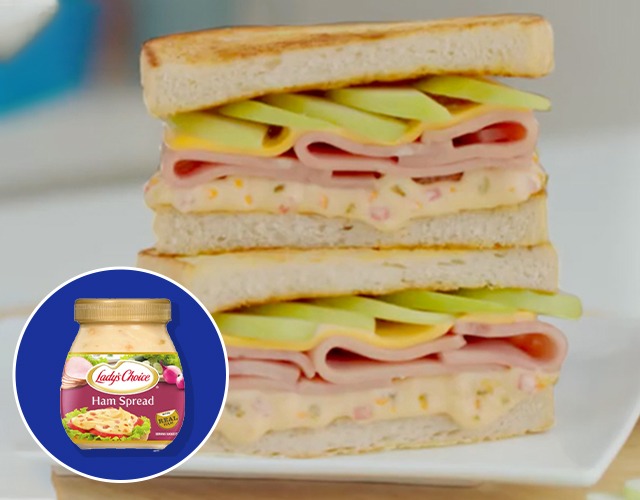 Thursday: Crunchy Hamwich
Here's another unique take on the classic ham and cheese. For a sweet, fruity crunch, add thin apple slices to the sandwich! The kids will definitely have fun assembling and munching on this yummy dish. Make sure to use Lady's Choice Ham Spread to make it meaty and creamy!
Get the Crunchy Hamwich recipe here.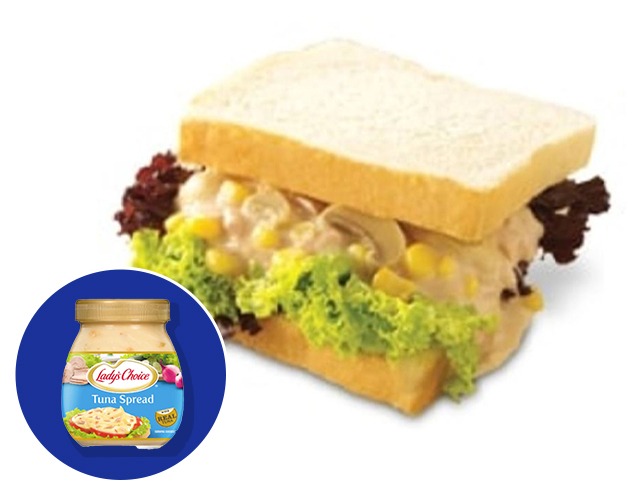 Friday: Tuna, Corn, Mushroom Sandwich
Celebrate the last day of a busy week with a meal that's both scrumptious and hearty! Even better: All you and your kids have to do is mix most of the main ingredients in a bowl to make the filling. Do remember to have Lady's Choice Tuna Spread on hand to level up the flavor of the tuna!
Get the Tuna, Corn, Mushroom Sandwich recipe here.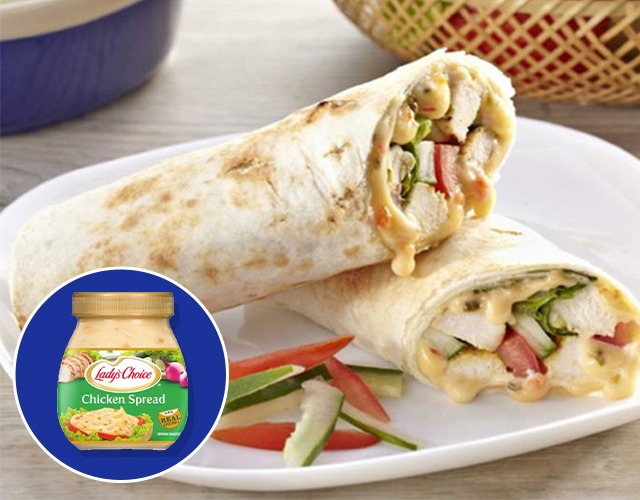 Saturday: Curried Chicken Sandwich
On Saturdays, when the family's not rushing in the morning, whipping up a stuffed sandwich wrap is well worth it. You can have the kids help out by letting them put Lady's Choice Chicken Spread on the tortilla. Then, give them a hand when layering all the other ingredients to ensure they're just enough that you can still roll up tortilla easily.
Get the Curried Chicken Sandwich recipe here.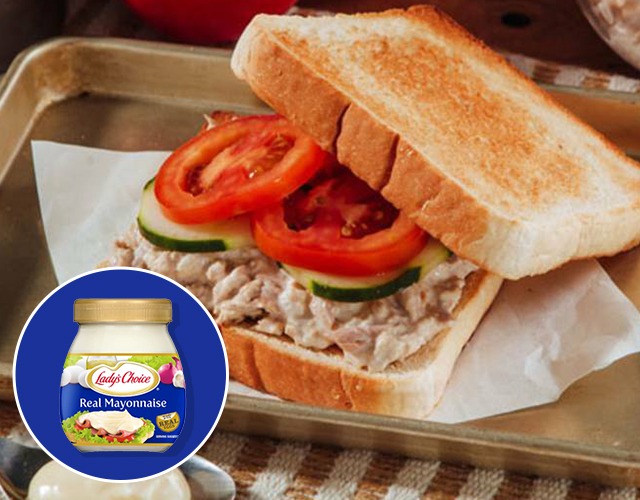 Sunday: Yummy Tuna Sandwich
Sundays usually call for family time. Why not go all out starting with an exciting food activity? Do a savory sandwich made with Lady's Choice Real Mayonnaise! Aside from tuna, this one is filled with all sorts of fresh veggies such as cucumber, lettuce, onion, and tomato!
Get the Yummy Tuna Sandwich recipe here.
Whichever breakfast sandwich recipe you pick for the day, the key lies in choosing a sandwich spread like the Lady's Choice Meaty Spreads and Lady's Choice Real Mayonnaise. In no time, these breakfast sandwiches will be a crowd favorite at home — and creating them together would be something your kids will look forward to every morning!
Lady's Choice Meaty Spreads — available in Chicken, Ham, Bacon, and Tuna variants — and Lady's Choice Real Mayonnaise have Omega 3 and Omega 6 and are made with farm-fresh eggs. These spreads, together with fresh veggies and meat, help transform these sandwiches into yummy Go-Grow-Glow breakfasts!
Watch this video to see how Go-Grow-Glow breakfast sandwiches can make mornings fun!
For more Go-Grow-Glow breakfast sandwich recipes, click here. To do Co-Creation Activities visit bit.ly/lcdoittogether. For more collaborative parenting content visit the hub: bit.ly/doittogetherhub. Follow Lady's Choice on Facebook.
gtag('config', 'AW-919548671');
// ]]>