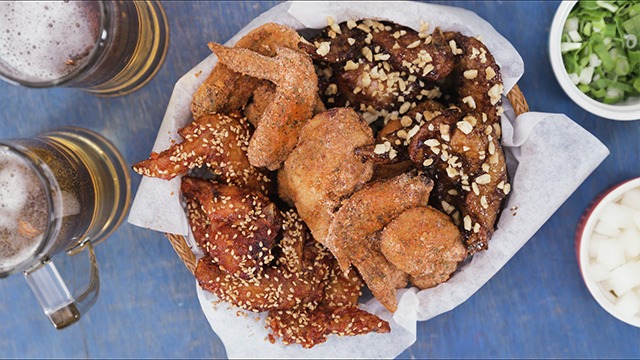 The Korean fried chicken recipe is probably one of the next best things to come out of Korea. These delicious fried chicken pieces are incredibly crisp and usually doused in a sweet, garlicky glaze that's unlike any other fried chicken recipe we have tasted before. 
The cooking trick used to make sure these chicken pieces are as crispy as they are is the double frying method. These double-fried chicken pieces are cooked twice!
The first fry is usually over low heat. This cooking method does two things. First, it cooks the chicken all the way through to the bone so there's no danger eating raw chicken and second, it dries up the chicken skin so there is less chance for that dreaded oil splatter, possibly landing on your skin causing blisters. This first fry however is usually done at such a low heat that these chicken pieces rarely brown at all.          
The second fry is done at a much higher temperature to transform those sad, pale-looking chicken pieces into golden brown and delicious status. This fry is much faster and goes on for a shorter period of time since the chicken is already cooked through. The outside becomes super appealing and appetizing, plus it becomes super crisp since there is less moisture to prevent the browning of the skin. This is the delicious crispiness that all fried chicken seeks to become.
This might be why chicken wings, with its high skin to meat ratio, particularly benefit from this double fry method.
The crispy chicken isn't the only thing that makes Korean fried chicken so irresistible. That soy-garlic sauce is quite finger-licking good, too. This classic sauce is good but it's not the only sauce you can toss chicken in. 
If you're looking to find new ways to enjoy your Korean, double-fried chicken pieces, here are sauces you can try: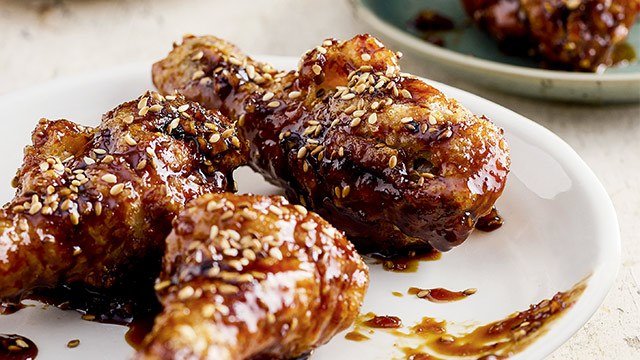 1 Classic Korean Fried Chicken Sauce Recipe 
If you love the classic sauce that Korean fried chicken are tossed in, this sweetened soy sauce and garlic sauce is the perfect way to go.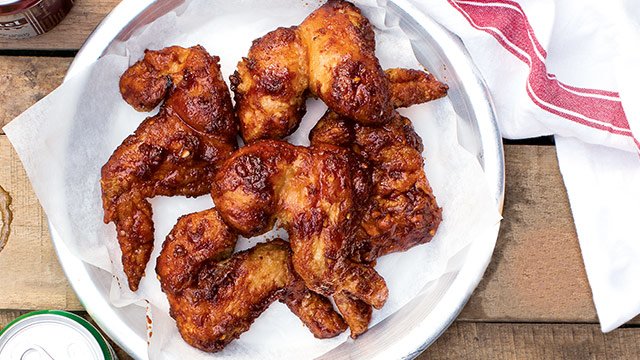 Korean Fried Chicken Recipe
Posted in:
Recipe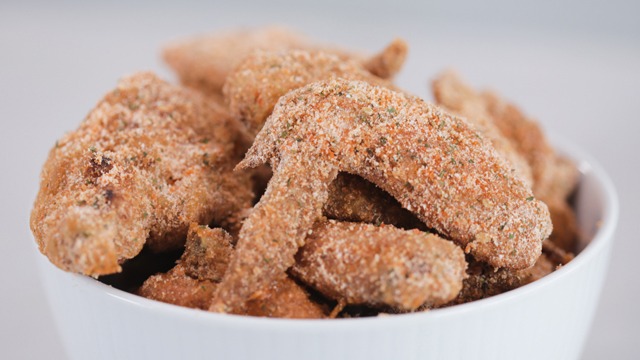 2 Cheesy Snow Recipe 
Glazes may be the original sauce to use on chicken wings but there are other ways to make delicious, too. If you've ever dined in at a Korean fried chicken wing place, you know there's this thing called the cheesy snow powder that's just as irresistible as the soy-garlic glaze. If you can't figure out how to make this powdered stuff, we have a great version you can try at home. This sour cream powder and white cheddar cheese powder combination is a fantastic replica of that cheese snow. Keep a stash at home so you can enjoy it on chicken wings as well as popcorn when you're watching those K-dramas. 
ADVERTISEMENT - CONTINUE READING BELOW
Recommended Videos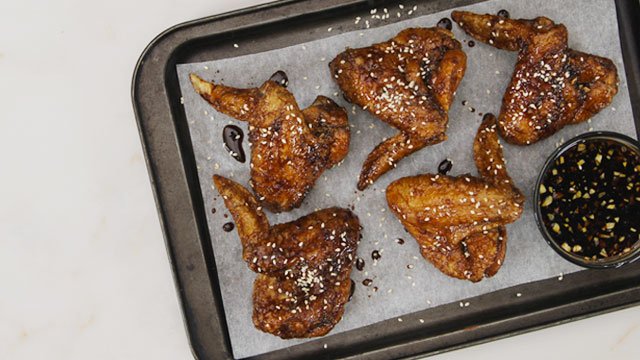 3 Gochujang Glaze Recipe  
Gochujang is the red pepper paste that makes these chicken wings spicy but not too much. If you love this paste on food that's not even Korean, you will love that this glaze is like your favorite soy-garlic glaze but with a delicious heat that's not just spicy but is flavorful, too.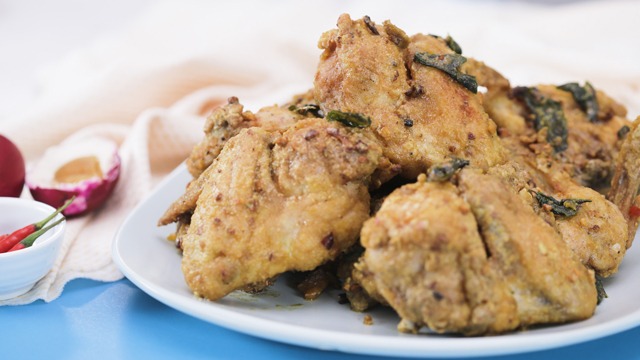 4 Salted Egg Sauce Recipe 
No fried chicken wing was spared the salted egg treatment when it was all the rage. We think that food trend can be revived with this recipe for a salted egg sauce that you can use for your double-fried chicken wings or even chicken tenders. Pick your favorite chicken part for this umami-loaded sauce.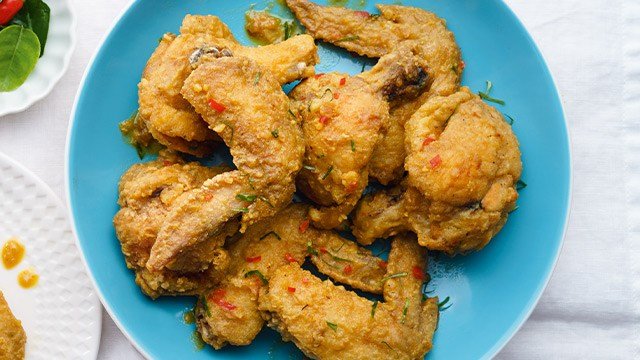 Salted Egg Yolk Chicken Wings Recipe
Posted in:
Recipe
5 Japanese Chicken Wing Glaze Recipe 
Did you know that the Japanese also double fry their chicken? They do! In fact, even their chicken wing glaze is similar to the Korean version: it's sticky, sweet, and super delicious, too. The big difference is the ingredients are Japanese, not Korean. Plus, there are more ingredients in it, too, that give it that Japanese twist: ginger as well as garlic is added to the glaze and sake and mirin give it an underlying sweetness, too.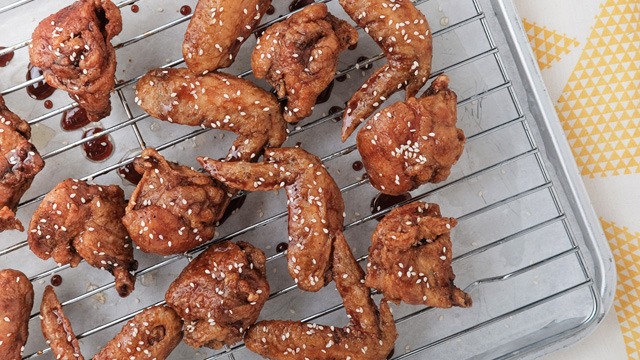 Japanese Chicken Wings Recipe
Posted in:
Recipe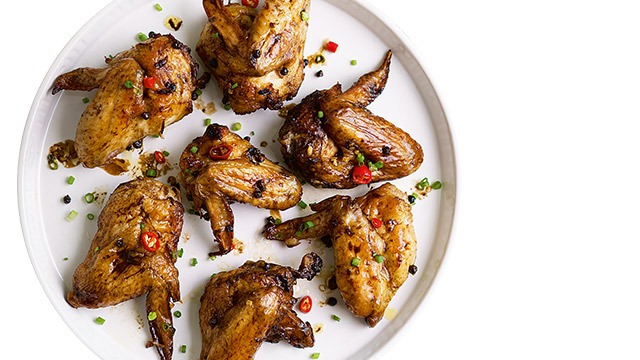 6 Adobo Sauce Recipe 
Adobo or our favorite soy sauce-vinegar-garlic-black pepper sauce is just as delicious as a glaze as it is a marinade. This makes a fantastic savory glaze that you can even spice up with a little heat so it's not your usual flavor.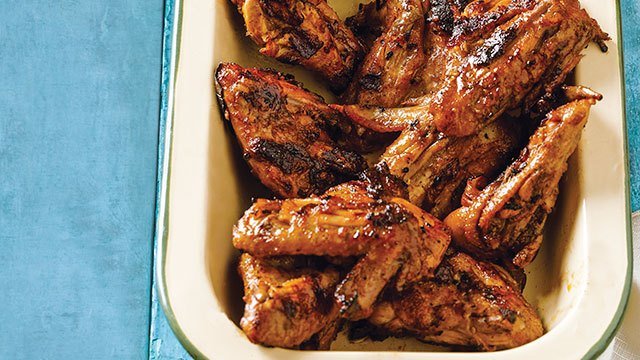 Adobo Chicken Wings Recipe
Posted in:
Recipe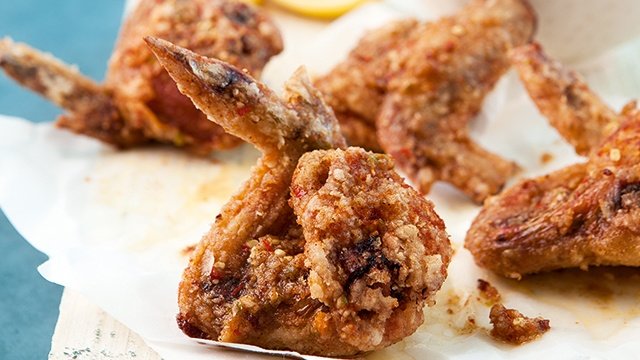 7 Peri-Peri Sauce Recipe
Peri-peri sauce is an African sauce that's intensely spicy. This version uses siling labuyo to give these wings its heat but it's tempered with flavorful ingredients in the form of the sweet paprika powder, the boozy whiskey, and the garlic that's added to take from just painful to flavorful, too.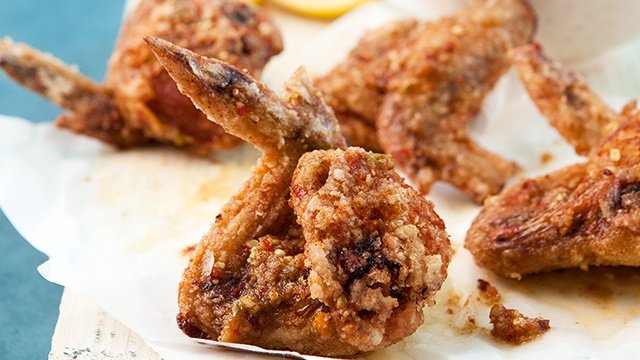 Peri-Peri Chicken Wings Recipe
Posted in:
Recipe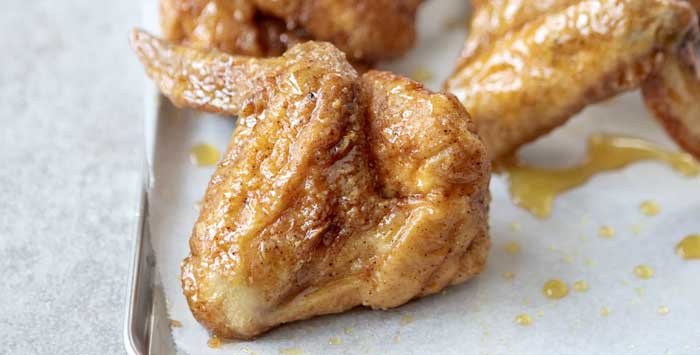 8 Sticky Honey-Orange Glaze Recipe 
Want a really simple but super tasty glaze to use on your wings? Why not try a honey sauce that's made citrusy with orange? This simple glaze is made with honey, orange zest, and a bit of ginger to give it a boost of heat that's unexpected.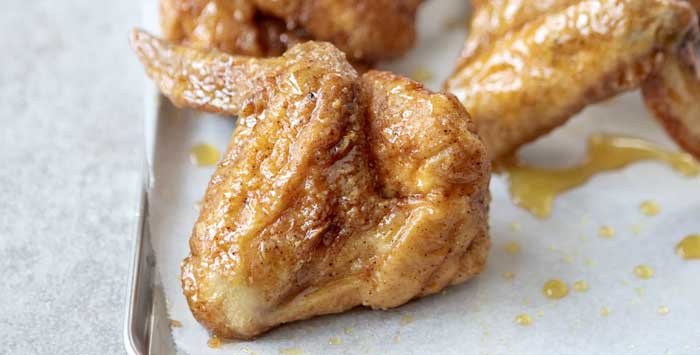 Sticky Honey-Orange Chicken Wings Recipe
Posted in:
Recipe
You can do much with fried chicken but when it's made this crispy and flavorful, we can't see how you can resist taking a bite when you try one of these recipes. 
ALSO TRY: