The new year is your chance to get things right, including in the food choices you make. However, be ready to face challenges along the way — such as running out of nutritious breakfast ideas.
To avoid getting stuck with a repetitive menu, learn how to make the most out of certain ingredients. For instance, you can make savory meals and replace rice with oats. If you don't believe it, check out three hearty and savory breakfast recipes you can make using Quaker Oats Rolled Oats below.
Here's why you'll want to eat oats regularly. First, oats contain protein, an important nutrient your body needs. Next, they have fiber (oats have seven times more fiber per 100g than long-grain white rice), which helps with digestion, with proper diet and exercise. And finally, oats have beta-glucan that may help lower cholesterol, when partnered with a balanced diet and an active lifestyle.
Now on to the recipes!
Rolled Oats with Pesto, Grilled Chicken, and Avocado Recipe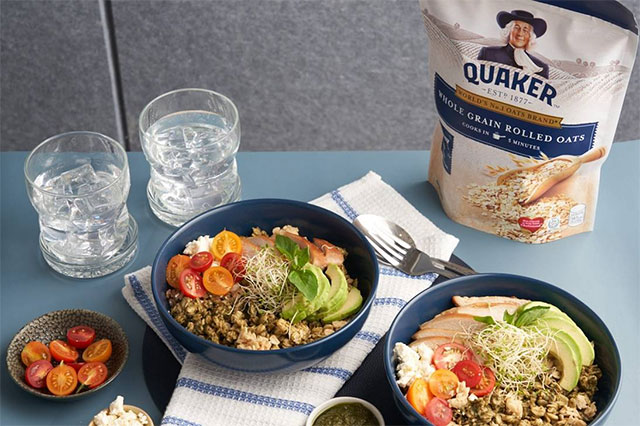 Rolled Oats with Pesto, Grilled Chicken, and Avocado Ingredients:
1/2 cup water
1 cup Quaker Oats Rolled Oats
3 tablespoons pesto
salt, to taste
ground black pepper, to taste
1/2 medium-sized avocado
100 grams chicken breast, grilled
1/2 cup cherry tomatoes, halved
1/4 cup fresh basil, chopped
3 tablespoons feta cheese, crumbled
1/2 cup alfalfa sprouts
How to make Rolled Oats with Pesto, Grilled Chicken, and Avocado:
1. In a small pot, boil water and cook Quaker Oats Rolled Oats for about 5 minutes. Stir occasionally.
2. Once oats are cooked, switch off heat and add pesto. Mix well and season with salt and ground black pepper. Slice avocado into 2-cm thick slices.
3. Assemble in a bowl: add pesto oats, sliced avocado, grilled chicken, halved cherry tomatoes, fresh basil, feta cheese, and alfalfa sprouts on top. Serve and enjoy!
Here are the other two recipes you can add to your breakfast menu, courtesy of the Quaker Philippines website.
Mediterranean Oats Salad Recipe
This salad made with veggies, rolled oats, and olive oil is a great way to get your daily dose of fiber! The recipe is created by certified fitness nutritionist and weight management specialist Nadine Tengco.
Bacon and Cheddar Oats with Poached Egg Recipe
Good news: you can still eat bacon and eggs for breakfast! To switch things up, replace your usual cup of white rice with rolled oats.
Start the new year right by practicing good eating habits. Choose hearty and delicious breakfast recipes using Quaker Oats.
Make Quaker Rolled Oats a regular part of your diet this year! Shop Quaker Oats Rolled Oats and other Quaker Oats products in stores or online via Shopee. For more recipes, visit www.quakeroats.ph and follow Quaker Oats Philippines on Facebook.
ASC REFERENCE CODE: P062P011723QS