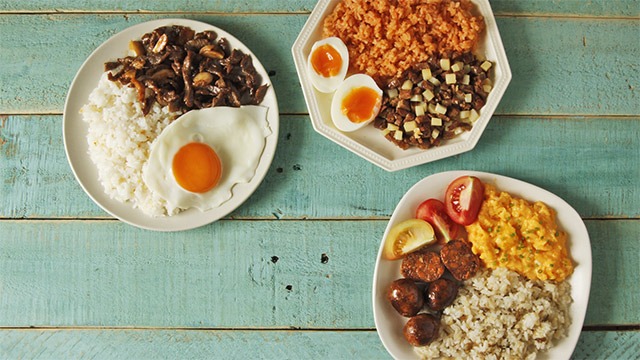 Take sinangag (fried rice) and itlog (eggs) to the next level with these delicious silog combo ideas!
Beef Tapa + Garlic Sinangag + Fried Egg
Marinate 1/2 kilogram beef in 1/2 cup soy sauce, 3 tablespoons vinegar, 2 tablespoons sugar and 5-6 cloves of crushed garlic. Mix well and leave to marinate overnight. Heat oil in pan and cook the beef until browned.
Longganisa + Danggit Sinangag + Scrambled Egg
Heat 1/4 cup vegetable oil in a saucepan over medium heat. Sauté 1 head garlic (minced) until golden; remove garlic bits and set aside. Using the same pan, add 3 cups cooked day-old rice and mix well with the garlic oil. Add 1/2 cup store-bought danggit flakes (fried and crushed) and season with salt, if needed. Add garlic bits and mix well.
Chorizo Hash + Tomato Sinangag + Soft-boiled Egg
Heat 2 tablespoons olive oil in a saucepan over medium heat. Sauté 2 tablespoons minced garlic and 1/2 onion (chopped) until softened. Add 250 grams pork chorizo (skinned and crumbled) and cook for 5 minutes or until slightly toasted. Add 100 grams potatoes (cubed) and cook until softened.
Melt 3 tablespoons unsalted butter in a saucepan over medium heat. Sauté 3 teaspoons minced garlic, 1/2 onion (chopped), and 1 teaspoon grated ginger for 3 minutes. Add 1/4 chicken bouillon cube and stir until dissolved. Add 3/4 cup tomato sauce and 4 cups cooked day-old rice, stirring well until color is even. Season with salt and pepper to taste