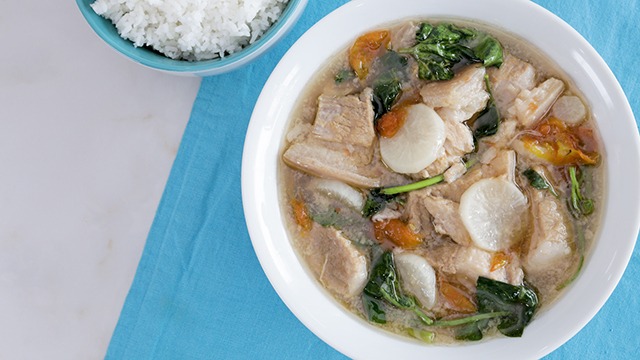 We think a classic sinigang recipe will always be delicious. Whether it's the classic sinigang na baboy recipe or sinigang na hipon recipe, you know it's going to be a sour-salty soup, packed with umami flavors. There are many ways to make sinigang and not all are made with the sampaloc or tamarind, but what all these have in common is a souring ingredient as well as a salty ingredient to help balance the tang.  
What can make the difference in your sinigang recipe is what these two main flavoring ingredients will be. In this delicious sinigang recipe, we thought it wise to not change the beloved sabaw ng sampaloc that makes it a classic flavor but instead, boost the level of umami in every sip you take. 
How do you make a sinigang recipe more flavorful? 
The secret ingredient to this otherwise classic sinigang na baboy recipe is miso paste. The miso paste is a fantastic ingredient substitute for patis, or fish sauce, which many use to add the salty flavor to sinigang. 
What makes this substitute a brilliant ingredient swap is the fact that miso paste doesn't make your sinigang smell nor taste fishy. What you do get is the same salty-sour flavor you want in a delicious sinigang recipe. Here's the recipe: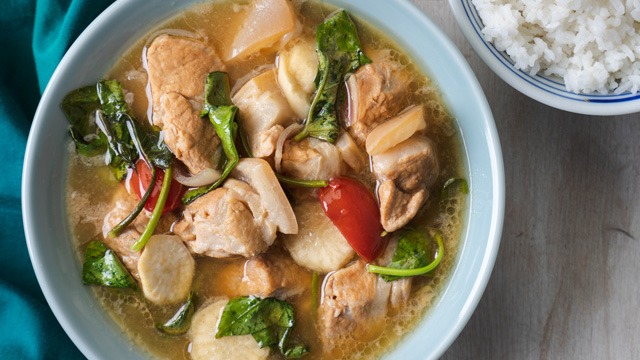 Sinigang Na Baboy Sa Miso Recipe
Posted in:
Recipe
ALSO READ: