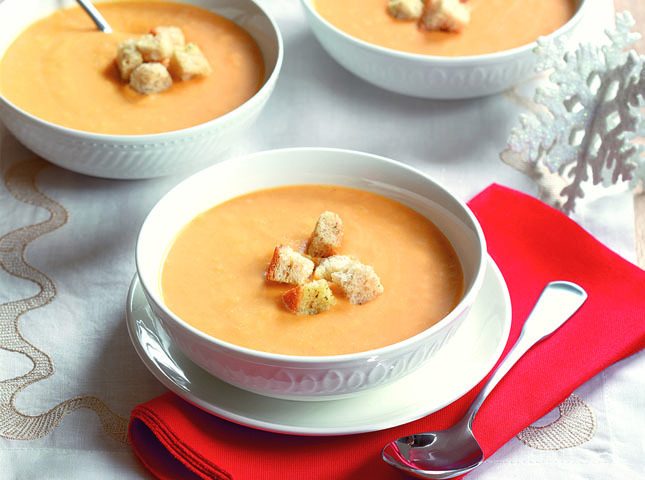 Every Noche Buena spread deserves dishes that will make your guests sigh in delight with every bite, and the meat course and the desserts are usually the dishes everyone is looking forward to. However, we think the other courses should be just as delicious, if not more delicious (dare we say), as these main attractions.
That's why we have come up with a list of soup recipes we think you should serve together with the main dishes because even the simplest of Noche Buenas spreads can benefit with serving something piping hot and satisfying.
So, whatever you're looking for, there's a soup on this list to complement your holiday spread.
1 Chunky And Meaty Soup Recipes: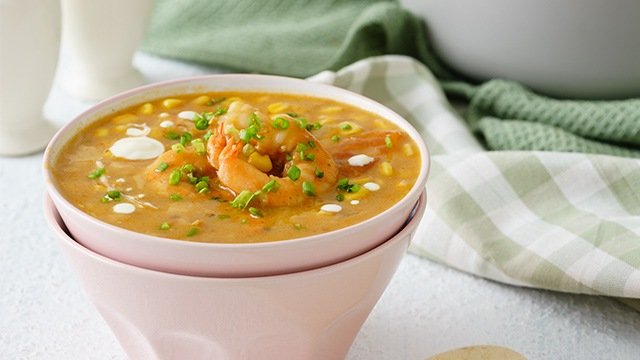 Shrimp, Corn, and Tomato Soup Recipe
You can splurge a little this holiday and create this intensely flavorful soup that's loaded with chunks of shrimp and corn kernels swimming in a creamy tomato soup. This would make a fantastic appetizer for a seafood-themed meal!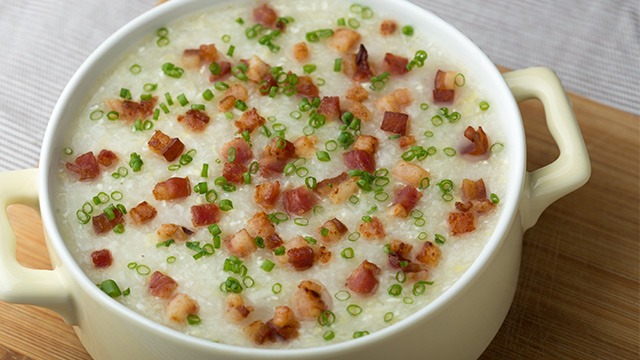 Suam na Mais with Bacon and Chives Recipe
Fresh corn is as good as it gets with this recipe that centers around its fresh flavor. Boosted with a little bacon and some chives, this recipe is a tasty and modern version.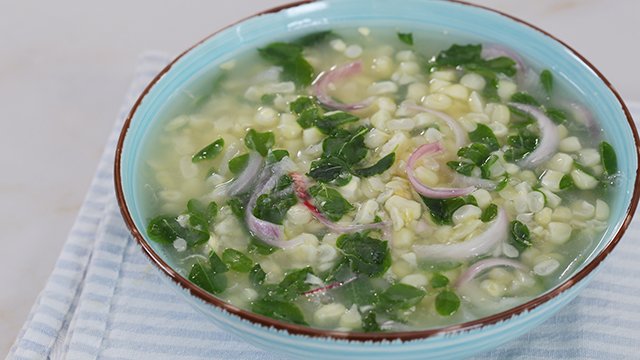 Corn and Malunggay Soup Recipe
If you love corn, this corn soup takes its freshness and surrounds it with complementary ingredients to create a soup that's simple yet still flavorful.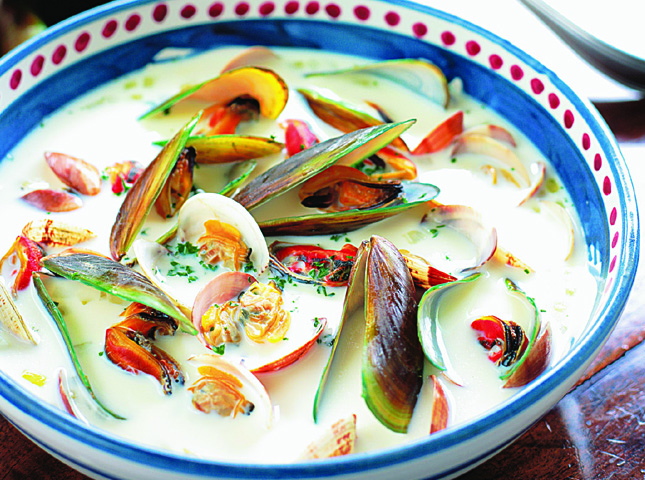 Mussel, Clam, and Fish Soup Recipe
The mussel, clam, and fish chunks make this chunky, but the soup is actually quite light in texture but big on flavor. Serve with rustic bread on the side to help sop up the delicious soup.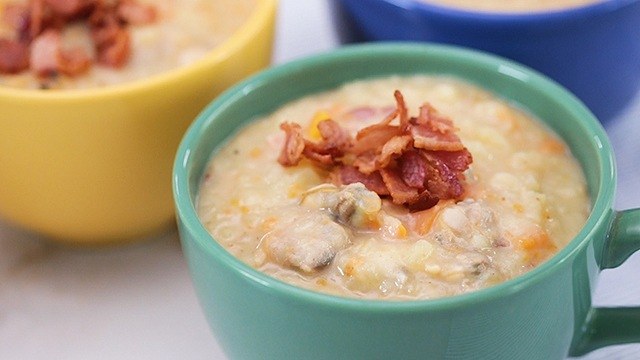 Clam Chowder Recipe
Meaty in a different way, this chunky shellfish chowder can be a great appetizer that starts off your Christmas dinner. Change up the shellfish to tahong if that's what's available or even use a combo of the two.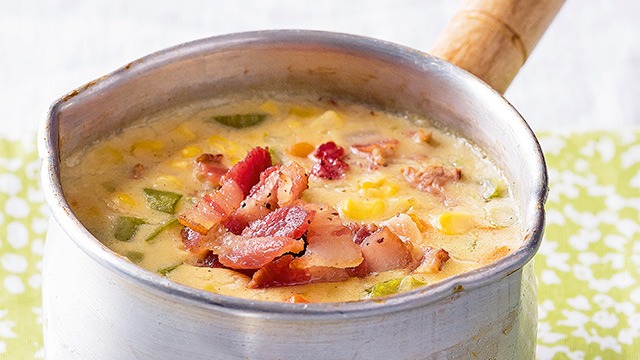 Potato, Bacon, and Corn Chowder Recipe
Chowder is the thicker, chunkier version of the soup, and this recipe is a basic flavorful version made creamier with a can of evaporated milk. Plus, it has bacon.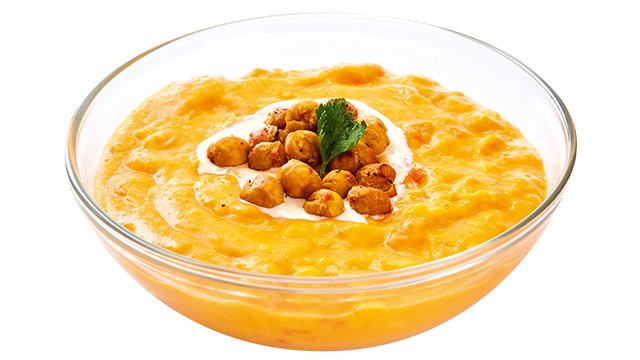 Creamy Chicken Soup
This is a delicious mix of pureed vegetables and shredded chicken to create the heartiest puree of vegetables you've ever had.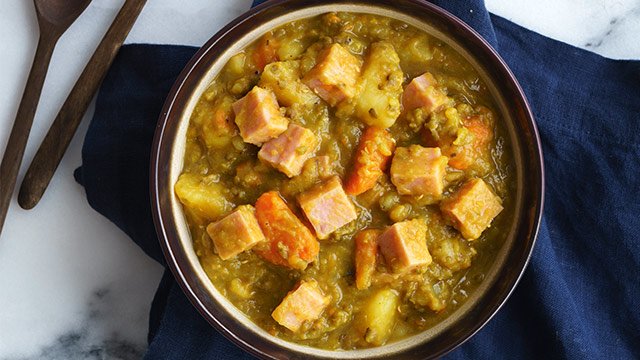 Monggo with Spam Recipe
It's hard to go wrong with any dish that has the famous canned luncheon meat in it. Here, it's paired with a spiced monggo (or any dried legume such as split peas) to create a chunky and creamy chowder that you can make in a slow cooker so you don't have to be a slave to the stove as it cooks.
2 Silky and Creamy Soup Recipes: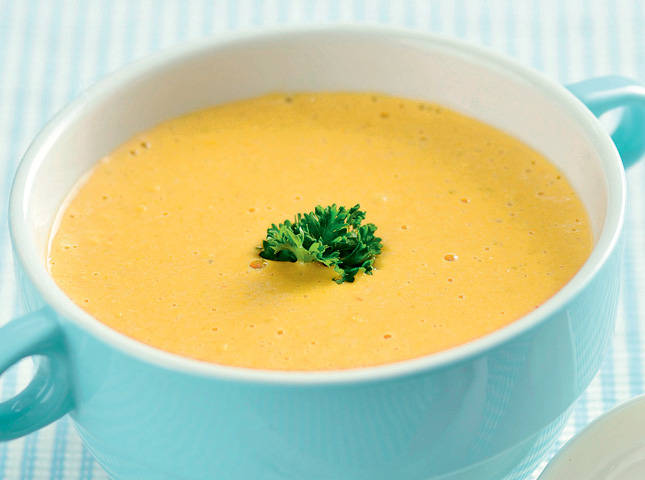 Shrimp Bisque Recipe
You'd be surprised how fast and easy a bisque can be to make. There's no need to make it more complicated if you don't have the time, and this version still has all the flavors you want in every spoonful.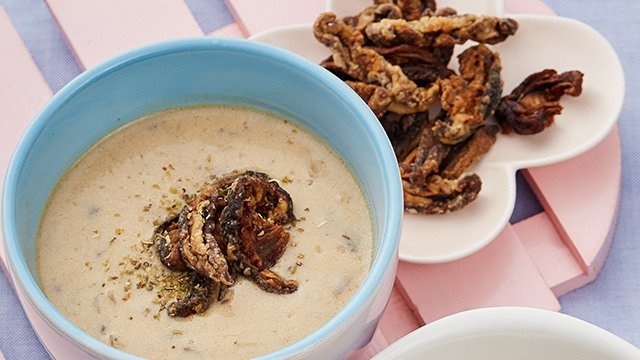 Cream of Mushroom Soup Recipe
This is a sure winner! Whether you're making it with fresh mushrooms to boost its umami flavor or the canned variety for sheer convenience, the flavors of this beloved soup will make anyone who taste it say, "Delicious!" Not only that, you can do this same treatment with a variety of other vegetables to make this type of soup truly special for Noche Buena.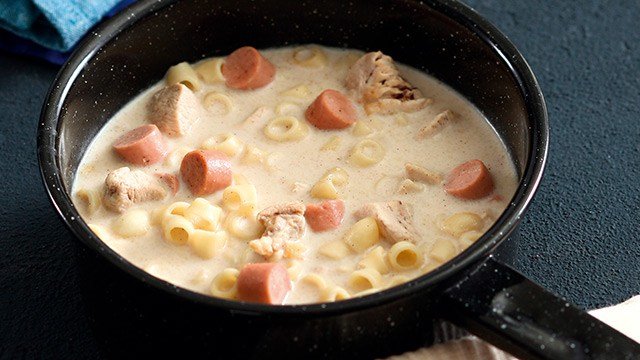 Milky Sopas Recipe
Pinoys love sopas! For this recipe, a secret ingredient is introduced to make it taste delicious without sacrificing the familiar flavors you love.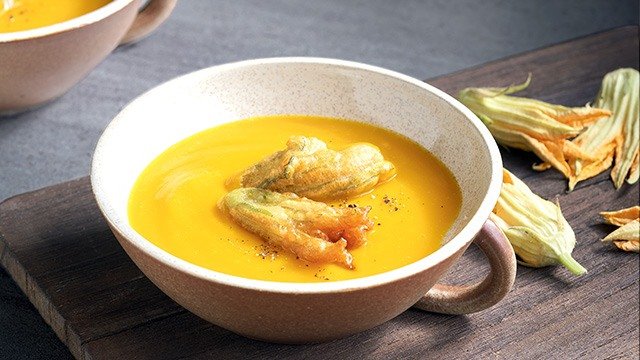 Creamy Vegetable Soup Recipes
We have to love the variety of vegetables available in palengkes, farmers markets and supermarkets. Take advantage of the freshest vegetables you can get and make one (or two or three!) into a creamy and delicious soup that can be paired with almost any meat course. Choose your preferred vegetable from this list: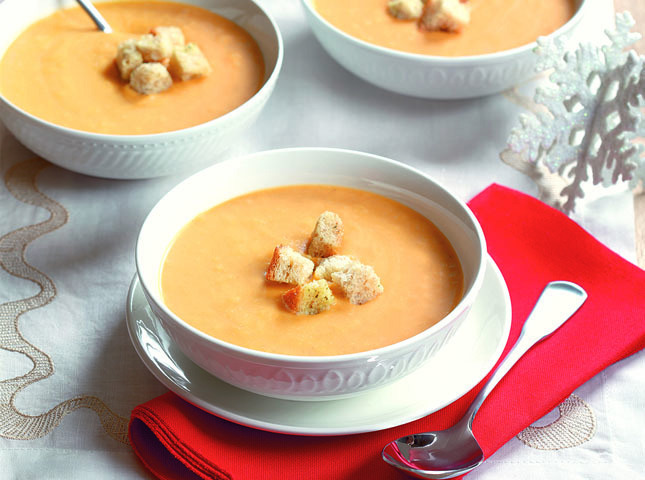 Sweet Potato Soup Recipe
Anyone who is lactose intolerant will love this creamy soup that doesn't contain any cream. Want it a little meatier? Try the variant with some chorizo added in.
3 Exotic Yet Classic Soup Recipes: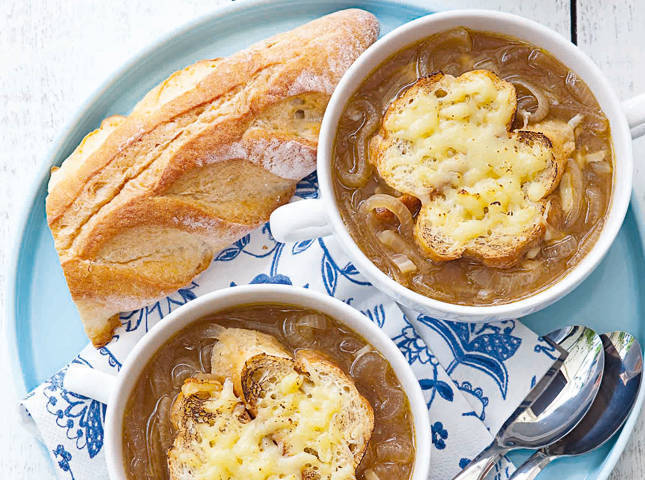 Easy French Onion Soup Recipe
When you want to impress, this is the soup that will make everyone at your Noche Buena feast look up and sigh with happiness. Most of the work is in caramelizing the onions so all you really have to do is watch over it while it does and put it all together before serving.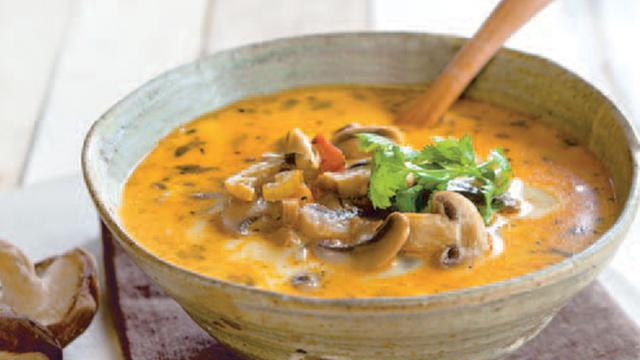 Fresh Mushroom, Coconut, and Cilantro Soup Recipe
Take a sip, and you'll be transported to Thailand with this soup. It mixes the flavors of creamy coconut, the umami bomb of fresh mushrooms, a little acidity from tomatoes, the sharp herb flavor from the cilantro, and freshness from a squeeze of lime. Add a few drops of chili oil for a little heat and it's as good as it can get.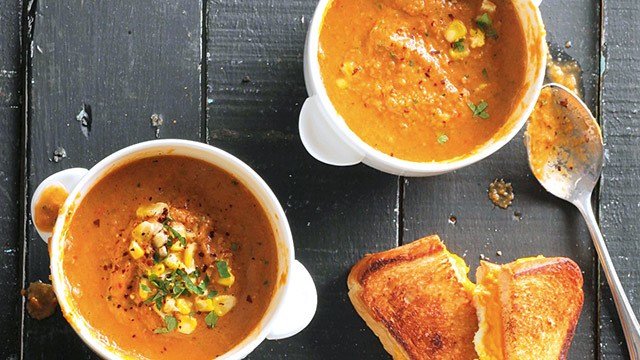 Gazpacho Soup with Kesong Puti Sandwiches Recipe
You won't need a stove for this soup recipe. All you need is a blender and some patience to puree all the vegetables into one delicious soup. Pair it with a grilled cheese, and you've got a meal for anyone who loves the soup and sandwich combo. What's the best thing about this soup? You can make it ahead of time.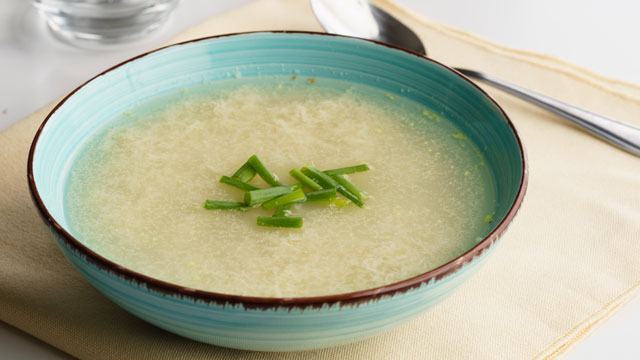 Egg Drop Soup
This is as simple a soup can get! Don't let that deter you from relishing the simplicity of this egg and chicken soup that embraces its lightness in both flavor and texture.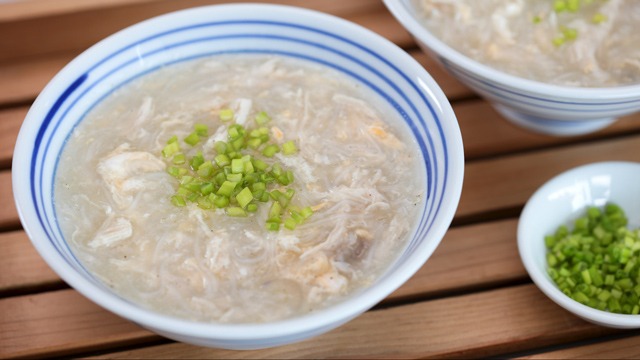 Nido-Style Soup Recipe
It's no hardship to make this soup because no expensive ingredients are needed! It tastes delicious, and a hack mimics the texture of the bird's nest that this soup is known to have.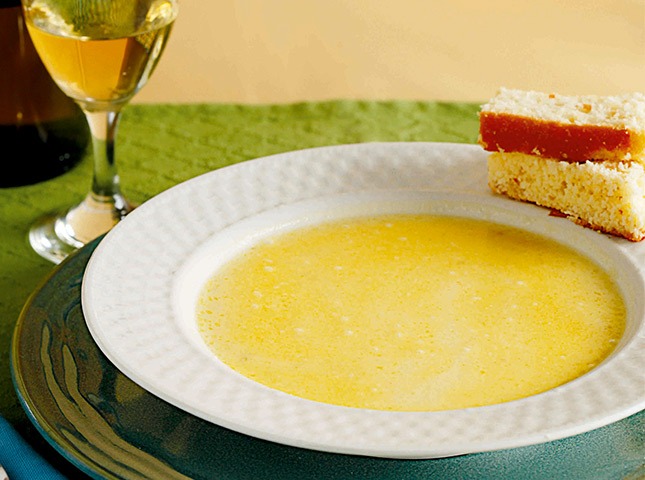 Cheese Soup With White Wine Recipe
For the ultimate cheese lover, this is the soup that lets you slurp cheese with every spoonful. With a little boost in flavor from the white wine, it's the wine-and-cheese bowl no one would expect to be served but everyone will be raving about afterward.
Whether you're in the mood for something creamy or chunky, or exotic or simple, these soup recipes should help you find the perfect Noche Buena accompaniment to your main dish and the rest of your spread.