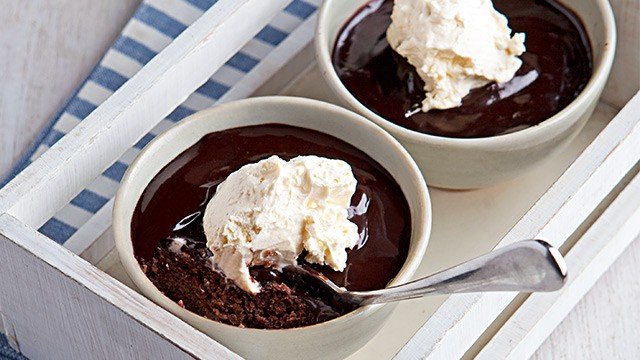 The great thing about this steamed chocolate cake is that you can mix all the ingredients by hand, and you won't have to go near an oven at all! It's completely fuss-free and easy-to-make without compromising texture and taste. We have a killer recipe and a few tips to perfecting this easy steamed chocolate cake recipe.
Tips:
1 Use cake flour instead of all-purpose flour. Cake flour will help yield a cake with a tight and tender crumb. Since the moisture present in the steamer will definitely affect the rising of the cake, you'll need it to be as soft and tender as possible.
2 Cream the butter and sugar well. Whether you're using an electric mixer or wooden spoon, make sure that you beat the butter and sugar together until they are light and fluffy. This helps aerate the cake and will make it rise better once cooked.
3 Make sure that your steamer is piping hot before you place your cake inside. It will need as much heat as possible to cook through properly!
Steamed Chocolate Cake Recipe
Prep Time 15 minutes
Cooking Time 20 minutes
Yield 2 cakes
1/2 cup plus 2 tablespoons cake flour
1 tablespoon dutch-processed cocoa powder
1/2 teaspoon salt
1/2 cup unsalted butter, softened
3/4 cup sugar
1 large egg
1/2 teaspoon salt
1/2 cup unsalted butter, softened
3/4 cup sugar
1 large egg
1/2 teaspoon vanilla extract
1 tablespoon fresh milk
2 tablespoons semi-sweet chocolate, chopped
Ice cream, to top
1/2 cup dark chocolate, chopped
1/2 cup all-purpose cream
Procedure:
1 Grease 2 (4-inch) heatproof bowls or mugs. Set aside.
2 Sift cake flour, cocoa powder, and salt into a bowl.
3 Cream butter and sugar in another bowl using a wooden spoon until smooth. Add egg and vanilla extract; mix until well combined. Add flour mixture and milk; mix until well combined.
4 Divide batter between prepared bowls. Top each with 1 tablespoon chopped chocolate. Cover with parchment paper and foil.
5 Place bowls inside a large lidded pan over high heat. Fill pan with water until halfway up the bowls. Cover and steam for 18 to 20 minutes or until firm. Remove bowls from the pan and place on a wire rack to cool slightly.
6 Make the chocolate ganache: Mix chocolate and cream in a microwaveable bowl. Microwave on low at 30-second intervals until chocolate is melted. Let cool.
7 Pour ganache over bowls. Serve warm, topped with whipped cream or ice cream. Garnish with nuts and chocolate shavings, if using.
Recipe by: Carmela Villegas-Agosta
ADVERTISEMENT - CONTINUE READING BELOW
Recommended Videos