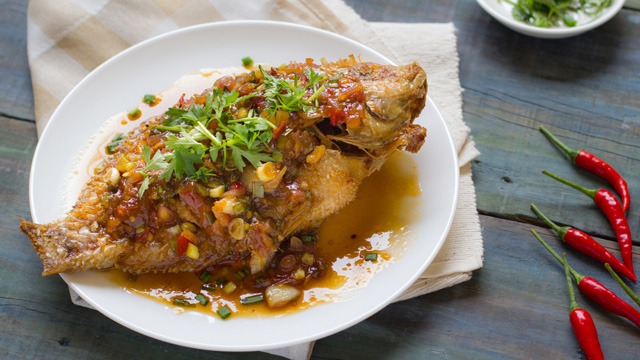 Fish is a delicious and versatile ingredient. It can be cooked in any number of ways. It can be broiled under a super hot heating element, sous vide in temperate water so it stays perfectly cooked without drying out, or it can be simply fried until the fish skin becomes crisp and the flesh flaky.    
To make this dish even more appetizing, a sauce can be served on the side or poured over the fish. One of the best tasting sauce to serve with it is the sweet and sour sauce. 
There are a number of ways to make a sweet and sour sauce for fish or for any dish you would like to toss in it! (Dunk chicken nuggets in it! Serve it with fries! Toss it with pancit canton or roll meatballs in it!) One of the main ingredients of this sauce is the sour component. This can be any sour ingredient but here are a few sour ingredient options that can make your sauce taste different: 
1 Vinegar 
2 pineapple 
3 tomato sauce or ketchup 
4 citrus juice 
Among the many sweet ingredients you can use, sugar is probably the ingredient that comes to mind immediately. Just like the sour component can be different, you do not have to stick to just sugar! Here are sweet ingredient options that you can use in your sweet and sour sauce version:
1 white or brown sugar  
2 honey 
3 fruits and fruit juices 
4 palm sugar 
5 corn syrup 
You can also use alternative sugars such as coconut sugar, beet sugar, and artificial sweeteners for your recipe, too. 
The last important component of the sauce is the thickener. This is important because sometimes, the ingredients, once combined, aren't thick enough to coat the food you want it to coat. This is where thickeners come in. You can use any of these thickening ingredients, too, when you make your sauce:   
1 cornstarch diluted in water
2 potato starch diluted in water
3 all-purpose flour
4 fruit and vegetable purees 
The cornstarch and potato starch need to be diluted first in water, so when it hits the bubbling sauce, it doesn't immediately clump and form lumps in the sauce. Flour can be diluted in water as well but it is best used by coating the fish, either whole or as fillets, before frying instead. The flour still has the capacity to slightly thicken the sauce as it heats up in it right before serving. Purees are perfect for this, too, because of its naturally thick consistency.
If however, you find that you have none of these thickeners, you can do this instead: reduce the sauce. All this means is that reducing the sauce or simmering it until the water content has evaporated enough, it will make the sauce thicker or more viscous. 
Armed with all this knowledge on how to make a sweet and sour sauce for fish, why not try one of these recipes: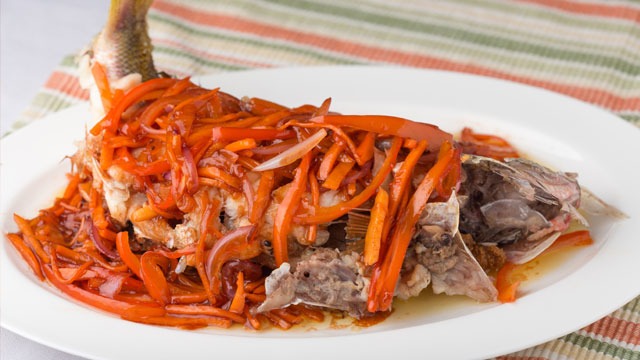 1 Cook the fish whole.     
An escabeche basically means a dish that is simmered in a sour sauce. While it's not pickled, it retains the sour or vinegar component. In this case, the whole fish is fried and then either simmered in the sweet and sour sauce or doused in the sauce before serving to maintain the crispness frying created. You can also broil or even steam the fish, too. It's the sauce that will make it irresistible!     
ADVERTISEMENT - CONTINUE READING BELOW
Recommended Videos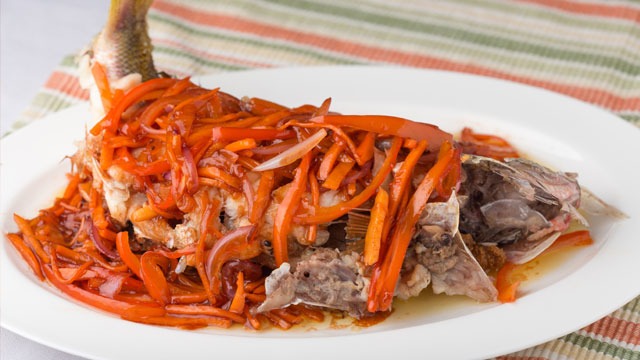 Fish Escabeche Recipe
Posted in:
Recipe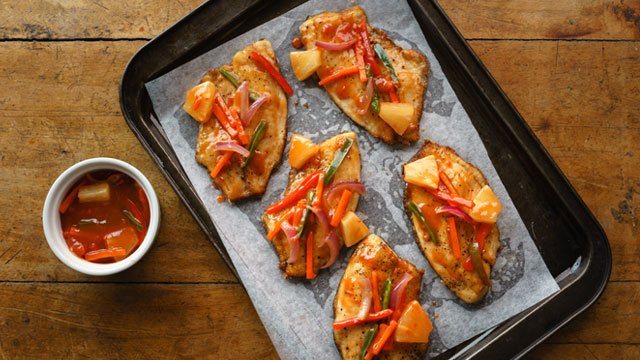 2 Use small fish fillets.   
Tilapia continues to be an affordable fish to buy in the markets. That's why it's practical as well as easy to make when you have the skills of your fishmonger to help you fillet the fish before you go home. Once home, a simple fry in oil is all that's needed before it's served with this super chunky pineapple sauce.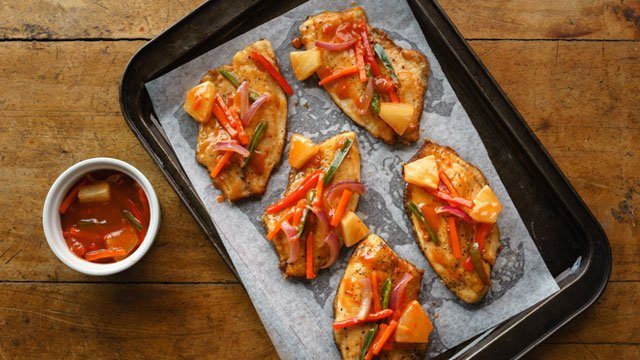 Sweet And Sour Fish Fillets Recipe
Posted in:
Recipe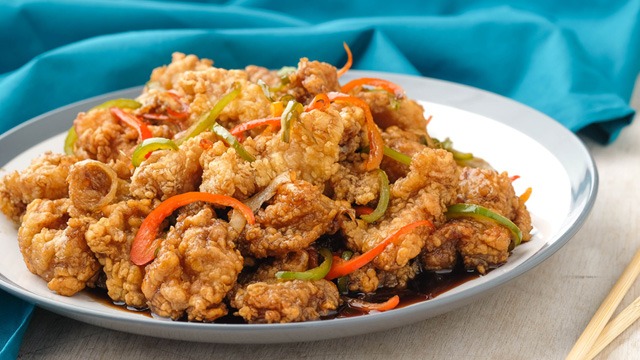 3 Slice the fish fillets into strips.   
The Chinese vinegar used in this recipe makes this sweet and sour super delicious! Together with the sugar, this creates a unique sweet and sour sauce of this simple fish fillet recipe. Deep fry the strips in a flour breading so it can soak up the delicious sauce you will toss it with.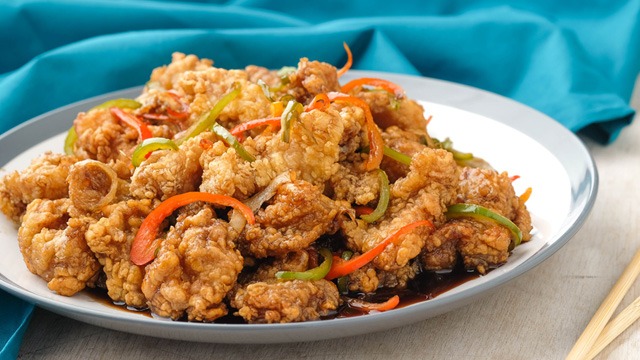 Easy Sweet and Sour Fish Recipe
Posted in:
Recipe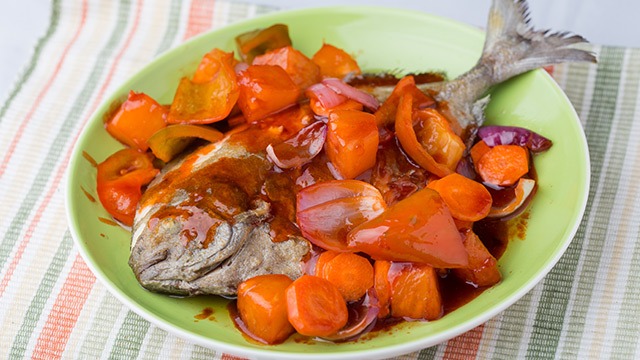 4 Choose the right fish for special occasions.    
You can always use salmon but while everyone expects that, why not try another kind of fish that's even more delicate and refined? The pompano fish, spelled "pampano" in the vernacular, is an expensive fish. It's got firm but fine flesh with a mild flavor. It's easy to eat whole (the flesh strips off cleanly), so it's common to see this being sold whole in the market or even in the frozen section of your local major supermarket.       
So, if you want to serve fish for a celebratory occasion, try this simple preparation.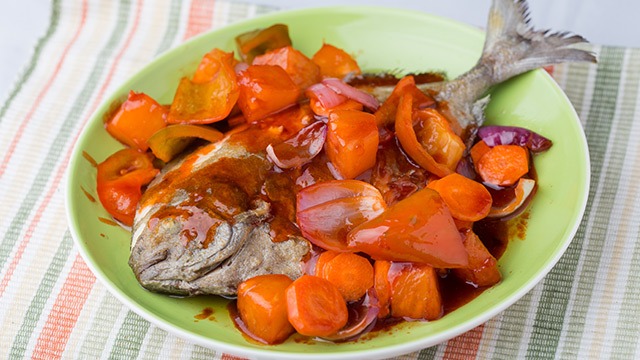 Sweet and Sour Pampano Recipe
Posted in:
Recipe
Got a craving for more sweet and sour dishes? Make it delicious whenever you make it by reading up on how to make it delicious every time. 
***
Thinking about what to cook next? Join our Facebook group, Yummy Pinoy Cooking Club, to get more recipe ideas, share your own dishes, and find out what the rest of the community are making and eating!
Got your own version of the classic dishes? Pa-share naman! Get your recipe published on Yummy.ph by submitting your recipe here.