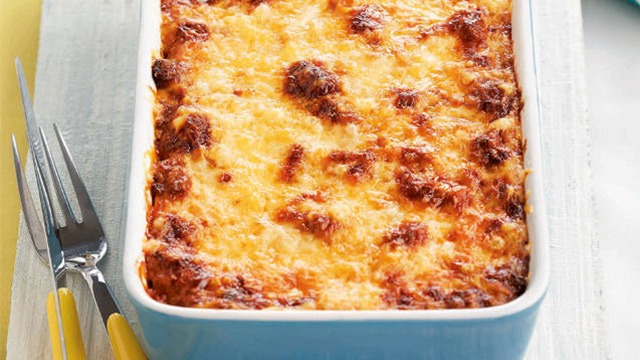 Lasagna is everything you want dinner to be: meaty, cheesy, hearty, and comforting. Whether it is the amount of servings you reach for or the amount of cheese you top it with, when it comes to lasagna, too much is always a good thing.
Is there a secret that makes lasagna so irresistible? What lies beneath those endless layers of pasta? Here's a breakdown of a delicious lasagna.  
Spoiler: lasagna is not a complicated dish! Make it at home for your next family get-together.
1 Meat Sauce
Ground beef or ground pork are the usual choices for lasagna meat sauce, but you can try adding other proteins like pork sausages or chicken sausages. For quick prep, you can make a meat sauce with ready-made tomato sauce. If you are going for maximum flavor, steam fresh tomatoes and make a sauce from scratch. Not a meat-eater? Switch out your meats and replace them with mushrooms, eggplant, zucchini, and spinach!
2 Bechamel Sauce
A basic bechamel creates the rich, creamy texture that complements the hearty meat sauce in a lasagna. It starts with a roux of butter and flour, and then milk and cheese are added until everything melts together. Although cheddar works well, experiment with different varieties and combinations of cheeses: mozzarella, ricotta, and cottage cheese are good options. Remember to season this sauce with herbs, garlic, salt, and pepper!
3 Pasta
Dried lasagna pasta noodles are readily-available in any grocery story nowadays. They make a handy option for easy-prep dinners. Remember to undercook your pasta because these noodles are going back into the oven after the lasagna is assembled. If you want to try your hand at making fresh pasta from scratch, handmade lasagna noodles are totally worthwhile! Use a basic recipe for homemade pasta, and instead of passing them through a pasta machine, roll them out thinly with a rolling pin, and cut them into 4-by-13-inch strips for a large baking dish.
4 Cheese Topping
Did you think that we'd leave this one out? The cheese on top is just as important as everything else. Mozzarella cheese melts into a wonderful golden brown as the lasagna bakes in the oven. You can add a little bit of shaved parmesan for a salty bite, or herbed breadcrumbs if you want some crunch. In the last five minutes of baking your lasagna, take off the foil covering and put your temperature up to broil. This will get that toasty color on your cheese!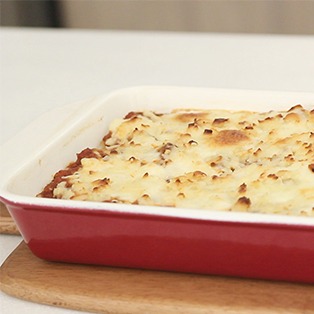 WATCH: How to Make Easy Lasagna
Posted in:
Cooking
ADVERTISEMENT - CONTINUE READING BELOW
Recommended Videos