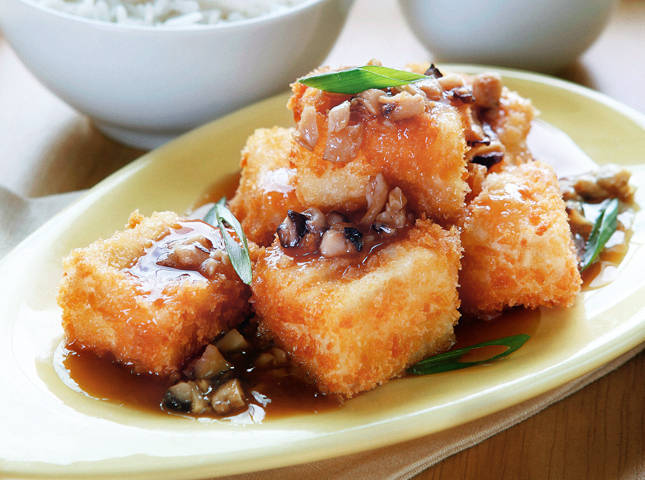 Kick-start your work week with a healthy routine: #MeatlessMonday! Going meatless at least once a week can do wonders for your metabolism and overall health. Both tofu steaks and mushrooms have hearty flavors and textures that are similar to meat proteins. Also, this dish is everything you need to energize your day – light, healthy, super simple, and on the table in 25 minutes!
Crunchy Tofu Steak and Mushrooms Recipe
600 grams firm tofu block, drained and sliced into 16 squares
3/4 cup flour, seasoned with 1 1/2 teaspoons salt and 1/2 teaspoon black pepper
1 egg, lightly beaten with 2 tablespoons milk or water
1 1/2 cups Japanese breadcrumbs
Oil, for deep-frying
3 tablespoons sake
3 tablespoons mirin
1 1/2 tablespoons light soy sauce
3 tablespoons brown sugar
2 tablespoons butter
1 tablespoon oil
1/2 cup chopped onions
2 teaspoons minced garlic
2 cups fresh mushrooms (shiitake, button, or oyster), chopped
1/2 tablespoon cornstarch, dissolved in 1/2 tablespoon water
Salt and pepper, to taste
3 tablespoons green onions or leeks, chopped
1 Dredge tofu squares in seasoned flour, dip in egg, then coat with breadcrumbs by gently pressing the tofu for the crumbs to adhere. Deep-fry in hot oil just until golden brown, about 1 to 2 minutes. Drain on paper towels.
2 Make the mushroom sauce: Combine sake, mirin, soy sauce, and brown sugar in a small bowl. Set aside.
3 In a frying pan or wok, melt the butter and heat the oil. Sauté the onions until translucent. Add garlic and cook until fragrant. Over high heat, add mushrooms and cook until tender, about 2 to 3 minutes. Add the soy sauce mixture and mix well. Add the dissolved cornstarch and let mixture thicken slightly. Season with salt and pepper. Mix well. Add green onions or leeks and give the mixture a quick stir.
4 Arrange tofu squares on a serving dish. Pour mushroom sauce on top. Serve immediately.
Meaty tips
• Increase your savings and boost your health by consuming more plant-based items.
• Extend meat stir-fries and stews by mixing in a variety of veggies like carrots, potatoes, and broccoli.
• Follow the lead of vegetarians by replacing meats with items that have a meaty taste and texture, such as tofu and mushrooms. Try beans and other legumes, which are excellent protein sources too.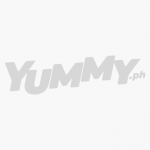 Tofu-Basil Ricotta Recipe
Posted in:
Recipe