When you don't have time to spare but you still want to impress your loved ones with delicious dishes for the holidays, turn to this wise home cooking trick: Use great quality ingredients, then put your own twist on the recipe so you can truly call it your own.
To inspire you, here are delicious pasta sauces you can make in 20 minutes or less: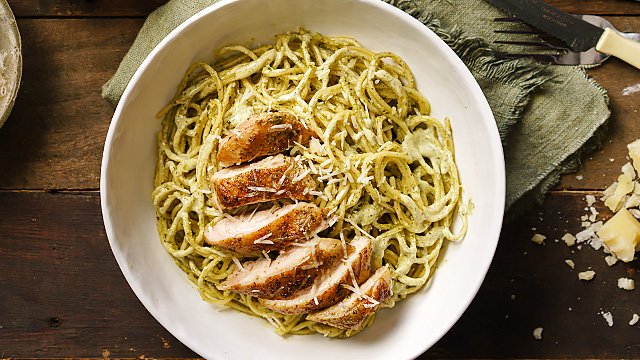 Made with Italian basil, Grana Padano cheese, and cashew and pine nuts, Contadina Pesto Alla Genovese Sauce is delicious and aromatic. With a few other ingredients, you can make it even more impressive. The result will be a special dish that's just perfect for the holidays.
1 tablespoon Contadina Pure Olive Oil
Salt and pepper, to taste
300 grams chicken thigh fillets, sliced into strips
1 6.7oz-bottle Contadina Pesto Alla Genovese Sauce
1 cup all-purpose cream
¼ cup grated quick-melting cheese
500 grams Contadina Spaghetti, cooked al dente
1 Heat Contadina Pure Olive Oil in pan over medium heat. Add seasoned chicken and cook for about five to six minutes or until brown and cooked through.
2 Pour in bottle of Contadina Pesto Alla Genovese Sauce. Once heated through, stir in all-purpose cream and grated cheese.
3 Mix with cooked Contadina pasta and top with more cheese.
PRO TIP! You can also use store-bought chicken. Just shred the chicken meat and add to the creamy pesto sauce.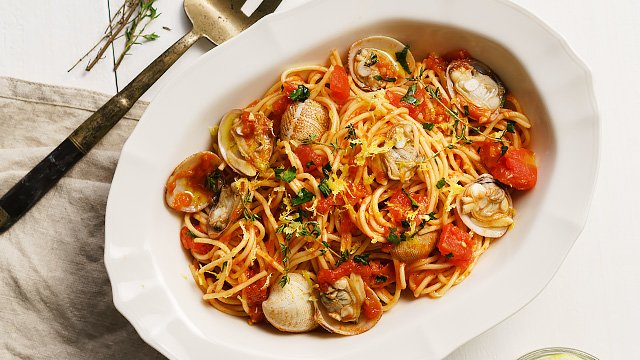 This olive oil-based pasta recipe is so elegant and festive, your guests wouldn't believe it took you only 20 minutes to prepare. The fresh, fruity taste and aroma of Contadina Extra Virgin Olive Oil makes this utterly satisfying.
2 tablespoons garlic, chopped
2 tablespoons onion, chopped
2 tablespoons butter
1 tablespoon butter
1 tablespoon Contadina Extra Virgin Olive Oil
1 411 gram-can Contadina Diced Tomatoes with Italian Herbs
1/4 cup white wine
1 kilo clams, cleaned thoroughly of dirt and sand
Salt, to taste
Chili flakes
Butter
500 grams Contadina Spaghetti, cooked al dente
1 In a heavy saucepan, sauté garlic and onion in butter and olive oil until translucent and fragrant. Add white wine and reduce until almost dry.
2 Add clams and steam until clam shells open. Season well with salt, pepper, and chili flakes. Add cooked pasta noodles and toss in remaining butter. Serve immediately.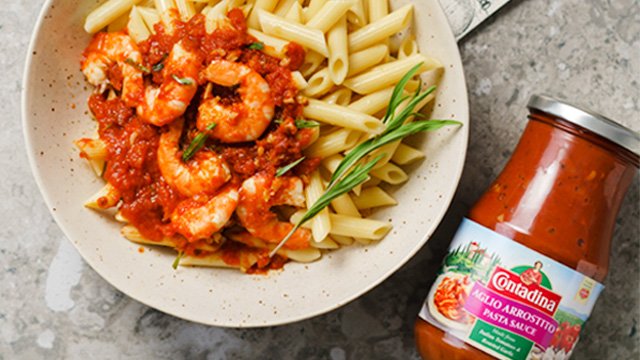 Craving for some seafood this holiday season? You can make this shrimp pasta in pink sauce. The delicious combination of fresh shrimps and Contadina Aglio Arrostito Pasta Sauce creates such a colorful and festive dish.
200 to 300 grams shrimp, unshelled
1/3 cup Contadina Extra Virgin Olive Oil
1 420 gram-bottle Contadina Aglio Arrostito Pasta Sauce
2 tablespoons garlic, minced
1/2 tablespoons tomato paste, dissolved in 1/2 cup white wine
1 1/2 teaspoons fresh oregano
1 teaspoon salt
1/4 teaspoon cayenne pepper
3/4 cup heavy cream
500 grams Contadina Penne, cooked al dente
Parsley sprigs, for garnish
1 Shell and devein shrimp. Slice shrimp in half lengthwise and rinse.
2 In a pan, heat olive oil and sauté garlic until aromatic; do not burn. Add tomato paste mixture. Cook for 3 to 5 minutes.
3 Add shrimp and cook until pink. Add fresh oregano leaves. Turn off fire and season with salt and cayenne pepper.
4 Using a ladle, scoop out half of the mixture and purée in a blender. Return to the pan. Turn on fire and cook at medium heat for 2 minutes. Pour in heavy cream. Boil then simmer for 2 minutes.
5 Add cooked pasta and toss in sauce. Garnish with parsley. Serve immediately.
PRO TIP: Pasta noodles should always be cooked al dente, which means "to the tooth." There should be little resistance when you bite the noodles; they should not be soft or overdone. With Contadina, you are guaranteed al dente pasta every time.
Make sure you use your favorite Contadina pantry staples as the base of these holiday masterpieces. Made with premium ingredients sourced from the world's best-producing regions, these products will enhance your homemade dishes so you can create a delectable feast. The resulting flavors are bound to impress. Everyone will be convinced that you've spent all day in the kitchen to make these hearty holiday meals!
Learn more delectable recipes here!