Food is one of the many things that can take you back to your favorite childhood memories, even before you taste it. Sometimes, the mere whiff of something sauteing or something simmering can transport you to your childhood home or your mother's old kitchen, waiting for her to finish cooking her classic caldereta, mechado or morcon.
This is especially true during the holiday season. Sometimes, because of the mad rush, it could be really tempting to get party trays instead of cooking special dishes at home the traditional way. The convenience sounds like a better choice but nothing really beats homemade meals that create unforgettable family memories.
So which is your favorite holiday dish and what moments do you remember whenever you get the chance to enjoy these recipes?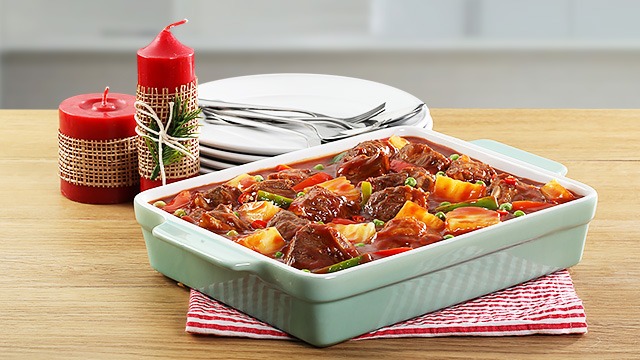 Whether you make it with pork, beef, or even goat meat, caldereta is a festive dish you can make any time of the year. Most Pinoy homes make sure it's a part of the family gathering. It's also a potluck favorite to showcase your specialty dish. You might even have a secret caldereta recipe that everyone looks forward to during the holidays.
What do you remember when you eat caldereta? Some of our readers share their fondest memories:
"Whenever I eat caldereta, I remember my lola. She has a secret recipe for caldereta and she makes it every year for Noche Buena. I love coming in the kitchen whenever she's cooking and she would ask me to peel the carrots and potatoes for her. She would always say coconut milk and a big pack of tomato sauce are the key to a really savory caldereta." – Mika Quizon
"My mom uses baby potatoes whenever she cooks her caldereta and I always miss that when I'm not at home. She knows how much I love baby pototoes and for her to always add it in our holiday dishes, it's the best thing in my world." – Abby Gonzal
"You wouldn't believe it, but my favorite part of caldereta is the sauce. My mom makes sure she adds cheese, to make it even creamier. I love how the cheese makes the sauce thicker and more savory. It blends really well with the tangy tomato sauce, too! Nothing reminds me of home than a nice serving of caldereta with perfectly cooked potatoes and really tender meat." – Emmy Trinidad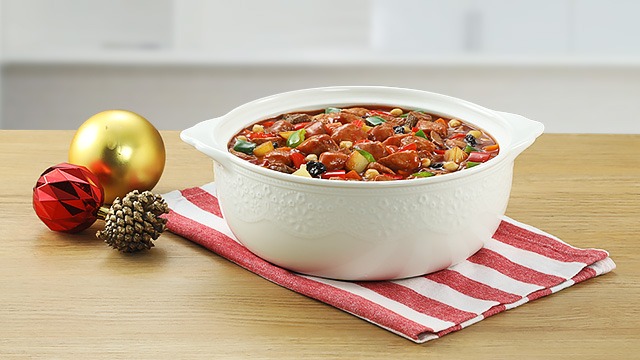 This classic Filipino dish is often served at gatherings because it is hearty and incredibly easy to prepare. It's versatile, too! You can add some hotdog bits or make the sauce creamier with some cheese, and you've got yourself an unforgettable holiday dish that everyone, young and old, will love. What are your best memories when you are served menudo? Here's what our readers shared:
"My favorite holiday dish would have to be menudo. My mom and I, along with my siblings, would always make it a day before Christmas, because it tastes so much better the next day. The chunks of potatoes and carrots get soaked in the sweet and spicy sauce—who wouldn't want to come home to that?" – Jason Castro
"Menudo is the only dish that my dad can cook. That's why every Christmas, he tries to make it for the whole family. He makes sure all the rekados are complete. He adds raisins and garbanzos, and even mixes in mashed pork liver for extra flavor. Every time I eat menudo, I remember my dad and his efforts to make sure it tastes delicious all the time." – Mike Cruz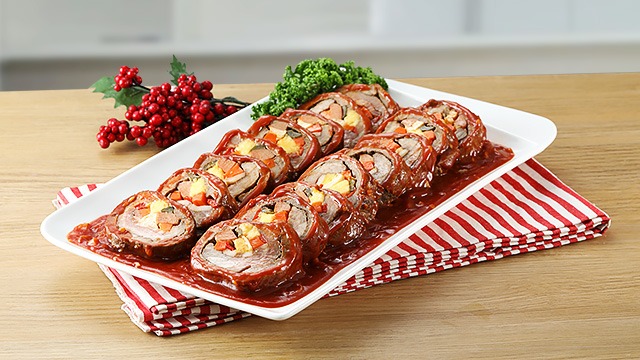 No Filipino celebration is complete without morcon. This simple beef roll recipe has been a part of so many holiday celebrations that it's almost impossible to enjoy the feast without it. Morcon represents bounty as it has several ingredients rolled into one. Do you have any happy memories when you see morcon on the dining table? Our readers have a few!
"I've always thought making morcon would be really complicated, but when my tita shared her recipe with me, I realized it's not very difficult to make. She also said, with just the right ingredients, I can easily make a delicious batch of morcon without much effort. My secret is pouring the sauce on top of the morcon to make it look really inviting—favorite nila yung sarsa. Now I make it for my own family, and I plan to pass my aunt's recipe to my kids." – Trina Uy
"For our family, it was either morcon or embutido. But majority would always request morcon. I have always found it tedious to make, but when I mastered the recipe, I always make it for my family. Whenever I see them happy, I know it's all worth it." – Marie Go
"I was never really a very good cook but my mom was very patient with me. She taught me a delicious morcon recipe she learned from my lola, her mom, and since then, we've had this tradition to make morcon every Noche Buena. My lola said the key is to let the sauce seep through the roll—just simmer it for five more minutes to allow the meat to absorb the flavor. Even after lola has passed, we still make sure we have it for Christmas." – Lily Tayaban
Sometimes, all it really takes is a delicious dish to remind you of your fondest family holiday memories. After all, food has always been a part of every Pinoy celebration. And so has staple ingredients like Del Monte Tomato Sauce. Family dishes that have been passed on from generation to generation are made even really special with the best ingredients like Del Monte Tomato Sauce.
Del Monte Tomato Sauce helps you create those memorable holiday dishes by giving it that distinct rich, savory, and flavorful taste of real tomotoes. Your ordinary ulam becomes something extra special. Something that would definitely remind you of your childhood, give you that nostalgic and festive feeling, and make Christmas at home warm and festive.
Keep your family traditions alive by cooking classic tomato-based dishes whenever you have gatherings. Check out other recipes here! You can also share your fondest childhood memories when you eat dishes with tomato sauce on Del Monte's Facebook page.