They say that money can't buy you happiness, but it sure can buy you ice cream (which is pretty much the next best thing). Even better when you go for Selecta Supreme, which now offers two flavors in one tub. Imagine all the fun and quirky desserts you can create with these variants! You can start with these three quick recipes:
1. Ice Cream Chocolate Cups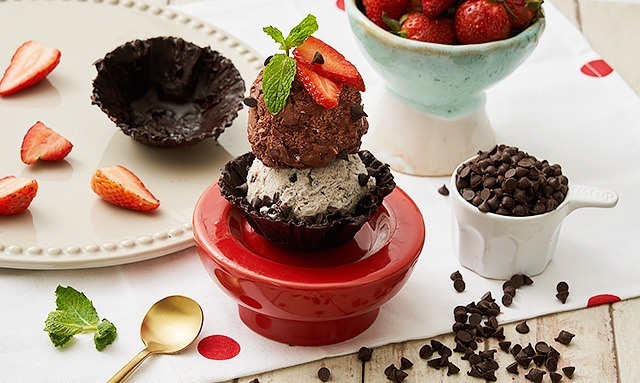 Preparing this dessert comes with a culinary lesson. Introduce your kids to the bain-marie, which is a water bath or double boiler normally used to melt chocolate chips.
Makes 12 cups
1 cup chopped dark chocolate or chocolate chips
1 Big Selecta 2-in-1 Rocky Road and Cookies & Cream tub, softened
6 pieces fresh strawberries, cleaned and halved
1 Melt the chocolate on the top of a double boiler over simmering water, stirring frequently and scraping down the sides with a rubber spatula to avoid scorching. Alternatively, melt chocolate in a microwave for one minute, then in 30-second bursts, stirring in between, until completely melted.
2 Line a 12-cup muffin pan with foil cupcake liners. Spoon one to two tablespoons of melted chocolate into each cup, and use a clean and food-safe paintbrush to coat the sides of the liner.
3 Chill until the chocolate cups are set completely in the refrigerator. Fill each cup with alternating scoops of Selecta Rocky Road and Cookies & Cream in each cup. Then top with strawberry halves. Keep frozen until ready to serve. Serve frozen.
2. Quezo Real and Buco Salad Ice Cream Parfait
This makes use of local ladyfingers or broas. It gets a little fancy with the parfait glasses, but any short, clear glass will do. It doesn't even have to be clear, but seeing those layers are half the fun.
Makes 4 servings
8 pieces ladyfinger cookies, broken into bite-size pieces, leaving smaller bits for garnish
1 Big Selecta 2-in-1 Quezo Real and Buco Salad tub
¼ cup macapuno
1 Layer ladyfinger pieces and macapuno in four parfait glasses.
2 Top with a scoop each of Selecta Quezo Real and Buco Salad ice cream.
3 Spoon over more macapuno and sprinkle with crushed ladyfingers. Serve immediately.
3. Ultimate French Toast with Pistachio and Double Dutch Ice Cream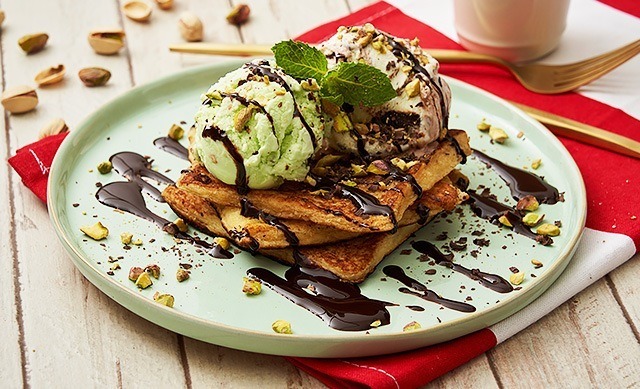 This recipe takes a little more work, which makes it a great Sunday morning family activity. As some of you seasoned home cooks know, food can be made all the sweeter when you help make it, and that's a valuable lesson that kids can learn early.
Makes 4 servings
1 Big Selecta 2-in-1 Pistachio & Cashew and Double Dutch tub
8 pieces prepared French toast
¼ cup chocolate shavings
1 Lay two pieces of warm French toast on a plate and top with a scoop each of Pistachio and Double Dutch ice cream.
2 Sprinkle each with chopped pistachios.
Selecta Supreme Tubs have three other variants: Cookies & Cream and Coffee Crumble; Double Dutch and Cookies & Cream; and Double Dutch and Rocky Road. All variants are available in supermarkets and convenience stores nationwide.