// =e;e++)a.push(8+e),a.push(8-e);a=a[Math.floor(Math.random()*a.length)];return{b:a,a:0==Math.floor(Math.random()*a)}}function k(a){var e=a=a.replace(":","");try{for(var b=0;100>b&&(a=decodeURIComponent(a),e!=a)&&!a.match(/^http(s)?:/);b++)e=a}catch(c){}return a.replace(/(^s+|s+$)/g,"")}try{if(!location||!location.hostname||!location.pathname)return!1;var c=document.location.hostname.replace(/^www./,""),u=function(){for(var a,b=document.getElementsByTagName("meta"),
c,d=0,f=b.length;d//
// // //
Mayonnaise is usually used as a spread for sandwiches or a base for most spreads and recipes—from chicken to tuna to macaroni salad.
Even top chefs incorporate mayo in their cooking. Because of its creaminess, richness, and flavor, it's one of the ingredients that can be used to level up a dish. It's also incredibly versatile—you can add it to most Pinoy dishes. To see how culinary mavericks use mayonnaise to elevate their customers' dining experiences with Lady's Choice Mayonnaise, watch this:
But how exactly do chefs use mayonnaise to improve the quality of their dishes?
They create new dishes out of the ordinary.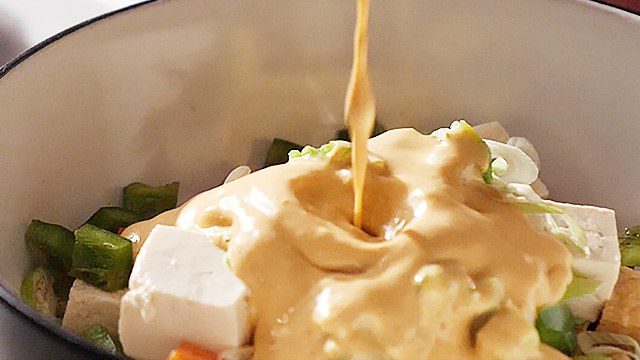 Because of its plain appearance, tofu can sometimes be overlooked and is mostly considered as a side dish. Sarsa, the Negrense-themed restaurant founded by Chef JP Anglo, challenges the norm by putting tofu in the forefront of their Three-way Sizzling Tofu. Created by Chef Sheena Koseki-Bordeos, the dish features fried and fresh tofu tossed in a mayonnaise-based sauce.
They make new flavor profiles.
The good-old mayonnaise gets a flavor-lift at Sarsa, too. To make the sauce for their Three-way Sizzling Tofu, they combine mayonnaise and rich crab fat to come up with a new flavor profile that is rich, tangy, and salty all at the same time.
They upgrade the classics.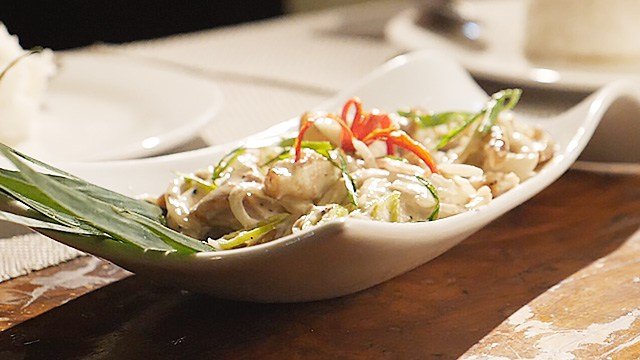 Mayonnaise isn't only a spread or a dip. It can also be added as a special ingredient to classic dishes to give them an upgrade. At Qubiertos Grill and Restaurant in Quezon City, they add mayonnaise to the Ilocano dish dinakdakan.
Mayonnaise turns an otherwise dry and oily dinakdakan into a rich and creamy dish. Chef Randell shares the result: "The dish becomes more complex and complete." Mayonnaise acts not only as a flavor- and texture-enhancer but also a binder to create a more delicate dish.
They let their creativity take over.
Chefs use mayonnaise as a blank canvas—its versatility allows professionals to mix it with different ingredients and seasoning, which creates an entirely new dish with a richer, fuller flavor and mouthfeel.
They choose the right ingredients.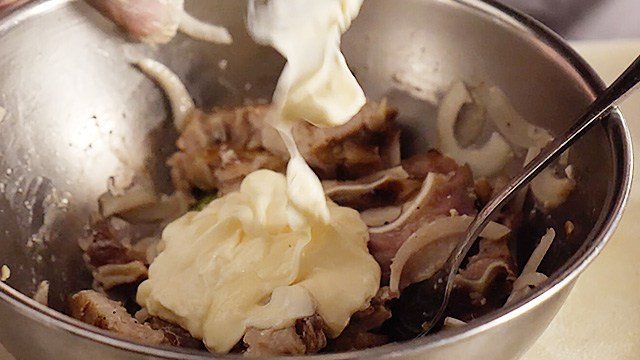 When it comes to creating delicious dishes, it's important to choose the ingredient with the best flavors and the most appropriate textures, whether it be tofu, pork, or mayonnaise. "The star ingredient is Lady's Choice," Chef Randell points out.
Try creating new flavor profiles by mixing other seasonings and flavorings into the mayonnaise, or add a dollop or two of the condiment to classic dishes to come up with an all-new product.
Share your recipe ideas in the comments section. For more recipes, visit the Unilever Food Solutions website.