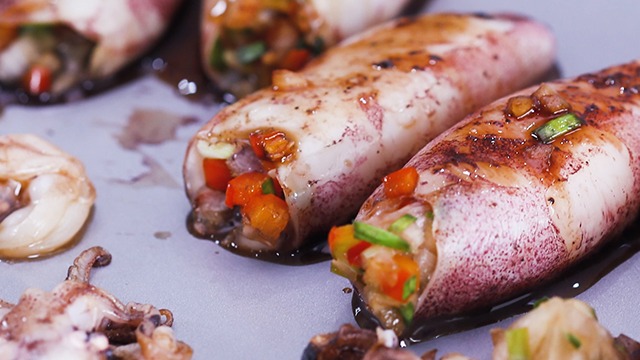 Eating food that's hard to chew has to be one of the most frustrating moments of any meal. Squid or pusit is notorious for being tough to chew if it's not cooked right. 
Fix any cooking mistakes you may be doing to avoid cooking rubbery squid:
1 Use fresh squid. 
Learn how to prepare fresh squid so that you're not intimidated by the seafood when it's time to take it out of the bag from the supermarket. The steps are easy to follow and there are at least 2 things to always remember when preparing squid: 
1 Remove the beak.
2 Remove the squid "bone".
However, if you're really that intimidated, use frozen squid. Just thaw and reheat just until heated through. 
2 Slice it small.
Squid comes in many sizes but the smaller the squid pieces, the faster it cooks. Don't forget to use the tentacles, too. It has the best flavor!   
3 Make the sauce first.  
Add the squid only if you're no longer cooking anything else to prevent overcooking. Saute the garlic, add the soy sauce and vinegar, and other ingredients first before you add the squid to the pan or pot. 
4 Cook it fast. 
Squid, like many kinds of seafood, really do cook fast. In literally seconds, it cooks almost as soon as it touches the hot oil or water. Once the pieces turn opaque or white, it's ready to eat so treat it like a stir-fry ingredient. Poaching or blanching is a great way to cook squid fast and easily without the danger of overcooking the seafood. 
5 Afraid to overcook it? Add it last. 
Just before you think your food is ready to be taken off the stove and served, add the squid. The last remaining minute or two of cooking should be enough to cook the squid. Even the residual heat of stews and soups should be enough to cook the pusit enough to turn it opaque.   
6 Cook it longer.  
Did the squid become rubbery? You can overcook it. In fact, cook it until tender. Squid will tenderize when cooked for 30 minutes or even longer. 
7 Don't cook it on the stove. 
You do not have to cook squid. Ever heard of kilawin na pusit? Just like kinilaw or ceviche, the use of vinegar will kill most harmful bacteria and gently cook the squid in a few minutes up to 15 minutes.  
***
Thinking about what to cook next? Join our Facebook group, Yummy Pinoy Cooking Club, to get more recipe ideas, share your own dishes, and find out what the rest of the community are making and eating!
Got your own version of the classic dishes? Pa-share naman! Get your recipe published on Yummy.ph by submitting your recipe here.
ADVERTISEMENT - CONTINUE READING BELOW
Recommended Videos