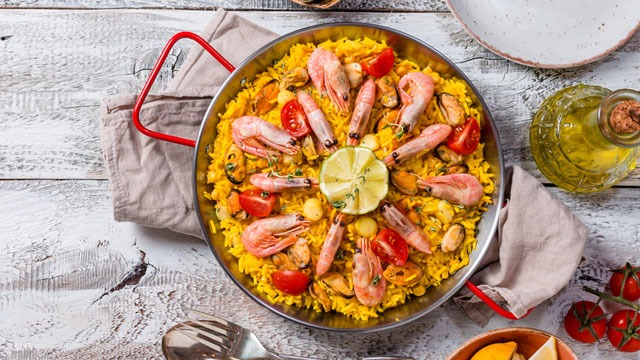 Having a celebration-worthy main dish like a paella is easy to order for delivery so you won't have to worry about how challenging it is to make. The good news is that it can be a dish that is easy to make at home if you're armed with some pointers and recipe ideas to make it special.
What is paella? 
Paella is a dish of saffron-flavored rice that is cooked with meats, fish, and vegetables. Its origins can be traced back to the rice-growing regions of Spain's Mediterranean coast, with the area of Valencia being particularly connected with the meal. Originally from Spain, paella gets its name from the paellera, the cooking tool used to prepare it, which is a flat round pan with two handles; paella is generally served straight from the pan.
A common and traditional Spanish paella is made with saffron, vegetables, chicken, and seafood cooked in a single pan and eaten immediately after preparation. Even though paella is a Valencian dish, it is often regarded as the national dish of Spain, and there are many distinct variants to choose from. Among the most popular forms of paella are chicken paella, seafood paella, and a mixture of the three (a combination of seafood, meats, and vegetables).
What makes a good paella? 
Taste is relative but there are some things many agree on that make a paella a good one:
• Rice, preferably Spanish rice or short-grain, that has absorbed the liquid without getting mushy
• The use of saffron 
• Good quality olive oil
• Good stock or broth made from shellfish or chicken and beef bones
• Good white wine
• Use fresh ingredients, particularly seafood
• Dash of smoked salt at the end of the dish
All these are important to the overall taste of the paella but using a paellera is important for cooking it right, too. Use a large skillet pan if you don't have a paellera. What is important is to spread the rice.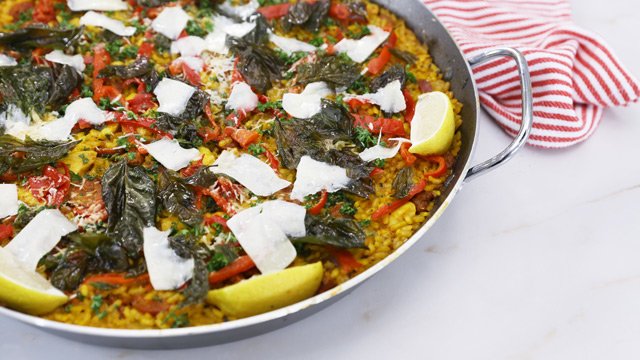 Tips For Cooking Paella  
When you're ready to cook, here are pointers to keep in mind: 
• Don't wash the rice because it needs the starch coating on the outside to create the final texture of your paella.
• Traditionally, the liquid to rice ratio for paella is 1 cup of rice to 3 cups of liquid, which results in rice that is cooked just right. 
• Paella should be cooked uncovered for 15-18 minutes, then nestle the shrimp, mussels, and squid (calamari) into the mixture, sprinkle with peas on top, and cook for another 5 minutes without stirring. Keep an eye out for the majority of the liquid. The rice must absorb the liquid to achieve a tender, fluffy texture.
• After the stock has been added, it is critical not to stir it again to ensure that the base's delicious, light-golden crust known as socarrat forms. Continue to cook the rice in the boiling liquid while keeping the heat hot enough that the liquid continues to bubble for several minutes. The rice will be ready in 18-20 minutes.
How To Cook Paella 
If you have the ingredients to make a great-tasting paella, you're ready to cook! Here is a step-by-step process on how to do it right: 
1 Heat the olive oil in a skillet over medium heat until shimmering. Sauté until the onion, bell peppers, and garlic are transparent, about 5 minutes more. Combine the chopped tomato, bay leaf, paprika, saffron, salt, and pepper. Cook for 5 minutes while stirring constantly.
2 Add white wine. Cook for 3 minutes.
3 Add chicken and rice. Add chopped parsley and cook for 1 minute. If you intend to add pork like skinless pork belly, pre-cook that before step 1.
4 Pour in the broth slowly around the pan, jiggling the pan to ensure that the rice is evenly coated with the liquid. (Do not stir the mixture any further at this point!) Bring the mixture to a rolling boil. Reduce the heat to a medium setting. Give the pan a slight shake back and forth once or twice during the cooking process.
5 Leave the paella uncovered for the first 15 to 18 minutes of cooking, then add the shrimp, mussels, and calamari and cook for another 5 minutes without stirring. Ensure the liquid has been absorbed and the rice on top is almost soft before serving. (If, for some reason, your rice is still raw, add 1/4 cup extra broth and cook for an additional five minutes.)
6 Cover the pan and remove it from the heat using a lid or tinfoil. Allow 10 minutes of resting time with the lid covered with a kitchen towel on top. Serve while still hot.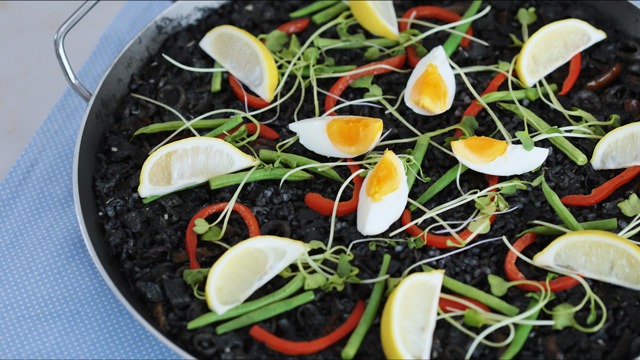 Paella Recipe Idea: Using Squid Ink
Try squid ink paella aka paella negra. Squid ink is said to have a flavor and aroma that harkens back to the ocean. More specifically, the taste of fresh marine fish with a dash of umami can be found in ink from the squid. Think of soy sauce or blue cheese when you think of umami flavor. Boil shrimp heads and tails with shellfish like mussels and clams to create a good broth for the squid ink version. Be careful in collecting squid ink as it stains everything it comes in contact with. 
ADVERTISEMENT - CONTINUE READING BELOW
Recommended Videos
Using a knife, carefully pierce the ink sacs and squeeze the ink into the basin to collect squid ink. If the ink sacs are huge, squid ink can squirt everywhere, especially if you need large amounts of it. To avoid this, drop all of the ink sacs into the bowl and poke them with the tip of your knife. Squid ink paella looks intimidating and labor-intensive, but the taste might leave you speechless and wanting more.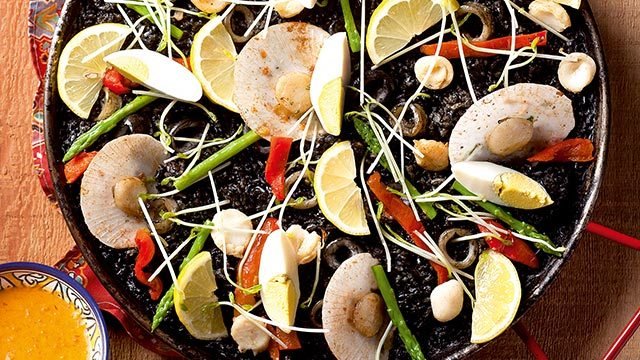 Seafood and Squid Ink Paella Recipe
Posted in:
Recipe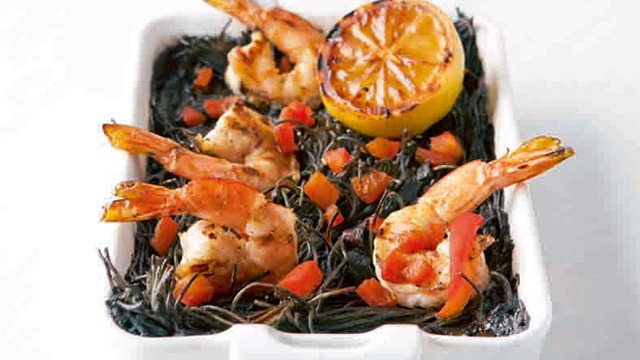 Fideos Negra with Grilled Prawns Recipe
Posted in:
Recipe
The paella, regardless of the variant you choose, is a one-pot wonder that will continue to be a witness to many Filipino celebrations. It is a simple homage to our Spanish ancestry and love for Spanish-inspired food.
***