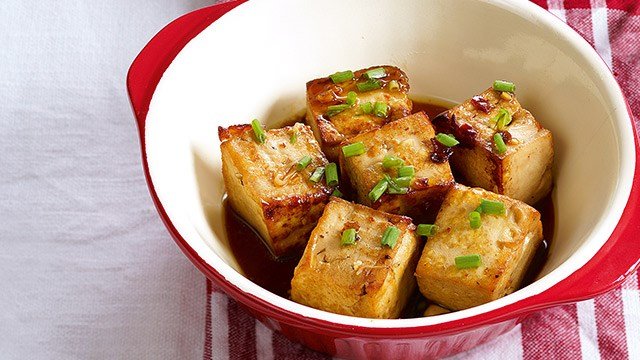 Tofu, or soy bean curd, is made from soy milk and pressed into either soft or firm white blocks. There are variations that include very silky and soft tofu, firm tofu, and extra firm tofu. Each variation needs to be cooked in different ways or used in different kinds of dishes. Here are a few tips to help you cook your next successful tofu dish!
1 Do not stir-fry with soft tofu.
Soft tofu is delicate and velvety—if you use it in a stir-fry, it will break apart and disintegrate. Instead, use extra firm tofu, which will hold up perfectly and even give you those crisp bites on the outside.
2 Drain and pat your tofu dry.
More often than not, you will either be frying or baking your tofu to get those crisp edges. Since they come packed and soaked in water, the moisture could prevent you from getting those golden brown outer layers! Before frying or baking, pat your tofu dry with paper towels.
3 When frying, use a non-stick pan.
Tofu sticks easily to other surfaces like cast iron and stainless steel. Your best bet is the handy non-stick pan! Turn up the heat and get it searing hot.
4 Marinate your tofu.
Tofu is also delicious served with tasty sauces or marinades. Be creative and toss tofu in a quick soy sauce marinade or pour a sweet sweet-and-savory glaze over the tofu when your serve it. It's the best way to pack in flavor into an otherwise bland protein.
5 Press your tofu.
If you want your tofu to be extra firm and sturdy for all the tossing you will be doing in your stir-fry, let it sit in between two plates for a few minutes. This will help compress the tofu and get rid of excess moisture. The end product? Perfectly crisp tofu that you can toss into stir-fried dishes or salads!
ADVERTISEMENT - CONTINUE READING BELOW
Recommended Videos