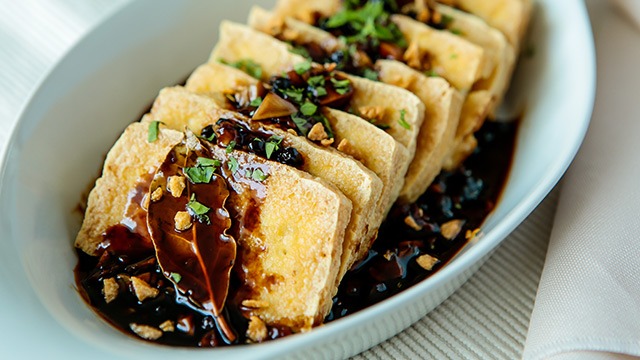 We know how hard it can be to give up meat. In fact, we don't encourage you to do so—at least not the dishes that contain meat anyway.
What we propose is something that can make you fall back in love with all the dishes that feature meat but with a big twist: replace the meat with tofu or tokwa.
Incredible as it sounds, tofu really is a fantastic substitute for meat. Pair it with earthy mushrooms and tofu just got meatier, tastier, and even heartier. You may not even miss the meat even if it's there!
If you're curious how the humble tokwa can replace meat, here are a few examples to show you the way: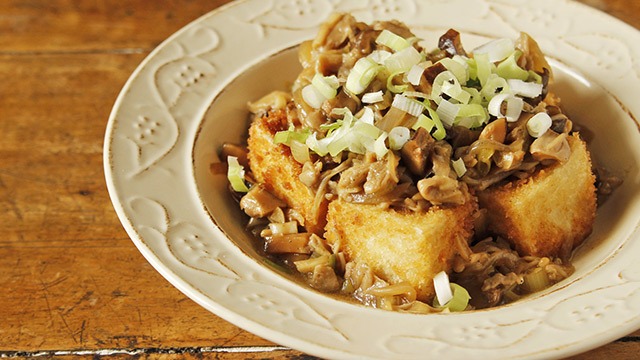 1 Crunchy Tofu Steak with Mushrooms Recipe
Tofu is wonderfully crunchy when fried. It's flavor which easily mimics that of meat is amplified when you toss it with some breadcrumbs, saute some mushrooms and seasonings, and toss everything together into a delicious, hearty bowl.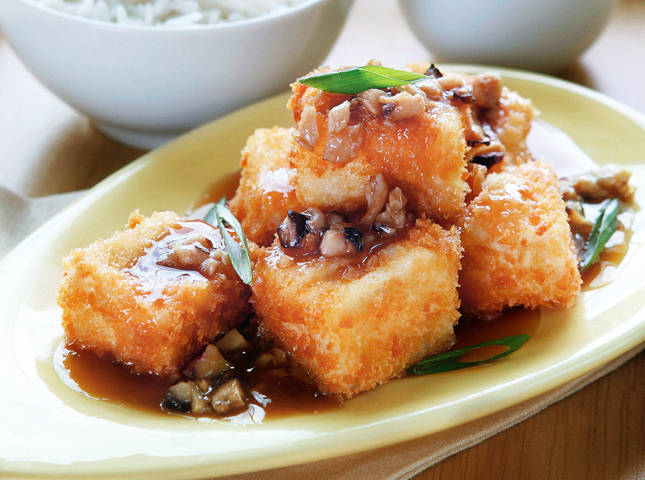 Crunchy Tofu Steak and Mushrooms
Posted in:
Recipe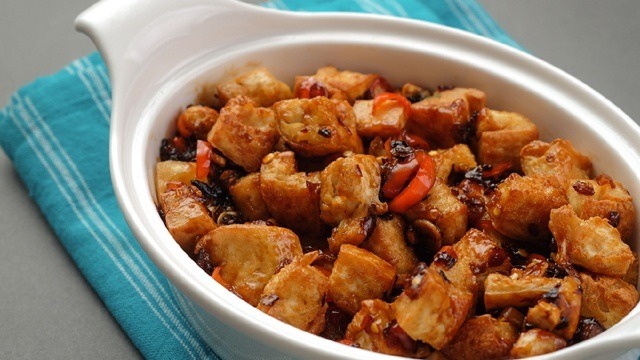 2 Spicy Tofu Stir Fry Recipe
Tofu is a marvelous ingredient that absorbs all the sauce that you want to add to a dish. If you love spicy food and miss it, this easy stir-fried recipe should help you curb your craving for something spicy and bursting with flavor.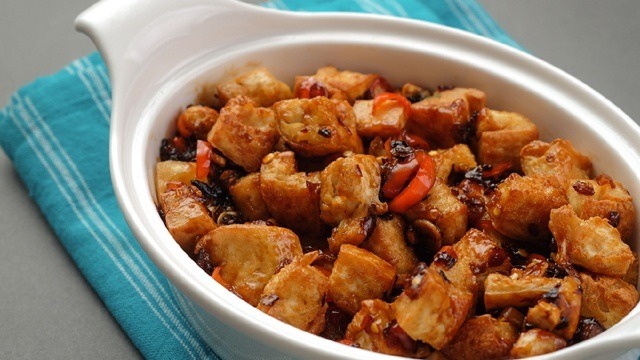 Spicy Tofu Stir-Fry Recipe
Posted in:
Recipe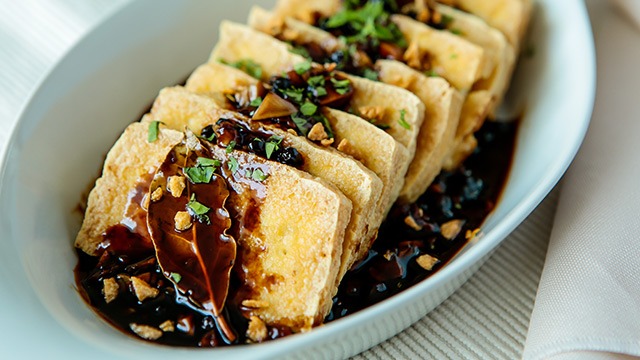 3 Adobong Tokwa Recipe
If you love adobo, then imagine just how delicious and flavorful adobo would be if the sauce was made into a thick sticky sauce. Then pour that sauce over crunchy fried tofu steaks, and you've got an adobo recipe that can rival any meaty adobo recipe.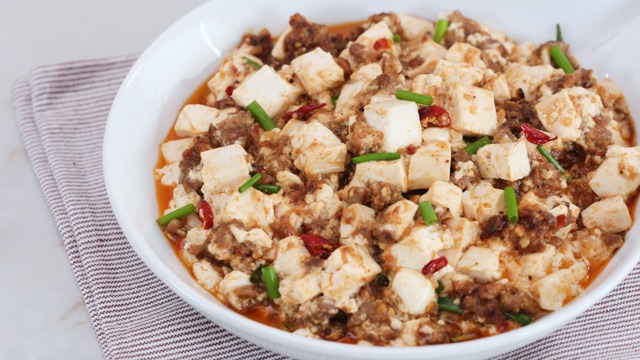 4 Mapo Tofu Recipe
Meat doesn't always have to be the star of the dish to make it delicious. In fact, the star of this delicious bowl of mashed-up silken tofu is really the Asian seasonings that make the tofu as well as the ground pork its vessel to scoop up all that flavorful sauce onto a heaping bowl of steamed rice.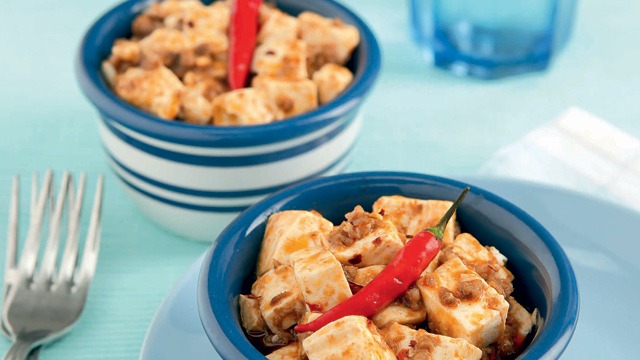 Mapo Tofu Recipe
Posted in:
Recipe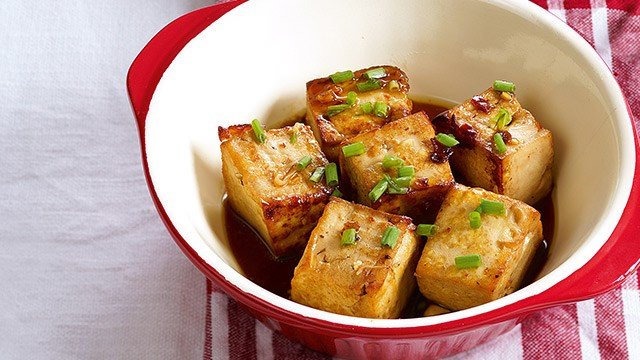 5 Marinated Tofu Recipe
It's been proven how much of a sponge tofu is so it's no wonder that this recipe takes advantage of that fact. By using the wonderful qualities involved in marination, these tofu squares are going to be incredibly flavorful inside and out. Leave it in the marinade long enough and you get tofu that's reeally flavorful. In short, compared side to side with another piece of meat, tofu wins in the flavor department with this recipe. Toss in some vegetables and it just became heartier, a complete ulam to serve with rice, Pinoy-style.
ADVERTISEMENT - CONTINUE READING BELOW
Recommended Videos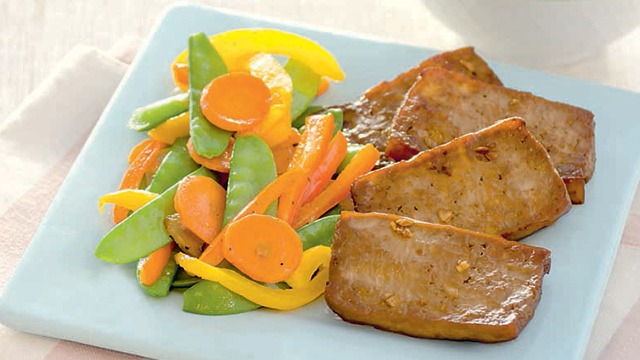 Marinated Tofu
Posted in:
Recipe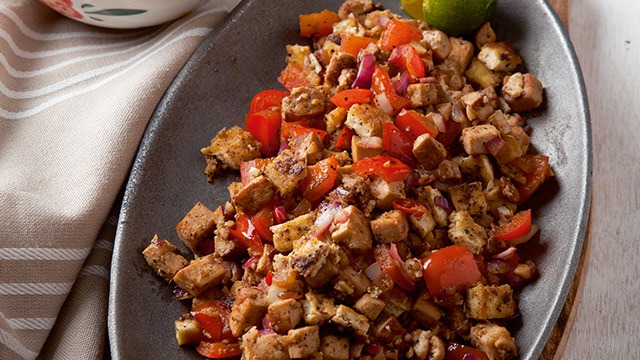 6 Tofu Sisig Recipe
Sisig is spicy, salty, and savory—it's chockful of umami flavors that make it so well loved! Revisit those flavors but with the pork replaced with chopped up tofu. Again, a handful of mushrooms sauteed right in with the tofu should amp up the meatiness you might be looking for.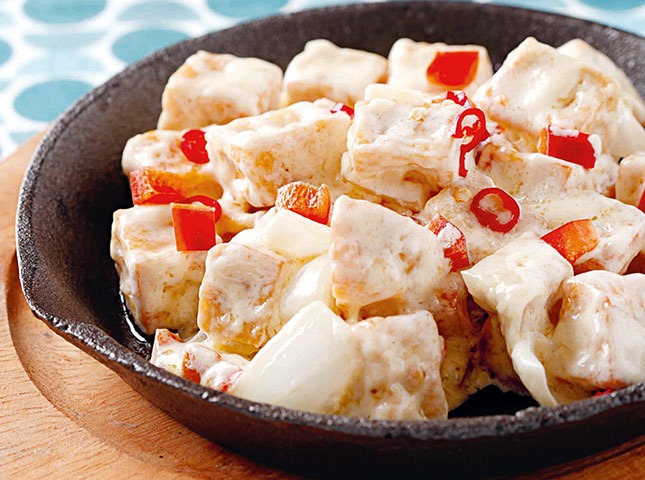 Tofu Sisig Recipe
Posted in:
Recipe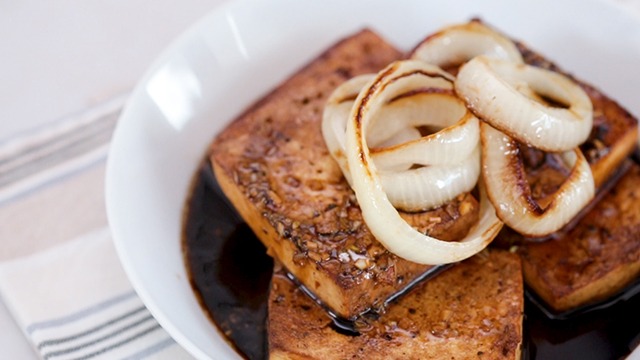 7 Tofu Steak Tagalog Recipe
Bistek Tagalog is a great recipe! It marries salty and savory with the citrus flavors of calamansi and the sharpness and sweetness from the onions. Change it up by using tofu instead of beef, and what you get is the unadulterated flavors of the soy sauce, calamansi juice, and onions in one delicious dish.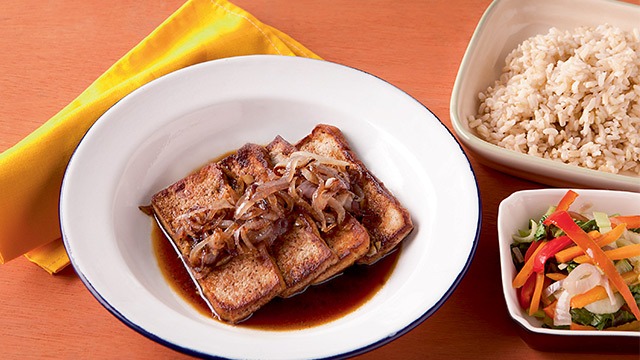 Tofu Steak Tagalog Recipe
Posted in:
Recipe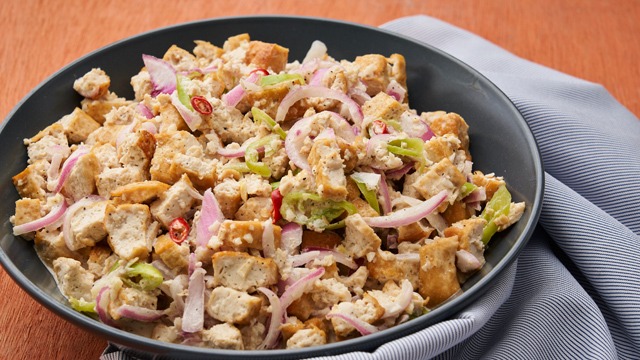 8 Tofu Dinakdakan Recipe
The original dinakdakan recipe is made up with lots of pork parts: pork face or maskara, ears, and its brains. It's the brains that give the dish its creaminess without adding any actual dairy to the dish. This tofu recipe is a genius recipe. It takes all the ingredients, minus the pork, that make the dinakdakan delicious and adds it to chopped-up fried tofu. To mimic the creaminess, creamy and tangy mayonnaise is added and tossed in. What you get is an intensely delicious and flavorful dish that will not make you miss the pork parts at all.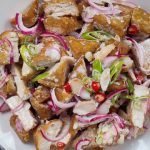 Tofu Dinakdakan Recipe
Posted in:
Recipe
These tofu recipes will make you fall back in love with all the dishes that feature meat but without the actual meat taking over the dish. You don't need an excuse to ever miss the meat when you have tokwa to help bolster flavors and add heft to your dish.
The plus side is that compared to meat, this is not only the healthier alternative, it's also the more cost-effective option, too.