There's a simple way to make lunch breaks more exciting without having to eat out and spend more than your day's budget for a meal: bring baon!
Having a homemade lunch is beneficial not only to your health but also to your wallet. If you eat out, you might end up ordering items high in fat, salt, calories, and all things not so good for you. And with the numerous options available on the menu, you'll most likely end up shelling out way over your budget.
Your baon doesn't always have to be items bought from the frozen section of the supermarket or leftovers from last night's dinner either. A little bit of inspiration and creativity can help you whip up packed lunches that are delicious, nutritious, and don't cost a fortune.
Here, find baon ideas that you can prepare quickly and cost you nothing over P50 per serving: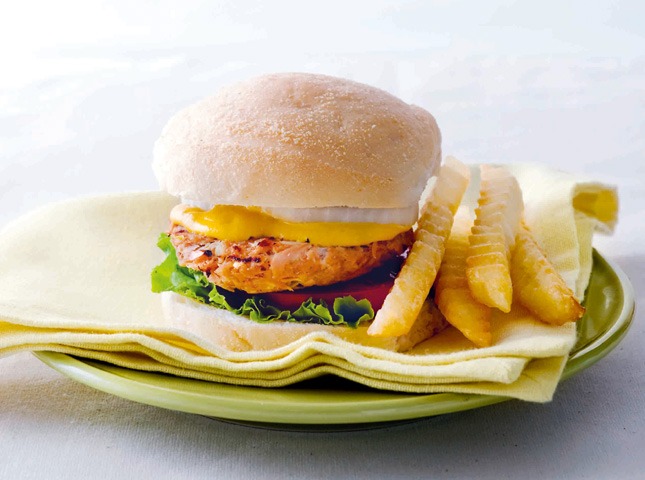 Tuna Burger
Did you know that burgers can be healthy, too? Skip the cheese, the bacon, and even the beef—it's possible! Try making burger patties using tuna, specifically Mega Tuna Flakes Hot and Spicy (SRP P42.75). What you'll get is a burger that's still hearty and filling sans the guilt. The kick of spice is a welcome addition, too, to boost your energy.
It's so simple to make: Just mix up the tuna with the usual spices, some pickle relish, and Worcestershire sauce. Form into patties, grill, and you're done! Tuck inside warm pandesal, wrap, and your baon is ready.
Cost breakdown:
2 180-gram cans tuna flakes in oil – P85.50
1/2 cup herb crackers, finely crushed – P15
1 small onion – P5
2 cloves garlic – P1
2 tablespoons pickle relish – P8
1 teaspoon Worcestershire sauce – P3
2 eggs – P12
salt – P1
6 large pandesal – P30
Yield: 6 servings
Cost per serving: P26.75
View the complete recipe here.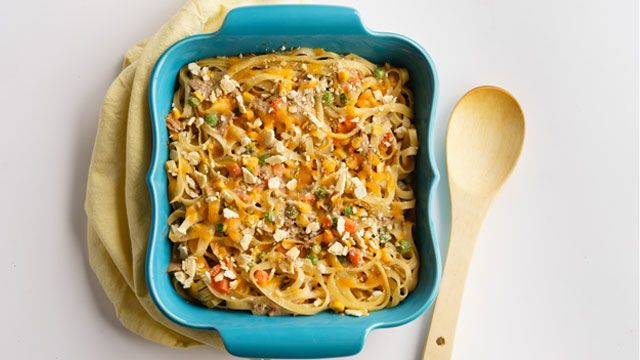 Tuna Bake Pasta
It's time to wow your workmates with a restaurant-quality dish you prepared yourself. It's so much easier than you think, especially with the help of Mega Tuna Flakes Spanish Style (SRP P42.75). The gourmet flavors of this tuna variant are paired with garlic, cream of mushroom soup, and some frozen vegetables to make a creamy, savory sauce. Toss that up with fettuccine noodles, top with cheddar cheese, and bake to creamy perfection.
Here's a tip: Choose oven-safe individual containers so you can bake and then pack right away.
Cost breakdown:
200 grams fettuccine noodles – P30
2 tablespoons butter – P17
3 cloves garlic – P2.50
2 180-gram cans tuna flakes in oil, Spanish style – P85.50
1 can condensed cream of mushroom soup – P61.50
2 cups frozen mixed vegetables – P35
3/4 cup cheddar cheese – P28
3 pieces saltine crackers – P4
salt and freshly ground pepper – P2
Yield: 6 servings
Cost per serving: P44.25
View the complete recipe here.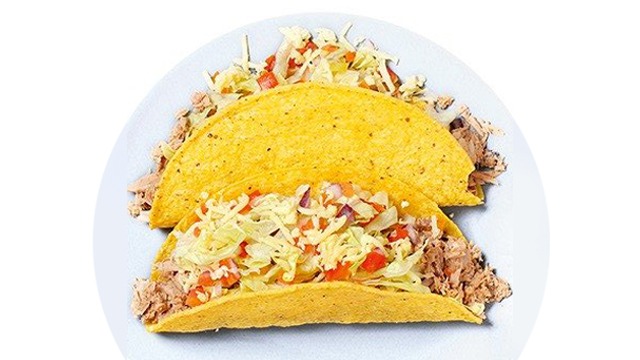 No-Cook Tuna Tacos
Woke up late but still need to prep your baon before heading out? This recipe is exactly what you're looking for—you'll be in and out of the kitchen in 10 minutes. Best part is, there's no actual cooking required!
Simply mix together tuna, paprika, sugar, and taco seasoning in a bowl and you're good to go. Make sure to use Mega Tuna Flakes in Oil (SRP P42.75) as it serves as the perfect base for the Mexican-inspired flavors.
You also don't need to assemble the tacos at home because they will only turn soggy during transit. Simply place the tuna filling, chopped vegetables, cheese, and taco shells in separate containers, then put together in the office pantry once you're ready to eat!
Cost breakdown:
1 180-gram can tuna flakes in oil – P42.75
1 teaspoon sweet paprika – P2
1 teaspoon sugar – P1
2 tablespoons taco seasoning – P22
1 medium head iceberg lettuce – P45
1 medium red onion – P5
6 medium tomatoes – P30
1/3 cup cheddar cheese – P12
12 crunchy taco shells – P85
Yield: 12 pieces
Cost per piece: P20.39
View the complete recipe here.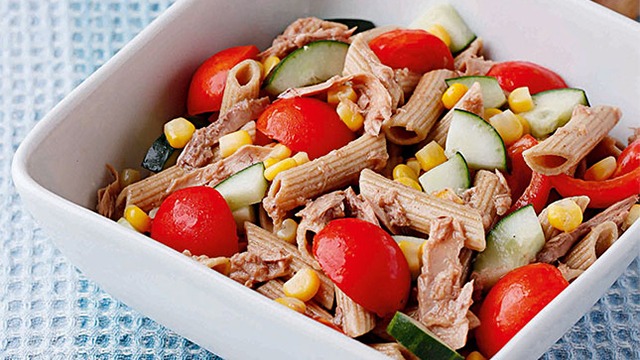 Tuna Vegetable Pasta Salad
Adding pasta to salads is a way to give it heft while still keeping it healthy. You can prep the noodles the night before and just toss them with the other ingredients in the morning. Store the dish in the refrigerator as soon as you get to the office to keep it fresh.
Cucumber, corn, and tomatoes are suggested here, but you can also add any other vegetables you want. Just make sure to use Mega Tuna Flakes Sweet and Spicy (SRP P42.75) to give the dish a much-needed flavor boost. The balance of sweetness and spice is the perfect contrast to the sourness of the calamansi juice in the dressing.
Cost breakdown:
500 grams whole-wheat penne – P105
1 cucumber – P22
2 180-gram cans tuna flakes in oil – P85.50
2 tablespoons vegetable oil – P2
1 can sweet corn – P43.50
1 cup ripe tomatoes – P30
1/4 cup calamansi juice – P10
salt – P1
Yield: 6 servings
Cost per serving: P49.83
View the complete recipe here.
Don't be surprised if you get requests from workmates for these tuna-filled recipes once they have a taste of your packed lunch. Maybe you can even pack an extra serving for them and encourage them to eat in instead of out.
These baon ideas prove that, with a bit of kitchen creativity and the help of reliable ingredients like Mega Tuna, you can treat yourself to a healthy and affordable lunch all the time.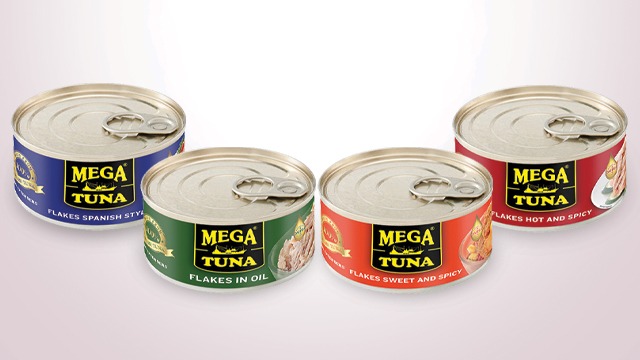 Follow Mega Tuna on Facebook for more details.
*Cost breakdown is only an approximation of prices per amount per ingredient.