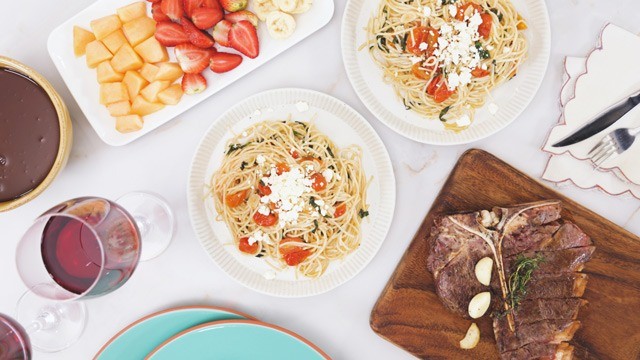 Steak just the way you like it, a light pasta to complement your meat, and dessert that doesn't take too much time to prep—we have your Valentine's Day dinner menu all planned out.
PORTERHOUSE STEAK
1-inch cut Porterhouse steak, about 600 grams
2 tablespoons oil
2-3 cloves garlic, peeled
sprigs of fresh rosemary
2 tablespoons butter
Salt and pepper, to taste
1 Prep the steak: pat the meat dry with paper towel. Generously season the meat with salt and pepper.
2 Heat pan over high heat and add oil.
3 Add the meat only when oil is hot enough and almost reaches smoking point. Sear for 2-2.5 minutes per side (medium rare), depending on the doneness desired.
4 Once you have flipped the meat, add butter, garlic and rosemary. Tilt pan and start basting the steak until done. Take out from heat.
5 Let the meat rest for another 5-7 minutes before slicing.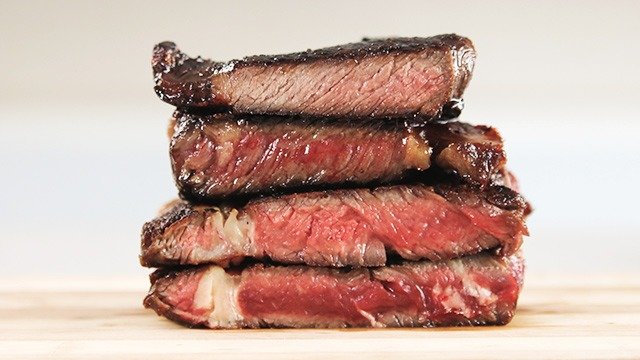 WATCH: A Guide to Steak Doneness
Posted in:
Cooking
TOMATO AND BASIL PASTA
500 grams spaghetti noodles
2 tablespoons garlic, chopped
500 grams shrimp, peeled and deveined
500 grams cherry tomatoes, halved
1 1/4 cups white wine
salt, to taste
1 cup fresh basil leaves
1/4 cup olive oil
extra virgin olive oil, for drizzling
200 grams feta cheese, crumbled
1 Cook spaghetti according to package directions.
2 Make the sauce: Sauté garlic in olive oil until fragrant.
3 Add cherry tomatoes and cook until skins crack. Pour in white wine and simmer until liquid is reduced to half. Season with salt and pepper.
4 As soon as spaghetti is done, drain using a colander. Do not wash with cold water. Set aside a little of the cooking water. After draining, immediately place noodles in sauce; toss.
5 Tear basil leaves by hand and add to the pasta. Pour in reserved pasta water as well.
6 Turn off heat and drizzle extra virgin olive oil on top.
7 Transfer to a platter and top with crumbled feta cheese.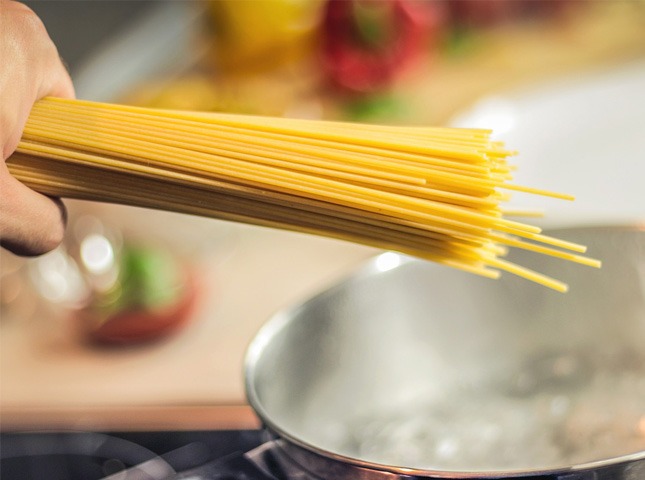 9 Secrets to Cooking Pasta Like a Pro
Posted in:
Cooking
CHOCOLATE FONDUE
150 grams dark chocolate
1/2 cup milk
1/2 cup heavy cream
1 In a double boiler, add all ingredients and mix them together until chocolate has completely melted. Consume while warm. Serve with sliced fruits.