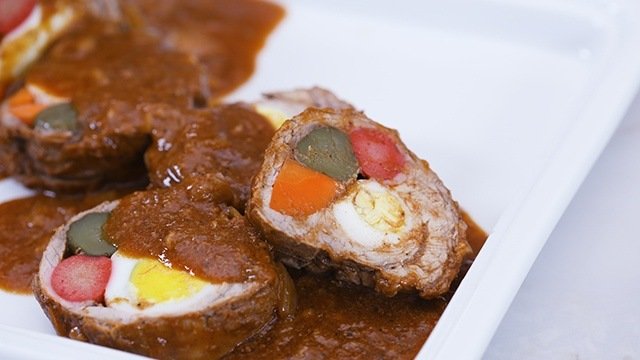 Morcon is a Filipino-style beef roll perfect for big family feasts. Stuffed with hard-boiled eggs, sweet pickles, hotdog or chorizo slices, this beef dish is usually served at parties. Here's how to make it for your Christmas spread:
Beef Morcon
Prep time 45 minutes
Cooking time 60 minutes
Serves 8
2 kilos beef, (use bottom round), cut morcon-style (wide beef slices)
juice from 1 lemon
1/2 cup soy sauce
2 hotdogs
3 pieces sweet pickles
1 medium carrot, peeled and sliced lengthwise
4 large hard-boiled eggs
1/2 cup all-purpose flour
1/4 cup oil
2 cloves garlic, chopped
1 medium white onion, roughly chopped
1 cup tomato sauce
2 cups beef broth
1/2 cup liver spread
salt, to taste
ground black pepper, to taste
1 Arrange each beef slice between two parchment paper or cling wrap and with a meat mallet or rolling pin, pound to about ½-inch thick (or thinner). Repeat with remaining beef slices. Trim sides of meat to shape it as close to a rectangle.
2 Lay beef on a flat work surface and pour over lemon juice and soy sauce.
3 Arrange strips of carrots, hotdogs, pickles, and eggs lengthwise over the meat. Gently gather end of beef upwards and roll neatly into a log, enclosing the filling. With kitchen twine, tie beef roulade snugly at both ends and center to fully secure. Lightly dredge with flour.
4 Heat oil in a wide, heavy-bottomed pan. Gently add beef roll and lightly brown on all sides. Remove from pan and drain on paper towels.
5 Discard oil from skillet except about 1 tablespoon. Add onions and garlic and cook until browned. Add reserved marinade and bring to a boil, scraping sides to deglaze pan. Add tomato sauce, beef broth, and liver spread. Season with salt and pepper to taste. Bring to a boil. Lower heat, cover and cook for about 45 minutes to 1 hour or until beef is tender.
6 Remove beef rolls from pan and allow to stand for about 3 to 5 minutes. Slice into 1-inch thick rounds and arrange slices on serving platter. Keep warm. Pour sauce over morcon slices and serve hot.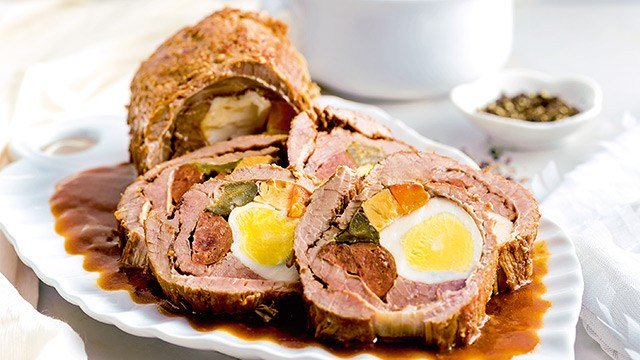 Morcon Recipe
Posted in:
Recipe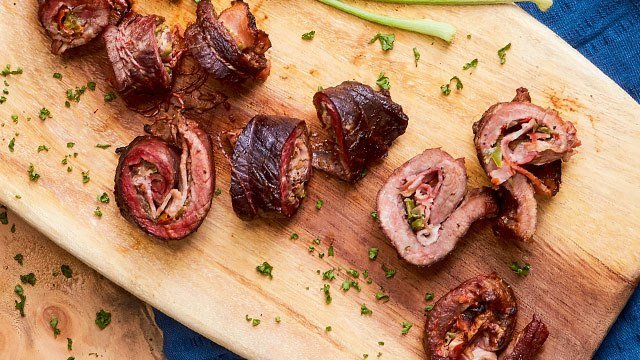 Grilled Morcon Recipe
Posted in:
Recipe