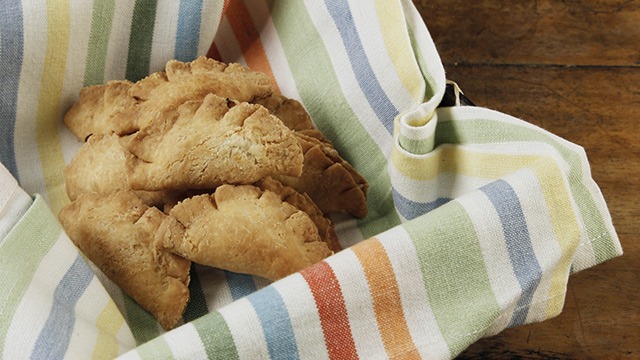 This easy empanada recipe is composed of a tasty pork filling wrapped in a crumbly pastry dough.
Yield: 9-10 empanaditas or 5-6 empanadas
½ piece white onion, minced
½ kilo ground pork or chicken
1 piece potato, peeled and minced
salt and pepper, to taste
To make the empanada dough:
1 ½ cups all purpose flour
1 Prepare the dough: In a bowl combine the flour, margarine and sugar and salt. Mix well. Add the egg and cold water and knead to form a dough. Chill before rolling out.
2 In a preheated pan with oil, sautè garlic and onion over medium heat. Add the ground pork and potatoes. Cook until potatoes are tender. Add raisins and sugar. Stir well. Season with salt and pepper. Let it cool and set aside.
3 On a floured surface roll out the empanada crust into 1/8 inch thickness. Cut out circles using a round cookie cutter. Fill half of the circles with a tablespoon of the meat mixture. Fold in half and cover the mixture then twist the edges to seal. Chill before frying.
4 In a preheated pot with oil deep fry the filled dough over medium heat until golden brown. Drain in paper towels and allow to cool.