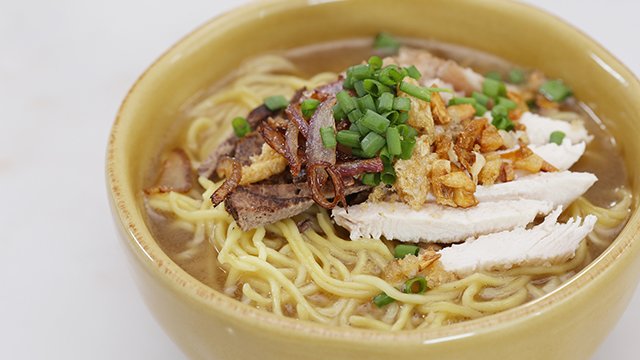 Batchoy is a hearty Filipino noodle soup which originated from La Paz in Iloilo. What's different about this Visayan version from the Tagalog version is that La Paz-style batchoy uses a pork-and-beef stock flavored with dried shrimp or shrimp paste. Fresh miki noodles are used so cooking time is minimal.
La Paz-style Batchoy
Prep time 20 minutes
Cooking time1 hour
Serves 4-5

8 cups chicken stock
1 tablespoon soy sauce
4 cloves garlic, chopped
1 medium red onion, sliced
1 tablespoon brown sugar
4 tablespoons dried shrimp (hibe)
pepper
250 grams pork, (use kasim), cut into 1-inch pieces
1 piece chicken, use breast part
150 grams pork liver
1/2 kilo fresh miki noodles
shallots (sibuyas Tagalog), fried
garlic, fried and chopped
chicharon, crushed
spring onions
1 whole egg per bowl, optional
1 Make the broth: Put 8 cups of stock and other broth ingredients in a large pot. Bring to a boil.
2 Add pork kasim, liver, and chicken in the pot. Let simmer for 20 to 25 minutes or until pork, chicken, and liver are tender.
3 Remove pork, liver, and chicken from pot and set aside. Let cool. Slice the pork, liver, and chicken into thin strips and set aside.
4 To assemble the noodle bowls, place noodles and pour the hot stock over the noodles. Top with the sliced pork, liver, and chicken. Garnish with chicharon, fried garlic, fried shallots, and spring onions. If desired, crack an egg and serve immediately.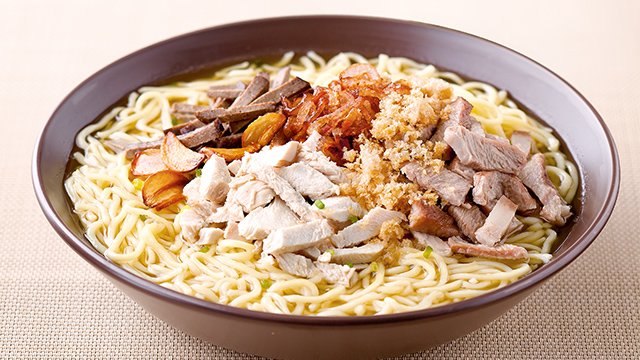 La Paz-Style Batchoy Recipe
Posted in:
Recipe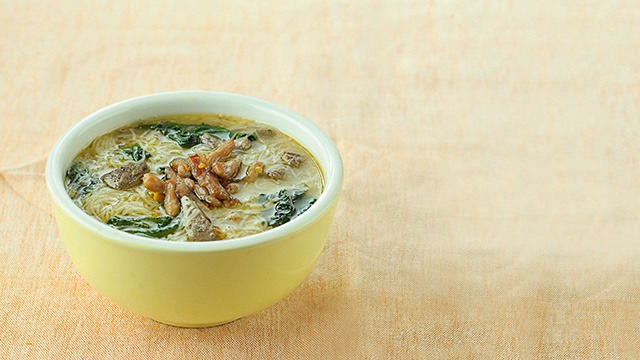 Batchoy Tagalog
Posted in:
Recipe