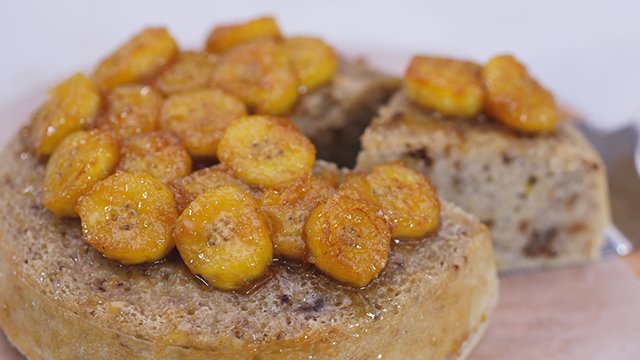 This basic banana cake recipe is easy: you don't even need an oven. Make sure you use the ripest lakatan bananas you can find. You can also top with caramelized bananas!
No-Bake Banana Cake
Prep time 15 minutes
Cooking time 60 minutes
Makes 1 (6-inch) cake pan
3/4 cups whole milk
1/2 tablespoon lemon juice
1 1/2 cups all-purpose flour
1/2 teaspoon baking powder
1/2 teaspoon baking soda
1/4 teaspoon salt
1/4 cup plus 2 tablespoons butter, unsalted
1/4 cup brown sugar, packed
1/2 cup white sugar
3 medium eggs
1 1/2 teaspoons vanilla extract
1 cup ripe bananas, mashed (lakatan variety)
1 Combine the milk and the lemon juice, mix and let sit for 10 minutes. Set aside.
2 In a bowl, combine flour, baking powder, baking soda, and salt, whisk well and set aside.
In another bowl, cream the butter and both sugars until well incorporated. Add the eggs one by one. Add the vanilla and the mashed bananas and mix well.
3 Add the flour mixture in batches, alternating with the milk mixture. Fold in 1/2 cup chopped walnuts.
4 Pour the batter into a 6-inch cake pan and cover with aluminum foil. Steam for 1 hour or until cooked. Let cool before serving. Top with caramelized bananas (optional).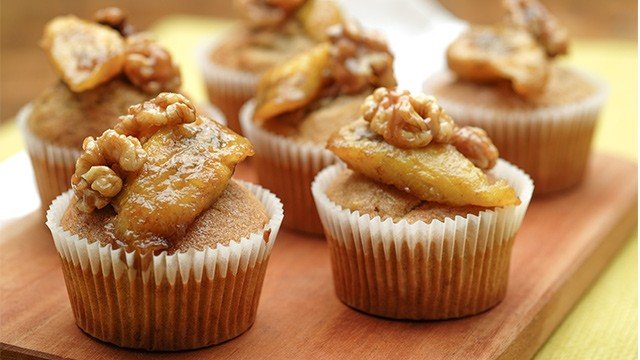 Banana Cake Recipe
Posted in:
Recipe