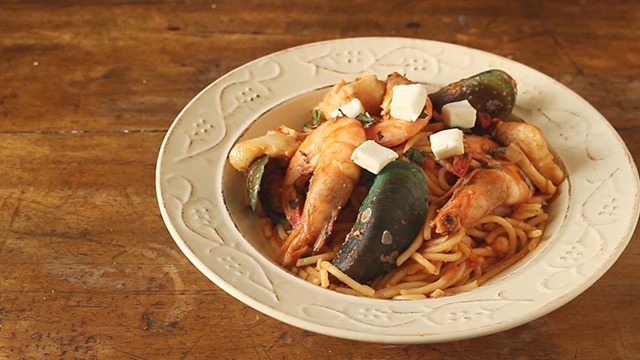 Take advantage of the delicious seafood available in our markets and prepare this flavor-packed dish. If you can't find keesong puti, you can use any other fresh, soft cheese like feta or buffalo mozzarella.
1 (800-gram) can diced tomatoes
500 grams uncooked spaghetti noodles
300 grams mussels (tahong), scrubbed and beards removed
400 grames white fish fillet (lapu-lapu, sole, or cream dory), sliced into 1 1/2-inch pieces
salt and freshly ground black pepper
1/2 cup kesong puti, cut into small cubes
1 Heat oil in a large pot over medium-low heat. Add garlic; cook, stirring, for 1 to 2 minutes or until fragrant. Add tomatoes, wine, 5 cups water, and noodles. Bring to a simmer. Reduce heat to low and cook for 20 minutes or until liquid has reduced slightly.
2 Add mussels, cover, and cook for 1 minute, stirring occasionally.
3 Add remaining seafood and cook for 2 to 3 more minutes or until seafood is cooked through and mussels have opened; discard shells that remain closed. Season to taste with salt and pepper.
4 Turn off heat and mix in kesong puti. Drizzle with extra olive oil and garnish with basil.