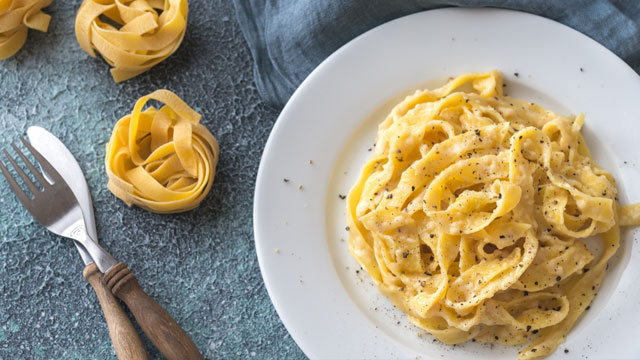 There are two flat egg pasta ribbons that come to mind: fettuccine and tagliatelle. Both are typically made from durum wheat flour and eggs.  It is customary and conventional to eat both types of pasta ribbons in the center and northern regions of the Italian peninsula. However, fettuccine or pasta in "long ribbon" originated in Italy around 1922 became a household name.  
What is fettuccine? 
Current pop food culture had associated fettuccine with the version popularized by American chefs when the original Italian recipe came to America. Italian Alfredo di Lelio invented the original Fettucine Alfredo. He popularized this dish in Lazio, Italy. It was traditionally made with butter and cheese. Food historians say Fettuccine Alfredo was from his efforts to coax his wife to eat after giving birth. He tried just mixing butter and cheese, and the heat from the noodles emulsified the cheese to make it creamy. But as the dish spread to the United States of America, other chefs started adding cream, so the classic Fettucine Alfredo has evolved to incorporate other ingredients like cream and some added chicken as well.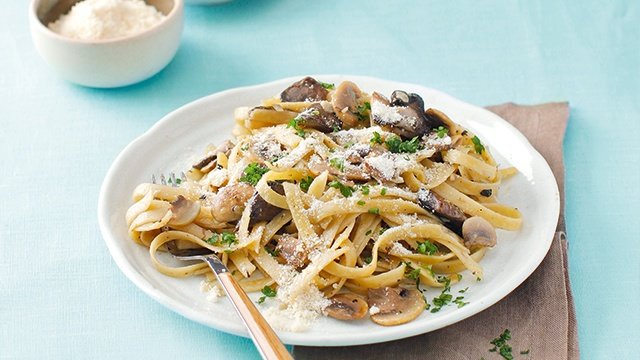 What sauce goes well with fettuccine?
As a general rule, thicker sauces should be paired with broader noodles. For example: Traditionally, wide ribbons of pasta, such as pappardelle, are matched with hearty, meaty sauces, but thinner flat noodles, such as fettuccine or linguine, are best paired with light cream sauces, such as Alfredo, or delicate proteins such as shellfish.
Other Kinds of Fettucine Alfredo
Most versions retain the original butter and cheese components but have been modified to add different interpretations like heavy cream, cream cheese, and even chicken, thus chicken Alfredo.
Still, some modifications to this classic take include using two different kinds of cheese instead of just parmesan; some use Romano cheese or other hard cheese with a robust taste with a bite.
Chicken Alfredo Fettucine Ingredients
chicken
butter
flour
hot milk
Parmesan cheese
dried or fresh herbs
cooked fettuccine
How To Make Chicken Alfredo Fettucine
Begin by pan-frying seasoned chicken fillet cut into chunks. Set aside the cooked chicken and proceed with the bechamel sauce; return your cooked chicken and simmer before pouring over your noodles and topping with generous parmesan cheese. 
Another twist is the tuna alfredo, which uses tuna as the protein base.
Creamy Tomato Pasta Sauce Ingredients
onions
garlic
canned tomatoes
heavy cream
cooked fettuccine
Parmesan cheese
How To Make Creamy Tomato Pasta Sauce 
1 Sauté garlic and onions.
2 Add canned tomatoes and cream. Simmer 10 minutes. 
3 Toss in cooked fettuccine. Top with cheese as desired. 
As the name suggests, this is a creamy sauce. Those wishing a less indulgent version can try adding milk instead of cream and just more dollops of butter to induce more creaminess. The procedure is straightforward, with the aromatics and herbs sauteed over high heat, followed by a can of diced tomatoes and cream after simmering. Drain your al dente fettuccine from the other pot and incorporate it into your sauce. Toss in your fresh herbs like basil and oregano.
ADVERTISEMENT - CONTINUE READING BELOW
Recommended Videos
You can also elevate this to a vegetarian dish by throwing in some spinach.
Pasta As The Substitute For Rice  
Do you substitute pasta for rice? If so, you might be interested in exploring related dishes. If you enjoy meat, like steak, lamb, or chicken, you can top those to a bed of fettuccine noodles. Depending on how your meat was prepared, you can decide on plain noodles or not. For example, a roast chicken might be best if fettuccine had simple marinara sauce. Since the meat is a star on its own, if you are having a decadent steak, on the other hand, consider a simple Aglio e Olio which is olive oil, garlic, and anchovies.

Other Ways to Enjoy Fettuccine 
Arrabiatta sauce, whose literal translation is the angry sauce because of chili flakes, seems relatively easy but requires patience since it needs low heat and prolonged cooking.
Arrabiata Pasta Ingredients
olive oil
garlic
onion
ground pepper
chili flakes 
red wine
tomato paste
salt, sugar
canned tomatoes
chopped parsley
chopped basil
cooked fettuccine
How To Make Arrabiatta Pasta
1 Heat oil in a large skillet or saucepan over medium heat. Sauté onion and garlic in oil for 5 minutes.
2 Stir in wine, sugar, basil, red pepper, tomato paste, lemon juice, Italian seasoning, black pepper, and tomatoes; bring to a boil.
3 Reduce heat to Medium and simmer uncovered for about 15 minutes. Stir in parsley. Spoon over the hot cooked fettuccine. 
Saving the best for last is Frutti di Mare or seafood pasta sauce, clams, mussels, shrimps, squid on the arrabbiata sauce. Whatever fresh catch available can be used, scallops are an extra treat. It looks impressive but is reasonably easy to do. 
Frutti de Mare Ingredients
garlic
chili flakes
olive oil
clams or mussels
white wine or seafood broth
prawns
squid
marinara sauce
cooked fettuccine
Parmesan cheese
How To Make Frutti de Mare Pasta 
1 Sauté garlic, chili flakes in olive oil.
2 Toss in the clams or mussels and a splash of white wine or seafood broth.
3 Stir in the prawns and squid; pour in your homemade marinara.
4 Add the fettuccine and grated Parmesan cheese on top.
It's ready to serve!
Enjoy your fettuccine with newly discovered or all-time favorite sauce. This holiday season, if we can't be with our loved ones, relive the memories with a plateful of pasta just like the way your mom used to make.
***