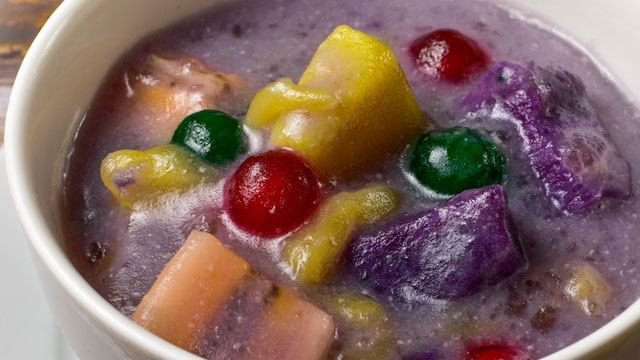 When the weather is cold, wouldn't most of us enjoy a hot snack? A popular snack or merienda fare is the ginataang halo-halo. Ginataang halo-halo (also known as binignit in the Visayas region) is a Filipino dessert dish made with coconut milk. A variety of tubers, including sweet potato, purple yam, and taro root, are used to make this dish. Aside from the tubers, the dish also includes saba, tapioca pearls, and glutinous rice balls also known as bilo-bilo.
This should not be confused with another popular dessert called halo-halo, which is a sweet snack, too, but is sweetened ingredients served topped with crushed ice and usually the creamy all-time favorite dessert – leche flan. The term "halo-halo" nonetheless means the same thing: a variety of ingredients added to the dish, so cooks can unleash their creativity when deciding what ingredients to add beyond the recipe's ingredients list.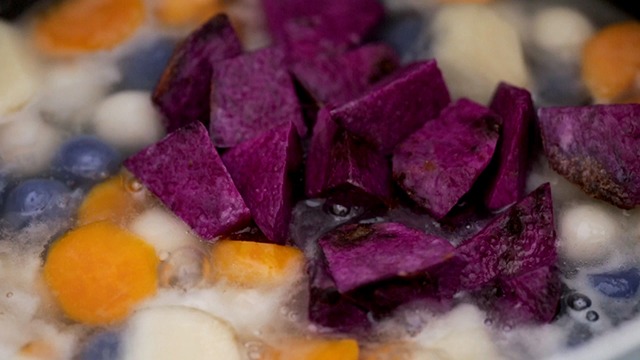 The ingredients of the ginataang halo-halo suggest that the local origin is from Visayas or Mindanao, probably since the agricultural landscape is more pronounced. Most ingredients are found in backyards and are relatively inexpensive. Since it is also a filling dish, most families cook this as a big batch and distribute it to neighbors and extended family.
Ginataang halo-halo is similar to an Indonesian dessert. In Indonesia, a traditional coconut dessert known as Kolak Pisang is created using palm sugar, coconut milk, pumpkin, sweet potato, jackfruit, saba, cassava, and sago among other ingredients. Each dessert shares similar ingredients including the kamote, gabi, sago, and jackfruit, so it's not unheard of to think that both desserts might be related.
Did you know that serving ginataang halo-halo is considered to be a traditional Filipino family ritual? Some prepare ginataang halo-halo as a sign of prosperity; the round bilo-bilo signifies material wealth while the coconut cream and sugar signify familial bonding. So, it is not surprising to see ginataang halo-halo as a fiesta dish. In fact, some cook it to welcome a newborn baby into the world. The presence of coconut milk denotes an increase in affluence. The tiny sago pearls and bilo-bilo represent coins or money coming into the family's bank account.
Are you thinking of making this for a celebration or even for the Chinese New Year? Here are some tips you will need to know:  
1 Cook the sago pearls. 
Yes, you need to cook sago. Depending on the size of the sago pearls, the cooking process might take several hours. Cooking time for the larger ones might be more than an hour or more. The dry package contains the instructions for cooking. In our experience, sago is best boiled twice. After boiling the sago for around 7 minutes, drain the hot water (reserve the hot liquid), wash the pearls with water, and then simmer again for a couple of minutes until each pearl turns translucent. 
Are you intimidated by cooking sago from scratch? The good news is that most wet markets or palengkes sell already cooked sago; probably P50 is enough for one halo-halo recipe.
2 Make bilo-bilo. 
Bilo-bilo are glutinous rice balls made by mixing powdered glutinous rice and water. These are popular in the Philippines. It may not appear to be an essential ingredient in ginataang halo-halo since there are other ingredients in the dish. However, it's found in almost every variation of the Filipino dessert.
It's easy to make! Combine equal amounts of glutinous rice flour and water. You can color half of your sticky rice balls with purple or violet food coloring to make them more festive.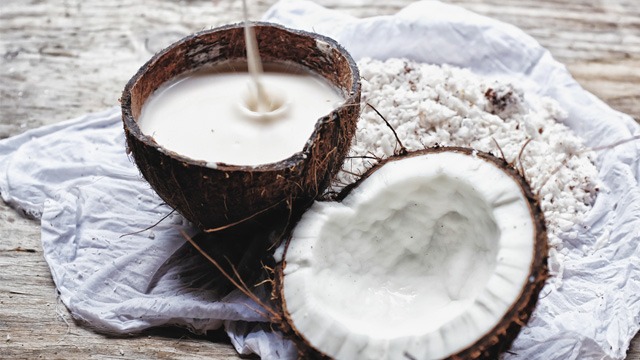 3 Choose coconut cream over coconut milk. 
It is vital to note thick coconut milk makes this dish extra special. Ube halaya can be added to the coconut cream while it simmers to make the resulting color of the ginataang halo-halo more visually appealing with its lavender hue.
ADVERTISEMENT - CONTINUE READING BELOW
Recommended Videos
4 Remember to elevate your recipe. 
Beyond the obvious tips, keep these in mind so you don't forget: 
• Use good-quality coconut milk. Make sure it is not too diluted or too thin. 
• When making your bilo-bilo from glutinous rice flour, you can add ube flavoring to make ube bilo-bilo balls.
• Use ripe jackfruit preserved in syrup, and don't be stingy. It adds sweetness and aroma to your dish.
• You can also try stuffing a small dollop of ube halaya in the middle of your bilo-bilo for an extra special treat.
• Use orange-colored kamote aside from white camote.
• When serving your bowl of ginataang halo-halo, consider topping it with homemade caramelized bananas (minatamis na saging) or crispy banana chips. The crunch and the contrast of color are indeed worth the effort. 
How you make and serve your bowl of ginataang halo-halo, this seemingly simple dish can be made more memorable. Complement the differences of the colors of your ingredients, make use of flavorings, and garnish with an eye for a delicious flourish. You eat with your eyes first after all. 
***